The Bromance Between Keya Morgan and Donald Trump Jr. May Be Over
Keya Morgan has become a controversial figure in comics land of late, due to his association with Marvel Comics founder Stan Lee. Morgan has assumed management of some of Stan Lee's affairs in the aftermath of the death of Lee's wife, Joan Lee. This saw Lee's long-term manager Max Anderson excluded, as well as the family's longtime housemaid, gardener and nurses, other friends, and colleagues suddenly unable to contact Lee.
Furthermore, Lee's well-being has been brought into question during apparently arduous signing sessions at comic conventions, multi-million lawsuits against business partners, and increasingly bizarre news stories about Stan placed in the media, often mentioning Morgan in glowing terms and Anderson in the most negative terms. These usually include Anderson's criminal record, spending a year in jail for domestic abuse against his ex-wife and later against his son. They don't mention Morgan's current probation after being found guilty of a misdemeanor for making criminal threats.
Yesterday, Bleeding Cool broke the news that Keya Morgan had been arrested by Los Angeles police. Regarding a charge of filing a false police report, Bleeding Cool understands that the Daily Mail story about gunmen holding up Stan Lee at his home two weeks ago may have involved Stan's own security guards, coming for the balance of their salary. Morgan called the police, and the allegation is that he claimed that he and Stan didn't know who they were.
Morgan was bailed out on $20,000 and is due back in court on July 2nd. But he now seems to be back on social media, tweeting:
Keya Morgan is a major Michael Jackson and Marilyn Monroe collector, and he previously received considerable publicity for selling an alleged Marilyn Monroe sex tape.
As recently as June 10th, Stan Lee's Twitter account was making statements in support of Morgan.
The Stan Lee account has also, as we have noted, recently started tweeting about Marilyn Monroe and fake news.
Of course, just as Stan Lee was friends with Hilary Clinton, Keya Morgan also has friends in high places who tweet about such things as Fake News…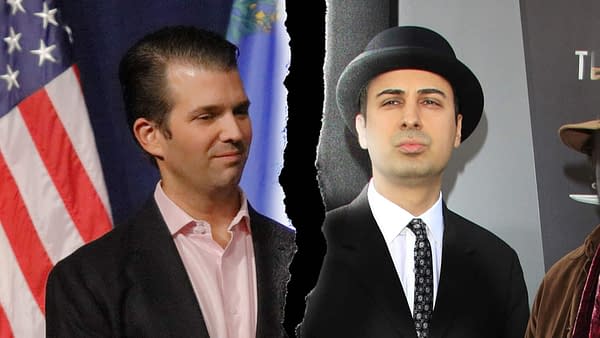 And in a CNN profile written by Alan Duke (who would also become involved with Stan Lee in the years to come), there was this statement from Donald Trump himself, the now-POTUS:
"Keya is one of these guys who was perhaps born 100 years too late," Trump said. "He's a timeless character living in a modern world."

One aspect of Morgan's personality that helps him make and keep celebrity friends is he is "that rare friend who isn't the clingy, needy friend," Trump said.
So, there's no doubt at all, with confirmation on both sides, that Keya Morgan and the Trump family were close acquaintances and friends. But then something happened…
And most damning of all…
Shame — it would have been useful to have friends in high places right now. The story is, of course, developing.