Crowdfunding site Kickstarter wants you to submit your small press comics for a special promotion this September, coinciding with Small Press Expo. Kickstarter is sponsoring the Expo's Ignatz Awards for small press comics, and they're inviting submissions to be featured in a "Small Press Spotlight" on their website. Any small press comic or zine launched between September 1st and September 31st is eligible to be featured on Kickstarter, which can help boost a project's fundraising abilities.
If you're interested, the steps are listed below:
Here's the instructions if you want to submit:

1. Create a publishing or comics project to be published by a small press that you run or co-run.

2. Launch your project between September 1 and 31, 2019.

3. Once your project is live, email it to comics@kickstarter.com with the subject line "Small Press Spotlight" to be considered for the initiative.

Not sure if your project fits with the initiative? Send it anyway—we can't wait to see your work! Be sure to include links to your small press and any previous publications for faster approval.
Head to Kickstarter's new Small Press page for more info.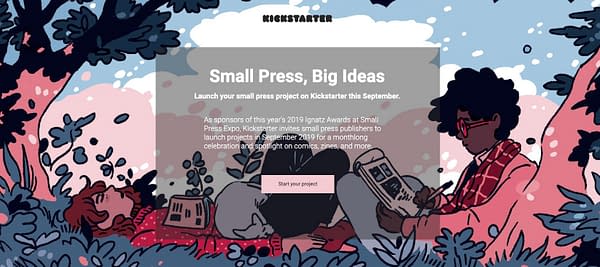 Enjoyed this article? Share it!