Posted in: Comics, Comics History, Comics Publishers, Lev Gleason, Vintage Paper | Tagged: Bob Wood, boy comics, jack alderman
---
The Kid Who Became A Comic Book Hero in 1946 — and Hated It
On June 28, 1945 a B-25D Mitchell medium bomber collided with the Empire State Building. Lt. Col. William Smith was piloting a routine transport mission from Bedford, Massachusetts to Newark, New Jersey. It was an extremely foggy morning, and Smith received a warning from Laguardia Airport (then called NY Municipal Airport), "We're unable to see the top of the Empire State. Suggest you land here."
Smith decided to press on. He dropped his altitude in an attempt to regain his bearings, but quickly found himself hurtling past skyscrapers, and ultimately smashed into the 78th and 79th floors of what was at that time the tallest building in the world.
14 people were killed, including Lt. Col. William Smith, and many more were injured. This was less than two months after V.E. Day, and just days before the U.S. dropped atomic bombs on Hiroshima and Nagasaki, Japan. In the immediate aftermath of the Empire State Building incident, onlookers initially believed that it was a Japanese attack.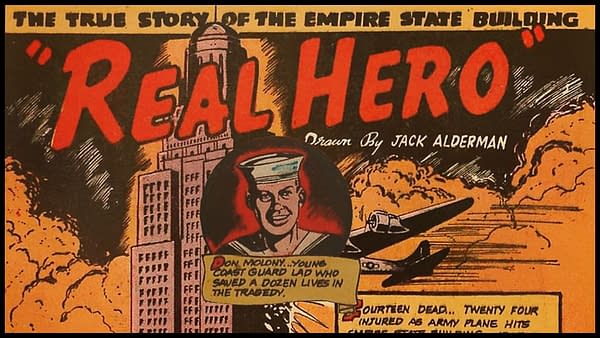 Betty Lou Oliver, a 20 yr old elevator operator, was on the 80th floor at the time. She was badly injured by the impact. Then she heard the cable snap.
The elevator plunged all the way to the ground — a distance of 1000 feet. She survived. According to Guinness World Records, this is a world record for surviving such a fall in an elevator to this day.
In the aftermath of such tragic events, we tend to search for a hero, and there was one here. Seventeen year old Coast Guard Hospitalman Donald Molony, who had received eight months of training to become a Pharmacist Mate for the Coast Guard, was on the street outside when it happened. He gathered together a makeshift first aid kit from a nearby drugstore, and then rushed into the burning building. He helped many people, including Betty Lou Oliver, whom he pull out of the wreckage.
New York City Mayor Fiorello LaGuardia gave Molony a citation. He also received the Navy Commendation Ribbon and was awarded the Medal of Valor by the American Legion, under authority of the Congress of the United States. A few months later, comic book publisher Lev Gleason celebrated his heroism in Boy Comics #26, by making Molony the title's "Boy Hero of the Month". This was a regular, short feature of Boy Comics, with each issue spotlighting a moment of real-life heroism retold in comic book form.
Then things took a weird turn.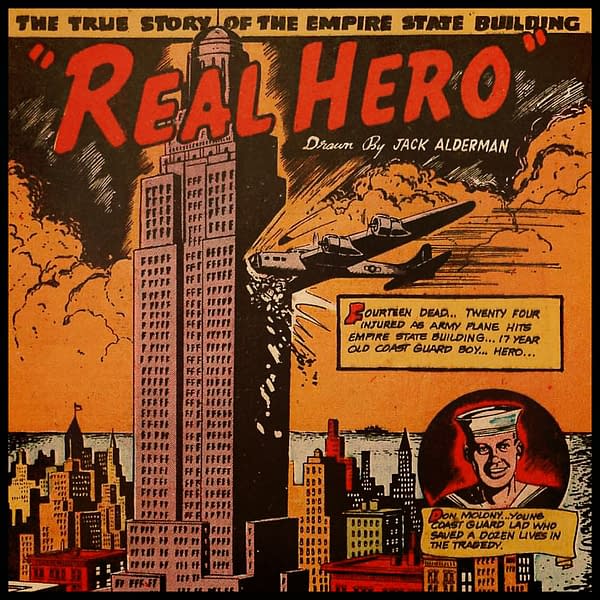 Molony was called into Coast Guard District Headquarters and questioned about whether he'd sold Boy Comics publisher Lev Gleason the rights to his story, in violation of Coast Guard rules. He informed them that he had not. An investigation took place, and according to later court testimony, "there was a threat of court martial and discipline".
He would also later testify that he'd been turned down for a job because he had become "a comic book character".
Molony sued Lev Gleason for violating his right to privacy under NY State law — specifically, he invoked Civil Rights Laws Article 5 Sections 50 and 51. In 1949, the Supreme Court of New York ruled that his right to privacy had been violated. The decision turned on the notion that a comic book story is de facto humorous or exaggerated for the purpose of generating sales. In other words, of course, comics are for kids. It's a funny book, not the news (see: Molony v. Boy Comics Publishers, 277 AD 166 (N.Y. App. Div. 1950)).
Ironically, the standard boilerplate indicia statement "No actual person is named or delineated" worked against Gleason here. The Court felt that this emphasized the notion that this story was meant to be fiction, and thus they had purposefully exaggerated aspects of the story for specific commercial intent.
Lev Gleason appealed, and the case went to the Appellate Division of the Supreme Court of New York.
Writing for the majority the next year, Judge John Van Voorhis said:
We think that this article is not to be classed as fictional merely for the reason that it is presented pictorially, by a schematic representation of the events depicted in the form of rough sketches which do not purport to be exact replicas of the original subjects. Comic strips are, to some extent, a throwback to the origin of language, typified by the word 'hieroglyph', which refers primarily to the picture-writing of the ancient Egyptians, or the figure-writing of the Chinese, Aztecs and ancient Peruvians.

If such a form of expression appeals to immaturity, it may hark back to the childhood of civilization, but one may think that it is nonetheless a medium of expression akin to language, and capable of being employed for the same varied uses. It does not follow that plaintiff's exploit has been fictionalized merely for the reason that it has been told through a form of picture-writing, which is as old as the human race.
With a remarkable insight into the comic book medium for 1950, the Appellate Division got it right. The previous decision was overturned.
This ruling has been cited by a number of cases in the decades since. The strange case of the Coast Guard Kid and Lev Gleason was cited last year by attorneys involved in Lindsay Lohan v.Take-Two Interactive. Like Donald Molony, Lindsey lost this fight in the courtroom (for different reasons than he did, however), although it still makes me wonder if he would have taken some small satisfaction in the notion that his experience has informed cases involving the likes of Warner Bros, 20th Century Fox, and the NFL among others.
That aside, it would appear that this courtroom experience didn't dissuade Moloney from running towards danger to help others. He joined the Navy and served as a combat medic alongside the Marines during the Korean War, reportedly getting wounded himself 8 times.
Donald Molony died in 2002 at the age of 76.
Recalling his legacy for the Coast Guard Compass in 2018, Coast Guard Lt. Paul Reck said:
Petty Officer Molony's selfless dedication is something that all who wear the caduceus on our rating badge should strive to emulate. To the few people who have heard of him, he remains a source of inspiration.
You can read the Real Hero story from Boy Comics #26 at Comic Book Plus.
---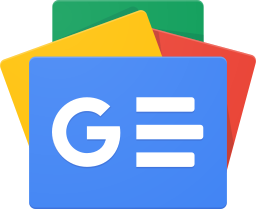 Stay up-to-date and support the site by following Bleeding Cool on Google News today!