Kieron Gillen and Stephanie Hans' Die #6 Increasing Orders on Previous Issues – and on Once & Future #1…
Yesterday, Bleeding Cool looked at the anticipated orders for new comic book Once And Future #1 by Dr Kieron Gillen and Don Mora, from Boom Studios, in comparison to the launch of Die #1 by Gillen and Stephanie Hans.
Some may think that concocting a head-to-head competition between two launching Kieron Gillen titles seemed far-fetched, you haven't taken account of comic publisher marketing types. Once And Future #1 is up for Final Order Cut-Off next weekend and ahead of that already has over 21,000 orders. And it looks set to go a lot higher than that.
However, it may also be worth pointing out that Die #6, the next issue in the 'goth Jumanji' mini-series and up for Final Order Cut-Off this weekend has already had initial orders of over 22,000?
Originally released in December of last year, Die #1 sold nearly 40,000 copies before going into reprints. Demand for that first issue was so great that the "fourth and final printing" forced Image to issue a fifth printing, with every additional issue yielding reprints as well.
Multiple printings aren't the only examples of the title's growth in sales, because initial orders for Die have been on the rise since the third issue. Die #3 was up over the second issue, then Die #4 saw an increase over that issue, and then #5 was up, as well. Now, after a short gap that saw the release of the first Die trade paperback, Die #6 has the highest initial orders for an issue of Die since #1.
While it's generally unusual for monthly titles to increase in sales following #1, it does happen. Marvel's The Immortal Hulk and DC's Green Arrow are two of the more recent examples, but this has been the case for Image before, too, most famously with series like The Walking Dead and Saga.
And now it's happening with Die.
To make the case for Die even more compelling, Diamond just announced this morning that Die TPB Vol 1 was June's most-ordered trade paperback, and I'm told that sales have been so brisk for the first collection of Gillen's and collaborator Stephanie Hans's fantasy epic that Image is already ordering a second printing.
August numbers will tell the tale, but if breakout hits like The Walking Dead and Saga got Image where it is today, could an increasingly successful Die cement the company's status as the once and future king of comics?
And just how far apart are the Boom Studios and Image Comics booths at San Diego Comic-Con?
Kieron will have an Image Comics panel on the Thursday from 1-2pm – Image Comics: Bone-Chilling Insight into Bestselling Horror Comic Books, before DJing at the CBLDF party in the evening at the Westgate Hotel.
And a Boom Studios panel on the Friday from 3-4pm – BOOM! Studios: Discover Yours and straight after Writing the Rules of Magic from 4-5pm. With another on Saturday from 5-6pm, Rolling the Dice: Where Comics and Role Playing Collide…
They can fight over him then.
DIE #6 CVR A HANS (MR)
(W) Kieron Gillen (A/CA) Stephanie Hans
NEW STORY ARC! "SPLIT THE PARTY," Part One: Forget escaping Die-half of our heroes can't even escape the remains of shattered Glass Town. Is there any way out? Of course there is. It's just whether or not you can pay the price. Jump aboard the commercial smash series here!In Shops: Aug 07, 2019 Final Orders Due: Jul 15, 2019 SRP: $3.99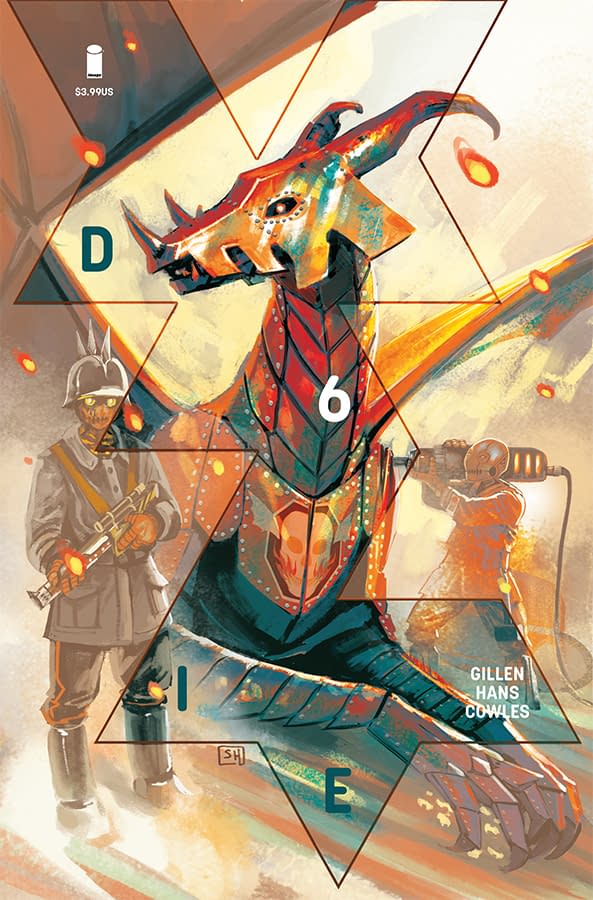 ONCE & FUTURE #1 (OF 6)
(W) Kieron Gillen (A/CA) Dan Mora
* When a group of Nationalists use an ancient artifact to bring a villain from Arthurian myth back from the dead to gain power, ex-monster hunter Bridgette McGuire escapes her retirement home and pulls her unsuspecting grandson Duncan, a museum curator, into a world of magic and mysticism to defeat a legendary threat.
* Bestselling writer Kieron Gillen (The Wicked + The Divine, Star Wars) and Russ Manning Award-winning artist Dan Mora (Buffy The Vampire Slayer, Klaus) explore the mysteries of the past, the complicated truths of our history and the power of family to save the day – especially if that family has secret bunkers of ancient weapons and decades of experience hunting the greatest monsters in Britain 's history!In Shops: Aug 14, 2019
Final Orders Due: Jul 22, 2019 SRP: $3.99