LATE: Doomsday Clock And Shazam! Slip Further…
Yes it's been a while since the last issue of Doomsday Clock by Geoff Johns and Gary Frank. It's been a while since I've been able to call it an unauthorised sequel to Watchmen on a regular basis. And now it's going to be even longer.
A while ago we reported that Doomsday Clock #11, which slipped from May 22nd to May 29th and was starting to go down a similar road to #10 had been delayed a further three months until August 14th. Well, now is has slipped a further two weeks, till August 28th. Here we go again?
It's also been joined with some stranger changes to the already schedule-challenged Shazam! by Geoff Johns and Dale Eaglesham. Because it looks that the book is about to go twice-monthly, which no one expected given the many delays so far.
Shazam! #7 has slipped nine weeks from the 19th June to the 14th August.
Shazam! #8 has slipped six weeks from the 27th July to the 28th August.
Shazam! #9 has slipped three weeks from the 21st August to the !1th of September.
Shazam! #10 has slipped one weeks from the 18th September to the 25th September.
Joining them in the slippage journey are Young Justice #8 from the 31st of July to the 7th of August. High Level #6 from the 24th of July to the 7th of August.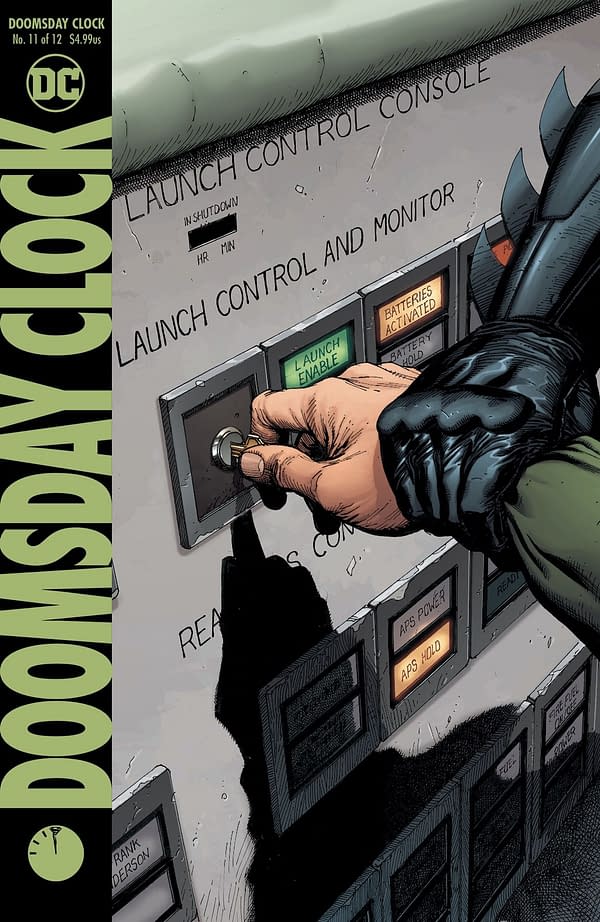 DOOMSDAY CLOCK #11 (OF 12)
(W) Geoff Johns (A/CA) Gary Frank
The critically acclaimed series by the renowned team of writer Geoff Johns and artist Gary Frank marches toward its conclusion. In this penultimate issue, the truth behind "Rebirth" is revealed as Batman searches for the one person he believes can help him save the world…Rorschach! In Shops: Aug 28, 2019
Final Orders Due: Jul 22, 2019 SRP: $4.99

SHAZAM #7
(W) Geoff Johns (A/CA) Dale Eaglesham
"Shazam and the Seven Magiclands" continues as the shocking new member of the Shazam family is revealed! This mystery person will send shock waves through the entire cast!
RATED TIn Shops: Aug 14, 2019
Final Orders Due: Jul 22, 2019
SRP: $3.99

SHAZAM #8
(W) Geoff Johns (A/CA) Dale Eaglesham
As Billy Batson and the rest of the Shazam Family are about to learn as they cross over into the Darklands, the Magiclands aren't all fun and games! In a world filled with all kinds of frightful creatures and haunts, nothing will compare to the horrors of Billy's own internalized fears. In Shops: Aug 28, 2019
Final Orders Due: Jul 29, 2019
SRP: $3.99

SHAZAM #9
(W) Geoff Johns (A) Dale Eaglesham (CA) Mark Buckingham
After their terrifying adventure through the Darklands, Billy and the rest of the Shazam family find themselves going over the rainbow and through the looking glass into the upside-down, topsy-turvy world of the Wozenderlands! It's a magical, multicolored metropolis where it's always time for a cup of tea, a game of croquet or even a stroll down the Blue Brick Road-but it's also ruled by the mysterious Wizard of Wozenderland, desperate for the power of the six champions!In Shops: Sep 11, 2019
Final Orders Due: Aug 12, 2019
SRP: $3.99

SHAZAM #10
(W) Geoff Johns (A) Marco Santucci (A/CA) Dale Eaglesham
The magical superhero adventure continues as the seventh member of the Shazam Family is finally chosen-and it will change Billy Batson and his brothers and sisters forever! But can this new family come together to stop the deadly all-new Monster Society? Plus, Mary's pet rabbit, Hoppy, makes a startling discovery…In Shops: Sep 25, 2019
SRP: $3.99