The 2020 Laydeez Do Comics Festival will take place on Saturday 28th and Sunday 29th March 2020 in London at the Free Word Centre. On the Sunday, from 5.30-7.30pm, they will host the LDC Award Ceremony 2020 with a mission to celebrate the diverse voices of female-identifying graphic novelists in the UK, spotlighting narratives that give new perspectives on the real dramas of the everyday. They have now released their shortlist.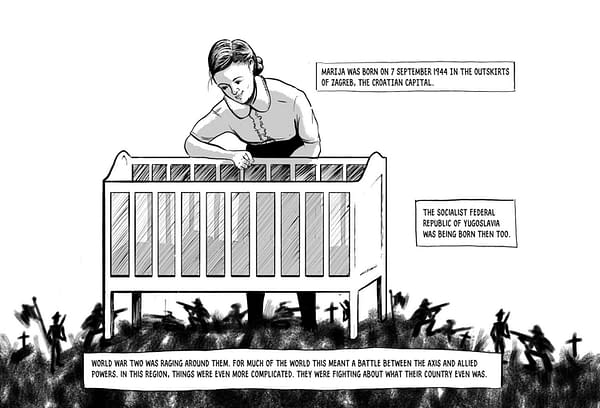 "Yugo is a biography of my mother that contains the history of Yugoslavia as a nation. It examines the nature of historical memory, nostalgia and national identity, while telling the story of one ordinary life in an extraordinary place and time."

"I am a writer, journalist and illustrator, with a background in history. I started making comics two years ago, because it seemed like the right medium to tell this specific story. Now I'll make a comic for almost anything. I'm from many places and live in London.
Denise Dorrance – Polar Vortex
"An adult daughter escorts her dementia-ridden mother across the USA's Midwest during a harsh snowstorm, while placating her estranged sister and unwanted visits from the Grim Reaper. POLAR VORTEX is a humorous and touching tale of confronting life and death, revisiting your past, and the universally complex nature of family."

Denise Dorrance is a cartoonist and illustrator who lived in New York before moving to London. Her sharply ironic and elegant illustrations have been featured in magazine and newspapers around the world. A collection of her work is published in her first book, 'It's All About Mimi'.
Aislinn Evans – Bad Blood Moon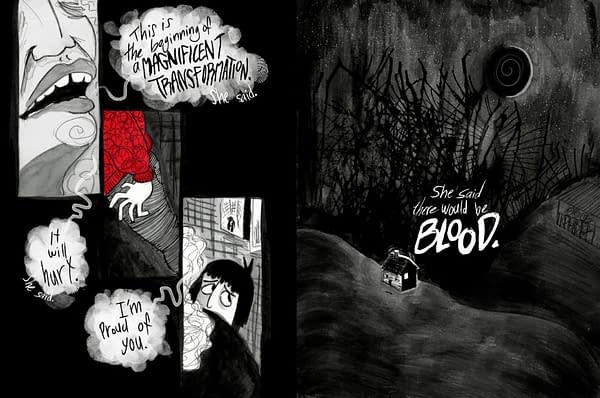 "A Girl becomes an adult and a wolf. The werewolf as a vehicle to explore the trauma of trans puberty and alienation from womanhood. We follow the Girl as she investigates her absent father, tends to the family's sheep, goes to sleepovers, and grows fangs and hair all over."

"I am an interdisciplinary storyteller working in comics, performance, and participation. I navigate the peripheries of culture at the intersection of working class, neurodivergent, and queer experiences. Embracing the radically lowbrow, I reclaim archetypal narratives and retell, reframe, reimagine the story of the outsider."

Bad Blood Moon is a four-page hybrid poem, telling the story of a little girl, a small farm, and a big bad wolf. The story explores gender, family, the traumas we pass on, puberty, and werewolves.The zines are handmade silkscreen prints on cartridge, newsprint, and kraft paper.
Nancy Henderson – Looking Through Varifocals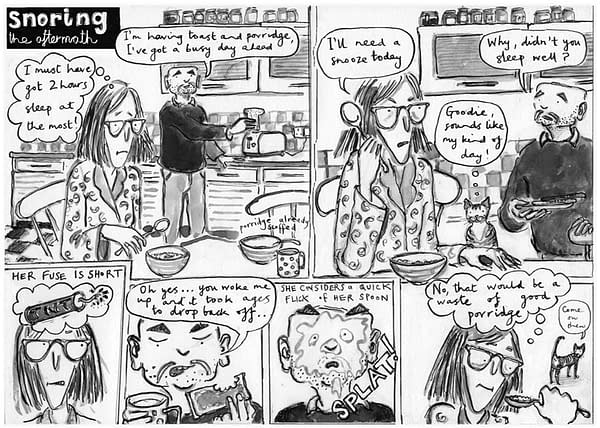 "A comic strip story about a couple at the varifocal stage of life. Retirement looming, the nest empty and things in flux. Looking back, looking forward and living in the moment. The juice of life looked at through her specs: sleep. Love, family, friends, health, holidays, habits and hopes. Life's not over…"

"As a child I drew cartoons and then as an adult I stopped. The next 30 years or so disappeared like this: Art school, waiting on tables, painting, boyfriend, whoops pregnant, marriage, serious illnesses for myself and son, retrained for 'proper' job, worked and doodled in meetings. Time passed…until a few years ago a cartoon window opened again in my head, and here I am."
Christine Humphreys – You Are My Daughter
"The story is about a mother daughter relationship. The episodes are structured like the sections of a newspaper and address "the terrible, crushing breath-stealing burden of people who think they own you!" (Anne Tyler, A Spool of Blue Thread)."

Born in Canada, CA Humphreys studied in Montreal has worked as an architect since qualifying in the UK. She has two grown children and lives in North London. Whenever possible, she practices drawing and yoga and, as a reader at the British Library, researches graphic novels, architecture and urbanism.
Lu Powell – impersonal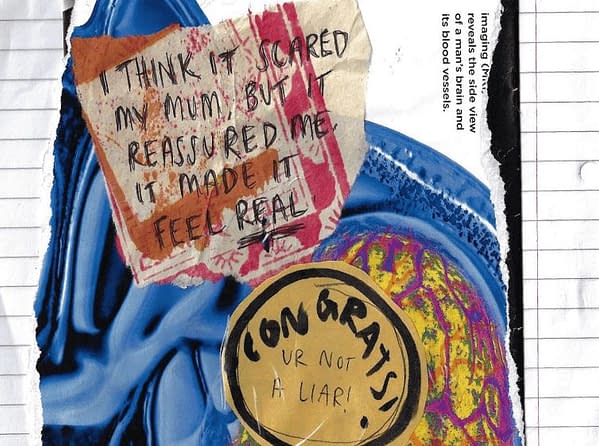 A comic about depersonalisation disorder

An artist new to the medium of comics. Struggles with mental health and thought to try expressing these issues in comic form.
The festival will also include Publisher Presentations, The Laydeez Lounge with a display of all entries submitted to the LDC Graphic Novel Competition 2020, also available to read in printed zine form.Read more here
And possibly what the event is best known for, the Laydeez Review Sessions, 50-minute one-to-one sessions to critically review your work with a leading practitioner.
Enjoyed this article? Share it!