In November, superstar writer and wizard Grant Morrison teams up with superstar artist and digital comics mogul Liam Sharp to launch a new Green Lantern comic, or The Green Lantern comic, if we're going strictly by the title. In an interview on DC Comics' website, Sharp revealed the secrets of Grant Morrison's Green Lantern Scripts.
Below, see what Sharp said when–
*the astral projection of Grant Morrison's disembodied head suddenly appears in the article*
Grant Morrison: You dare threaten to reveal my secrets?!
Jude Terror: What? Uh, no, no, we'd never do anything like–
Grant Morrison: Liar!
Jude Terror: Okay, fine, but DC did it first, in an interview on their website.
*Morrison prepares to cast a very painful curse…*
Jude Terror: Wait! It's nothing too juicy, just an insider look behind the scenes at the mind of… uh… a genius?
Grant Morrison: Tell me more.
Jude Terror: This is all a big misunderstanding. The whole point of comics journalism is to make the headline seem like a big deal, even though it's just some run-of-the-mill non-story that doesn't really make any impact. You know how it is. Kinda like Final Crisis.
Grant Morrison: I shall take my leave this time, mortal. But beware: cross Grant Morrison at your peril!
*Morrison's head dissipates amidst the screams of a thousand dying souls*
Phew, that was a close one. Now that that he's gone, let's see what Sharp had to say about his scripts:
Grant Morrison is known for writing challenging material. I'm curious, how does that affect you as an artist? You're the one who has to bring these ideas to life, after all.

I really enjoy his scripts. They're so entertaining because he'll go off on a tangent halfway through a description of a scene and start talking about his influences, stuff he read when he was a kid, and the sort of pulp stuff he did and didn't like. You get all his insight. He obviously loves writing so much. There's a glee to his scripts that's palpable.

But at the same time, he throws so much at you. The description for panel 2, page 2 is like four pages long! I'm just like, "Oh my god! This is half an issue! How am I going to fit everything into this page?"

There are also very specific references to characters from years and years ago. When I was initially reading the script, I was just constantly on the internet. Some of these are so obscure that the referencing goes really deep. You have to really look to find it. He knows his stuff.

I love that he's not trying to reboot it or start from scratch. He's trying to be really respectful to everything that's come before. I think long-term Green Lantern fans are going to have a lot of fun with all of the Easter eggs that are buried in there—specific references to specific scenes. There's a scene that very much echoes the Abin Sur origin. It's not a rework of the origin, but it echoes it intentionally.

I know Grant wanted it to feel like if you've never read Green Lantern before, you could pick this up and start here.
The Green Lantern #1 hits stores on November 7th. Read the full interview with Liam Sharp here.
GREEN LANTERN #1
(W) Grant Morrison (A/CA) Liam Sharp
Superstar writer Grant Morrison (Batman, All-Star Superman) returns to DC alongside red-hot artist Liam Sharp (The Brave AND the Bold, Wonder Woman) to launch a new, ongoing series: THE GREEN LANTERN!
In this debut issue, when Earth's space cop, Hal Jordan, encounters an alien hiding in plain sight, it sets off a chain of events that rocks the Green Lantern Corps-and quite possibly the Multiverse at large-to its very core. There's an inter-galactic conspiracy afoot, as well as a traitor in the GL Corps' ranks, so strap in for more mind-bending adventures in this masterpiece in the making.In Shops: Nov 07, 2018
SRP: $4.99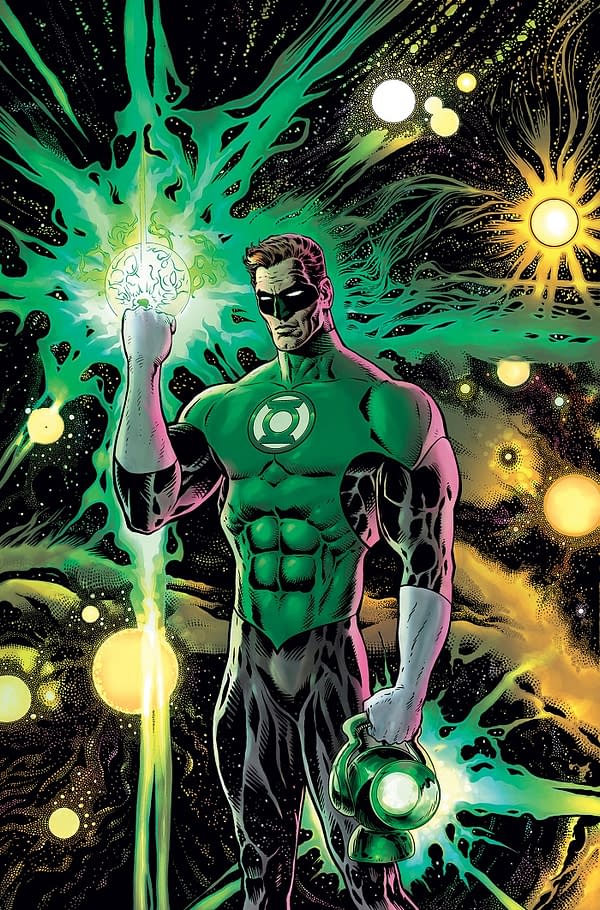 Enjoyed this article? Share it!