Live! From The Diamond Retailer Appreciation Breakfast At NYCC 2014 It was a sizeable turnout early in the day for the first day of New York Comic Con for retailers to hear from Diamond and publishers about what's coming up in comics and collectibles and also about features that are particularly helpful to retailers.
Diamond reported that the Comic Book Specialty Market is up 2.7 percent for comics, 4.3 for graphic novels, and toys at 8, brings 2.1 across the board total.
They are bringing "in-stock notifications" to their website soon based on demand that can result in e-mail notifications for items selected via the website. It can also be requested ahead as notification for new released.
Archie is joining the FOC program starting in January, Diamond announced, to a round of applause.
The POS and expansion programs enables better tracking for inventory and sales, and can result in up to 6700 dollars in free product to offset the cost of subscribing, Diamond explained.
There's a panel running today at 1:15 in the A-hall rooms for "What's @Comic Shops" to inform readers about the role of stores and retailers, featuring the Comic Shop Locator Service, Social Media, and websites access to the public.
Halloween ComicFest 2014 is coming up, and stores can still add to participate, and as a growing event is up to 1500 retail locations and at 700,000 units of full-sized comics and 800,000 in mini-comics. They are still shipping in time for Halloween. The Fall Best Practice Awards for Retailers were announced as Jesse James Comics in Glendale, Arizona for two awards, Brave New World in CA, and Kings Comics in Sydney, Australia.
Disney's Frozen "Big Book" at 14.99 and 400 pages is coming up on sale December 3rd are looking to do really well.
The Overstreet Price Guide #44 is doing well, with the Vampirella Hardcover sold out, but others still available.
In December, the guide to Grading Comics will be arriving from Overstreet.
Previews will have a price-drop in January to 3.99, which received a round of applause, and will be on the November order form. This will bring the price down to that of a normal comic and should make a big difference for retailers.
Titan Comics kicked off the publishers presentations. Ricky Claydon reminded of the new FTP area for retailers from Titan that will have PDFs of many of these discussed titles soon. Doctor Who was first to be discussed, looking at the new story arc in December in issue #6 for the Tenth Doctor. Some work in progress art showed weeping angels. Their brand new 11th Doctor Series is coming also in December and showed a science-fiction/TARDIS theme. Their brand new 12th Doctor series is coming next week to shops and were able to show a trailer soon to be released by the BBC on their official Youtube Channel and Facebook to promote the new Titan comic. The trailer depicted strange creatures, an alien-planet setting, and the menace of a blazing sun. The Capaldi-based Doctor seemed in fine detective form, eye-brows and all. Claydon discussed the Doctor Who fanbase and mentioned that fans recommend one particular Doctor the most, the 9th as played by Christopher Eccleston, which will also feature Rose and Captain Jack and will come out in April as a new series from Titan. Death Sentence 2 will be arriving in 2015 also. The Michael Moorcock Library will be expanding, such as Vol. 1 Elric arriving in February.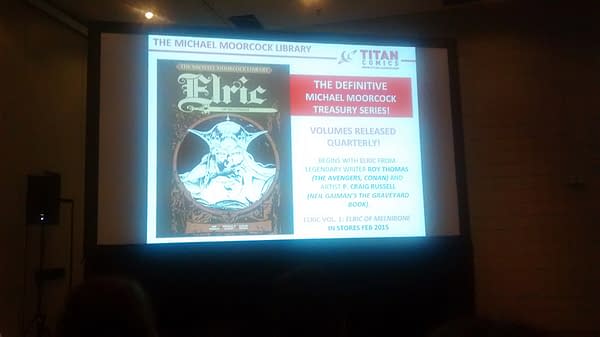 Their brand-new 8 issue series Johnny Red is also coming in 2015 from Garth Ennis. Norman Vol. 1 about a psychopathic child, is available for order from next week.
World War X Vol. 1 is available in next month's previews.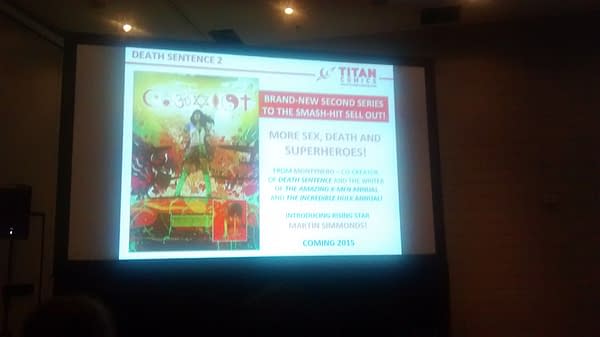 Rivers of London is coming in April, "NYPD Blue Meets Harry Potter" in content. It's a brand-new 5 issue series.
Charger, an action-comedy is coming in 2015, with "suicidal penguins and timeless romance".
Anathema from Rachel Deering and Patrick Mooneyham is coming in 2015, and volume 1 will be in December Previews.
Fred Van Lente and Dennis Calero are bringing Made Man and made a video to show to retailers set in the streets of Brooklyn for "mood". They described mafia families that steal a technovirus that infects their central character.
The Art and Making of Hannibal is coming in April, and also the Art and Making of Penny Dreadful from Titan Books.
Titan Merchandise showed off a wide range of apparel for Doctor Who, with 200 unique designs, with about 10 new designs each month. Their success with Titan vinyl figures has been pronounced, with a current range of Tenth Doctor Titans, Eleventh Doctor Titans, and a range of Regeneration Doctors shipping soon. Before the end of the year they will ship at least 9 different sets from Alien to Buffy, Battlestar Galactica and Dragon Age.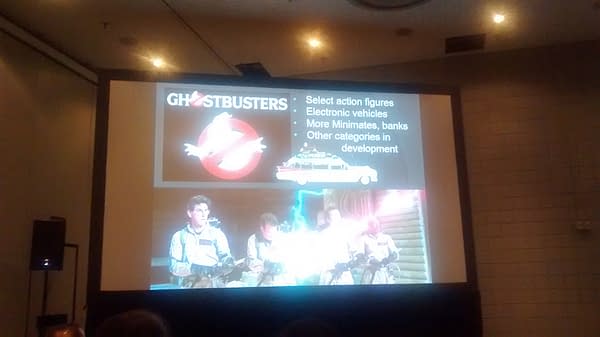 Diamond Select Toys is introducing several new products including new Reel Wear from film properties with plenty more on the way. They'll be expanding kitchen ware, including TMNT, Godzilla, lunchboxes and things that will hark back to earlier times and be more "replica-based". Aliens will expand to minimates, bottle openers, and a line of banks. Their new license is Predator, expanding to minimates, and bottle openers. More will be coming with Godzilla themes and My Little Pony. Nightmare Before Christmas is coming for Halloween in minimates, with the Jack promo for ComicFest 2014 but a full assortment in 2015. Kill Bill is already in shops but action figures are currently being approved by Quentin Tarantino. They'll also be doing action figures for Pulp Fiction. Pathfinder products are coming, and also a Zenescope-approved Grimm Fairy Tales minimates set. There will be a full line of TMNT merchandise coming as well and blind-bag minimates. Their biggest announcement is select figures for Ghost Busters. Actual likenesses of the actors will be used, similar to Universal Monsters, the full set of collector's items will only be available at comic outlets, not from other locations. They are looking to have a light and sound version of Electronic vehicles, more minimates, and banks.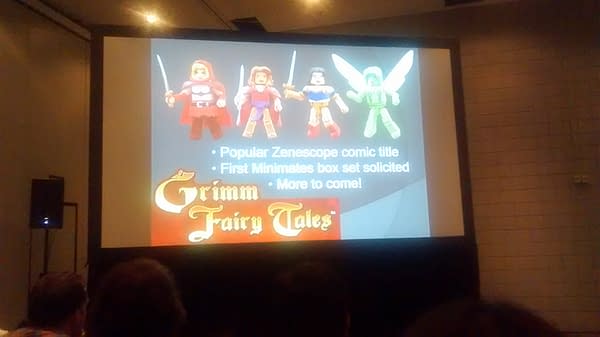 Valiant took the podium, led by Atom Freeman, with Fred Pierce and Hunter Gorinson. Their Valiant First initiative with Jeff Lemire, Matt Kindt, Paolo Rivera, Clay Mann, and many more is something their very proud of, starting off with The Valiant. The Valiant is starting in December with Paolo Rivera fresh off his Daredevil run and a post-DC series for Jeff Lemire. With every major character from the Valiant universe, and this series is set to change that universe. It's going to be a perfect starting point for new readers, and will reveal the origin of Eternal Warrior's three scars, they teased. They are up against the Immortal Enemy in a full scale Valiant character team up. Discounts will be available for retailers for Issue #1 and full returnability for Issue #2. It's a "prestige format" book and will be beautiful, similar to Death of Wolverine with cardstock covers, minimal ads and extras. Pierce says their goal is to get fans to read their first Valiant book with this one. It's a ground-level, continuity-free start for readers, designed that way by Kindt, Lemire, and Rivera. There's a "marketing package" for the first issue of the series and will be using "pullbox previews" for subscribers with a Valiant First Look. There's an opt-in for a rolled poster, and a Paolo Rivera standee available upon request if shops will keep it up for the entire mini-series on display. There are going to be 4 exclusive covers with character designs by Rivera available to retailers.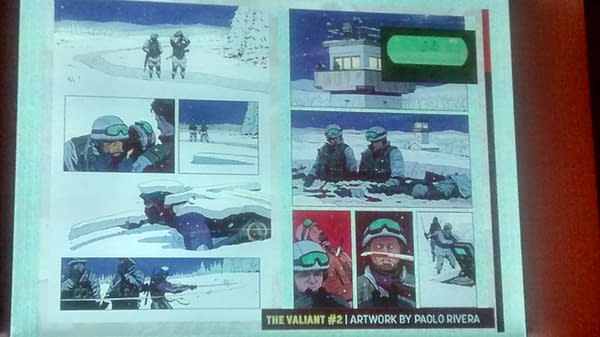 Ivar, Timewalker by Fred Van Lente and Clayton Henry is arriving in January and looks, frankly, gorgeous. Ivar, introduced in Archer & Armstrong, is a Doctor Who/Indiana Jones figure.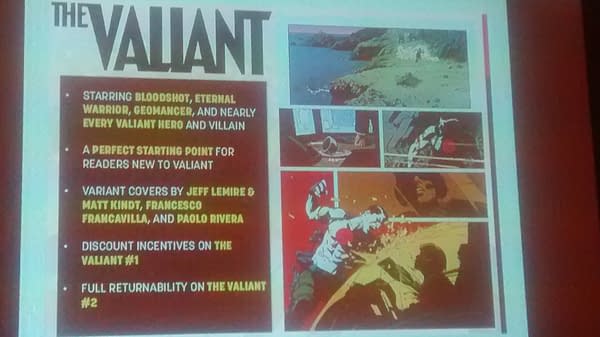 Their all new concept Divinity is coming in February from Matt Kindt and Trevor Hairsine, about a soviet astronaut, lost in the past, who crashes in the modern day and can manipulate time, space, and matter. He's a "60's style" communist, so his god-like abilities are a problem for the rest of the Valiant universe.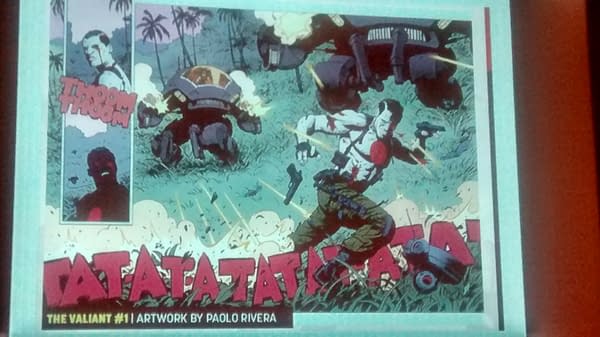 They are doing, essentially, "the legion of doom" in Imperium about an engineered Utopia.
Ninjak is coming, with Matt Kindt art by Clay Mann, in the Spring, and Mann has gone exclusive with Valiant.
Bloodshot Reborn is coming in April, and they can't say much about it, but the artwork by Mico Suayan.
Freeman said they've "found the clutch, found the 5th gear" at Valiant and are headed into 2015 on that note.
Dark Horse presented next, featuring the Legend of Korra, and the return of Hellboy with Frankenstein Underground as part of the Mignola-verse. This the story of a monster's journeys among other monsters and is coming in March. Richard Corben has just been announced on a 5 issue series Rat God, a backwoods inspired horror tale, Lovecraftian in nature. Buffy the Vampire Slayer has a birthday in January and there will be a special backlist for retailers.
Project Black Sky is going to be connected in its dots, with a crossover between X and Captain Midnight, beginning in X #21-22 and Captain Midnight # 21, 22, 23, 24.
Dark Horse have been working on a crossover with Dynamite for Conan and there will be a January release for Red Sonja written by Gail Simone.
The Goon's recently announced Once Upon a Hard Time continues to celebrate the 15th anniversary of the Goon with more announcements to come.
Brian Wood, Andrea Mutti, and Jordie Bellaire will be producing Rebels and a new video game series with Brian Wood on Eve: Valkyrie in May.
Matt Kindt, like Brian Wood, has been involved in several projects with Dark Horse and they'll be collecting Two Sister and Pistolwhip, his older projects, for him.
They'll be collecting David Mack's Kabuki material in mid-2015 in large art hardcover format. Fight Club 2, working directly with Chuck Palahniuk, is in process. It's launching in May of 2015 and will be one of their biggest series of the year. Regarding the popularity of Aliens and Predator will lead to a re-packaging of a Mike Mignola story. They made a special announcement for AVP, working with Archie Comics for Archie Meets Predator. Alex de Campi will be writing, Fernando Ruiz on art, and a special variant cover series with Francesco Francavilla and Eric Powell. IDW thanked retailers for their best year ever and Dirk Wood particularly thanked retailers for stocking their "giant books" and also their normal sized ones. They will be launching a website for the retail sphere, kind of their own version of the Comic Shop Locator. With the holidays coming, they are aware of competitive shelf-space and the need for shipping on time. Machi Koro, their boardgame, sold out of 20,000 copies immediately. It's "Catan meets Dominion" apparently. Their best stocking stuffer for "huge feet" is their Steranko Artist's Edition.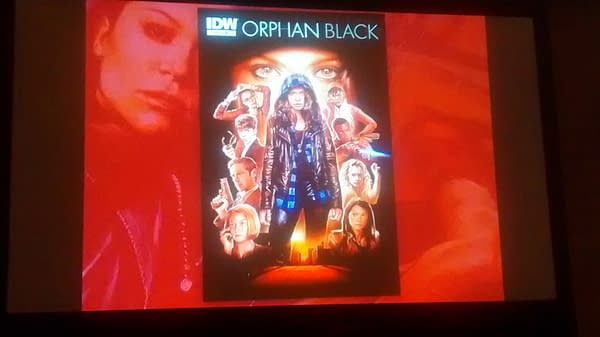 Little Nemo has been "huge" and Wood called it as an "Eisner Winner" coming up. Garbage Pail Kids is coming up with a slate of indie creators like Dean Haspiel. Star Trek/Planet of the Apes is coming up in partnership with Boom! Orphan Black is starting in March and one of the producers of the show is overseeing the series. The Marvel Covers Artist's Edition is already going to second print, Wood said. IDW will be making 4 announcements with Marvel at the show. It's no surprise that they'll be doing more Marvel Artist's Editions. Last night, IDW announced that they'd entered into a deal with Disney on Cark Barks' Uncle Scrooge books. They are going to do micro-comic funpacks and plenty of material that hasn't been seen "in years and years". Their big announcement is Jem and the Holograms and Wood compared it to the My Little Pony launch. They have "huge expectations" for this series.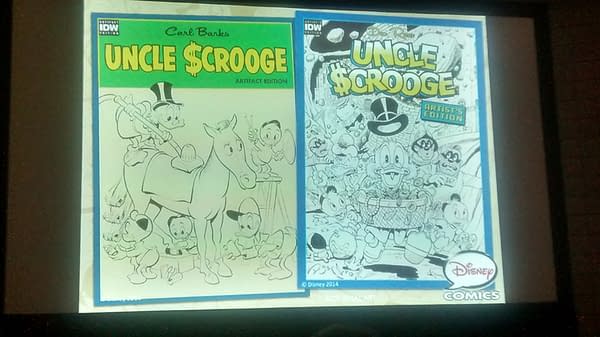 DC Comics rounded off the presentations with Bob Wayne, currently on his "farewell tour". Wayne has been making all or part of his living for 40 years selling comics, he said, which "beats having a real job". He had shops before moving to DC in 1987. Wayne recapped the 75 years of Batman promotion and Batman Day exceeded expectations for DC and retailers. Batgirl has done well. They're bringing tie-in titles with the Batman mythology, like Arkham Manor and Gotham Academy. Batman #35 features the return of the Joker and the return of Scott Snyder and Greg Capullo. The Harley Quinn Annual #1 is arriving October 29th as a "rub and smell" format. Gotham by Midnight is arriving, drawn by Ben Templesmith, an X-Files like team led by Jim Corrigan and set in Gotham. Their first ever home-video release of the Batman TV show from the 60's will have an exclusive book only for retailers. Special collections of the Batman 66 comic will also be available. In November we'll have our new team of Finches on Wonder Woman, the return of Gail Simone to Secret Six, and Geoff Johns on Superman #37.
The Gotham TV show is excited about the fan reaction to Gotham, and this is good news for retailers for getting readers into Batman comics.
The return of Arrow for Season 3, with the tie-in comic Arrow 2.5.
Flash has debuted, with plenty of "in-joke references", and a new digital series as a tie-in, Season 0, has launched.
Constantine arrives the 24th, and Wayne predicted high sales on Hellblazer trades. Retailers will be receiving special promo posters with art by Gene Ha to steer people toward Constantine and Hellblazer comics who are familiar with the show.
Sandman: Overture has 100% refundability for #4, and the companion book Dream State has new pieces by Neil Gaiman and Dave McKean. Wolf Moon, a new 6 issue series, is arriving in December.