The Gadget-Hero Strikes Again In Lobster Johnson: A Scent Of Lotus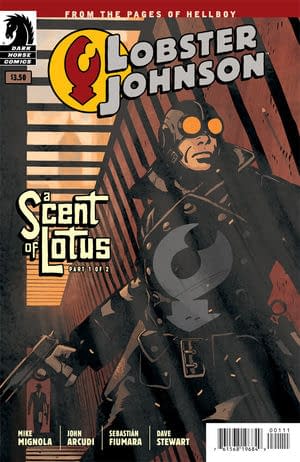 Hannah Means-Shannon, our senior New York Correspondent, writes;
Lobster Johnson's life and death, and pulp-hero existence within the Hellboy universe, is partly a matter of interpretation based on the intricacies of his own chronology. During the events of "A Scent of Lotus", set in the winter of 1933, Johnson is operating as "alive", and for that reason readers are able to watch him operate as one of pulp tradition's most iconic creations: the "gadget-hero". The most popular and well-known enduring gadget-hero is, of course, Batman, and later, with quite a few tweaks into a more modern heroic mode, we have Iron Man. This is the hero who through wits, agility, and the use of ingenious devices manages to stay one step ahead of evil-doers and most importantly, to survive when under deadly attack through a combination thereof. Being a gadget-hero doesn't mean that one only faces purely rational and quantifiable foes, however, as Batman and Iron Man's long histories will attest, and Lobster Johnson continues to be associated, even if marginally, with the occult in keeping with his Hellboy roots.
The two-part instalment chronicling the life and times of Lobster Johnson, "A Scent of Lotus", feels a little different to previous adventures readers may have encountered (these are issues 14 and 15 of Johnson's stand-alone series), and part of that seems to be down to the artwork of Sebastian Fiumara and Dave Stewart's colors. Together they present a character who is portrayed more consistently as a man of action in mid-action and a figure who nevertheless becomes more visually striking as a symbol than in previous comics. Since both of those were almost certainly goals in previous Lobster Johnson issues, this is not a radical redefinition of the character, but it is a subtle amping-up of these qualities and the result is that he comes across as more of a gadget-hero than ever before, successful through his agility in combination with his technology. [*spoilers for Issues 1-2 of "A Scent of Lotus" below, particularly in the final 2 paragraphs]
The first part of "A Scent of Lotus" opens with Johnson running along rooftops in New York City, a staple of many pulp-noir hero and super-hero comics but still very effective in establishing both agility and providing opportunities to use gadgets. There's a physicality about Fiumara's inks, providing a great deal of detail in architecture and clothing, that focuses the energy on Johnson as he moves through unforgiving terrain. We see him leaping and jumping great distances, and sticking the snowy landing. Thus far, his athletic abilities are pretty well established. Before a full page has passed, Johnson also begins to talk by radio headset embedded in his helmet, to his partner Harry. Harry wears a harness of tubes and wires, and speaks into a radio mic from their back up vehicle. Between the opening of a page and the final panel of the same page, Johnson is established as a gadget-hero for readers.
It's a theme that continues at key points throughout Issues 1 and 2, especially when it comes to weaponry. Johnson's known for being a fairly violent guy, his lobster-claw calling card often drifts to the ground at the scene of carnage, and he's no slouch with a revolver, but "A Scent of Lotus" has a particular focus on shoot-outs, partly due to the Chinese gang-rivalry at the center of the plot. I'm not sure that the sound effect BLAM has ever been used so many times in a single Lobster Johnson comic as it is in Issue #1 (but feel free to count and comment on that). In one of the most memorable panels in the first issue, Johnson appears in an orangey haze conjured by Stewart, lit by the rapid fire ignition behind his own revolver, orange goggles blazing, firing directly at the reader in a 2/3 of a page panel. His tool belt also features prominently in the scene. The panel sets Johnson up as larger than life, a pulp icon as a man of action, but it's a very clever set up since it gives way to the surprising moment when two bullets "thip" into his leather jacket at chest level.
At this point readers may have to remind themselves "Wait, he's not dead yet in 1933, is he?" and convince themselves to be concerned about what they just witnessed. No, he's not, and so the pulp hero has to explain his own survival at this point. Peeling away his jacket two pages later, Johnson displays what may be the ultimate gadget of the storyline, in that he's in possession of technology ahead of his time: a bullet-proof vest. His survival isn't miraculous, but it is meant to be surprising for the big reveal of his savvy use of tech.
Ironically, tech comes off as being more impressive and attractive when it does possess some limitations, which render it more believable, and in Issue #2, when Johnson dodges bullets aimed at other parts of his anatomy, the cleverness of a bullet-proof vest becomes even more obvious. The man of action with his gadgets usually sustains some non life-threatening injuries on a regular basis (Batman thrives on this), and Lobster Johnson takes his place for medical treatment in a rare display of his biceps (but he keeps his gloves on, of course) in Issue #2. As he's being advised about his bullet wounds and how to recover quickly from them, he intones, "Justice will not wait". You just can't get more pulp hero than that statement, nor any closer to a classic gadget-hero line. Because a gadget-hero is fuelled by his or her own drive to impact the community, and sheer physical and mental persistence determines their success, they are deeply entrenched in staying in motion. They don't have super-powers to help them catch up on crime-fighting if they start lagging behind.
But the gadget hero also learns quickly to adapt to new threats, often modifying their past efforts at defense and assault from hour to hour (something very typical of Tony Stark as Iron Man), and also has a practical bent to take into account whatever tools are at hand to accomplish their task. In Issue #2, Johnson gets winged by bullets again, and this time a close-up on his ripped jacket reveals new metal plating on his limbs to protect his injuries and avoid further damage. It's an important panel in many ways, a moment that says a lot about the character, though it's not a move that can protect him from every kind of danger. I mentioned the occult. "A Scent of Lotus" hinges on the escalating violence between Chinese freedom fighters attempting to direct cash back to the front against Imperial Japan and the influence of a terrorist "spy", the Crimson Lotus, attempting to break down this supply of funding, but this "spy" happens to also be a "witch" with indefinite boundaries into supernatural powers. Her gaggle of gun-toting and Noh mask-wearing monkeys suggest an interesting balance between the creepy and the practical, too, just as she does. Of course, Lobster Johnson is not afraid of these abilities or antics (though the monkeys really do put up a good fight) or he wouldn't be much of a hero in the Hellboy universe, but his eminently practical response is very interesting. He uses what may be the most blunt tool of all (and yes, I'm writing this on a comics news site), the media to demystify the situation. Realizing that a supernatural spy is still, at root, a spy, he uses a very simple gadget, a camera, and the machinery of the press to simply blow their cover. It's a little surprising how quickly the story wraps up following that basic, effective manoeuvre. Johnson proves pretty pointedly that the mind behind the gadgets is the most effective tool of all.
Fiumara and Stewart seem to waste no opportunity to deliver a more lithe and active figure in Lobster Johnson throughout "A Scent of Lotus". Though those qualities have never been alien to the character, there's a pronounced emphasis here that casts our hero as more of a gadget-hero than ever before who struggles via brainpower and clever tools against powers that would otherwise be greater than his abilities. The unfair odds he faces teach him lessons, and he tries again in an adaptive vein, and often forces himself to think outside the box about what tools are available to him. Because he doesn't rely on any one personal strength as a super-hero might, he actually establishes an advantage over those who do, like the Crimson Lotus. Mike Mignola and John Arcudi take the time to really point out these aspects of Johnson's persona in this spotlight double-issue, and Fiumara and Stewart establish visually, and rather unforgettably, that Lobster Johnson has the skills and tools for the versatile gadget-hero role.
Lobster Johnson: "A Scent of Lotus", Issues 1-2 are published by Dark Horse Comics. Mike Mignola and John Arcudi are writers on the books, Sebastian Fiumara is responsible for the art, Dave Stewart for the colors, Clem Robins for the letters, and Tonci Zonjic for the covers.
Hannah Means-Shannon is senior New York Correspondent at Bleeding Cool, writes and blogs about comics for TRIP CITY and Sequart.org, and is currently working on books about Neil Gaiman and Alan Moore for Sequart. She is @hannahmenzies on Twitter and hannahmenziesblog on WordPress. Find her bio here.