Lois Lane and Lex Luthor, sitting in a tree, C-A-N-O-O-D-L-I-N-G? That's what some people are saying about the photograph showing Luthor meeting with Lane at her hotel room, a story which Daily Planet gossip reporter Trish Q wants to run with. Perry White, on the other hand, has a few reservations. Oh, he's going to run the photo, but with a classier headline. Trish, if you ever want a job at Bleeding Cool, you could have that creative freedom you so desire!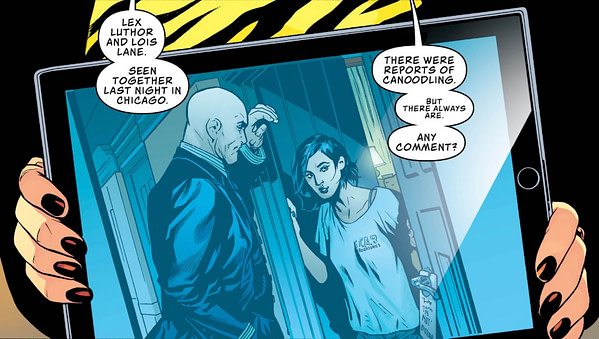 Of course, we've seen in previously revealed pages for this issue that Superman and Lois have a big makeout session planned, so there's likely more here than meets the eye. Could Luthor's presence have anything to do with the book Lois is writing: My Life With Superman? Is this the kind of storytelling we were all hoping for when "The Great One" Brian Bendis took over the Superman books?
Check out the preview below. Action Comics #1004 is in stores on Wednesday.
Action Comics #1004
(W) Brian Michael Bendis (A) Ryan Sook (CA) Steve Rude
Superman confronts Lois Lane and wants answers: Where is Jon Kent? What happened during Lois' trip into space with Jor-El? Why didn't she contact the Man of Steel when she returned? And most importantly, does she still love him? Or is the world-famous reporter looking to let Clark Kent down easy? Lois and Clark's relationship gets redefined in this issue illustrated by acclaimed artist Ryan Sook!
In Shops: Oct 24, 2018
SRP: $3.99