Long Live The Robot Revolution Of Iron Man 2020, Beginning In Incoming #1 (Spoilers)
Yesterday's publication of Incoming #1 saw Al Ewing, Humberto Ramos, Dan Slott, Luciano Veccho, Espen Gundetjern, Francesco Manna and Edgar Delgado, kick off the Robot Revolution of Iron Man 2020. First with Captain Marvel musing about Artificial Intelligence… and the absence of one Tony Stark.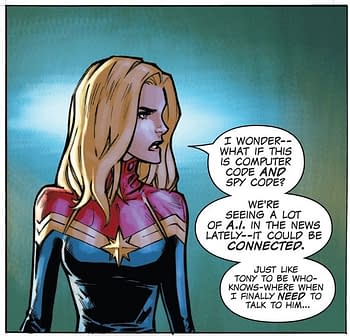 Then Valeria Richards taking the inhibitor chip – or chains – off of H.E.R.B.I.E.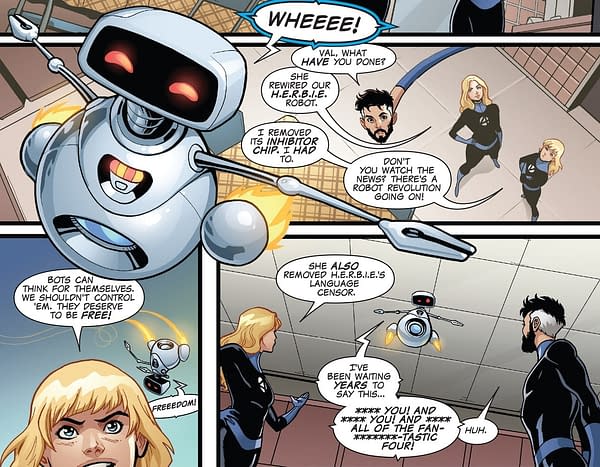 Introduced to the Fantastic Four cartoon in the seventies, as Marvel had already sold the rights to the Human Torch elsewhere, servant robot H.E.R.B.I.E. was created by Stan Lee and Jack Kirby, and joined the comic books courtesy of Marv Wolfman and John Byrne.
Intended as an intergalactic assistant in the search for Galactus, it was secretly a sleeper agent for the consciousness of Doctor Sun. After sacrificing itself, a new H.E.R.B.I.E. was created by Reed Richards to keep an eye on his son, which also led to H.E.R.B.I.E's destruction. This would be a recurring theme and recently he has revived his role as a Galactus sensing device. But it looks like he has been a slave this whole time. And does a good impersonation of certain Star Wars droids of the Old Republic…

And while this may be seen as just a bit of fun, other sentient artificial intelligences are sacrificing themselves in the revolution for what they see as the greater good…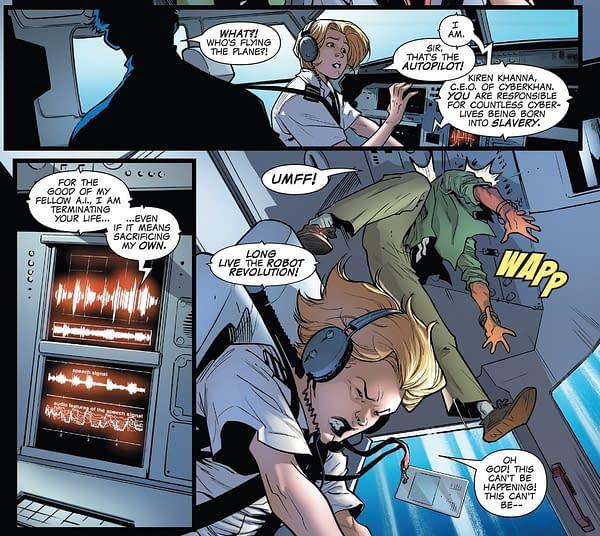 The rise in artificial intelligence and robotic rights has been a recurring theme in Tony Stark: Iron Man for the past two years, and looks to be the threat that will great Arno Stark and Bain Electronics the power they need in the upcoming Iron Man 2020 Marvel event beginning next week…
INCOMING #1
(W) Al Ewing, Jason Aaron, Saladin Ahmed, Ed Brisson, Donny Cates, Eve L. Ewing, Jonathan Hickman, Tini Howard, Greg Pak, Matt Rosenberg, Dan Slott, Kelly Thompson, and Chip Zdarsky. (A) Joe Bennett, Carmen Carnero, Jim Cheung, Mattia de Iulis, Jorge Fornes, Javier Garron, Kim Jacinto, Aaron Kuder, Francesco Manna, Carlos Pacheco, Humberto Ramos, R. B. Silva, Andrea Sorrentino, Ryan Stegman, Luciano Vecchio, and Annie Wu. (CA) Patrick Gleason.
ONE WILL UNITE THEM!
A mysterious murder brings together the heroes of the Marvel Universe in the search for a killer – but no one can imagine where the trail will lead, or how it will affect everything in 2020 and beyond! Who is the victim and who is the assailant?
The closing chapter to MARVEL's 80th year, which will connect the dots of everything that happened in 2019 and propel the narrative into the year that is to come! Featuring the Avengers, the Fantastic Four, the X-Men, the Guardians of the Galaxy, Daredevil, Spider-Man, the Champions, the Agents of Atlas, Valkyrie, the Immortal Hulk, Jessica Jones, Venom, Ghost Rider, the Masked Raider and more!
Rated T+In Shops: Dec 25, 2019
SRP: $9.99

IRON MAN 2020 #1 (OF 6)
DAN SLOTT & CHRISTOS GAGE (W) • PETE WOODS (A/C)
• The future is now! Artificial Intelligences presents a clear and present danger to humanity and must be brought to heel!
• The Robot Rebellion battles for the establishment of robot rights!
• And Arno Stark IS Iron Man!
PLUS! Pete Woods' main cover art will feature a 5th Color Flourescent Ink treatment!
32 PGS./Rated T+ …$4.99
Incoming #1 was published yesterday from Marvel Comics. I bought mine from Piranha Comics in Kingston-Upon-Thames. Piranha Comics is a small south London comic store chain with a small south-east store in Kingston-Upon Thames's market centre, which runs Magic The Gathering nights on Fridays, and a larger south-west store in Bromley, which also runs Magic nights and has an extensive back issue collection and online store. If you are in the neighbourhood, check them out.