From Moving Bodies – a story about human extrasolar colonization
Chance Wyatt writes for Bleeding Cool:
Have you ever been reading a comic and thought, "Aw geez! I wish this wasn't so dramatic and exciting…. Why can't my comic books read more like my science text books?" As kids we all had these sorts of thoughts, but we put aside such notions as we matured and learned to accept all the exhausting emotions and action that one finds in popular comic books. Well, in a small, damp house in St. Paul "lives" a man who has never let go of that dream. Me. Chance Wyatt.

From EAT ZONE – a story about the world's last fast food restaurant
But my dream isn't merely to bore or confuse my readers. It's to shift the focus of storytelling – to create stories that are less human, less relatable. As vertebrates, we readily engage with stories of love, hate, jealousy, revenge and fistfights – these are things we encounter every single day. Concepts like special relativity, quantum mechanics or evolution are strange to us because they become apparent only at scales, speeds or over spans of time that we don't experience.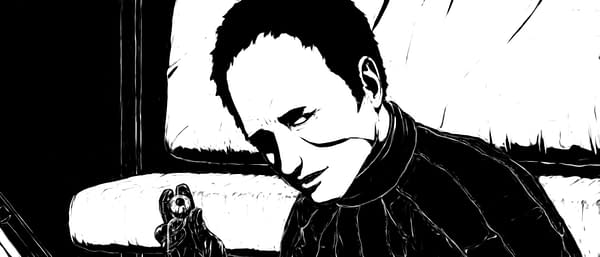 From census – a story about a world that has overcome death
I hope that in the future when we use the term "science fiction" it'll be to describe the kind of stories where ideas are the stars rather than people. This might sound like an unrealistic goal, but it's getting easier to trick people into trying these books. It took years to sell through a small print run of my first three books. Last year, my first Kickstarter campaign for the graphic novel, census managed to outsell those first books in a matter of weeks. Now Moving Bodies – my latest one-shot comic book – was able to gather five times its goal in the first day. The trajectory of my success is clear and the only real question is whether or not I should hyphenate "godemperor".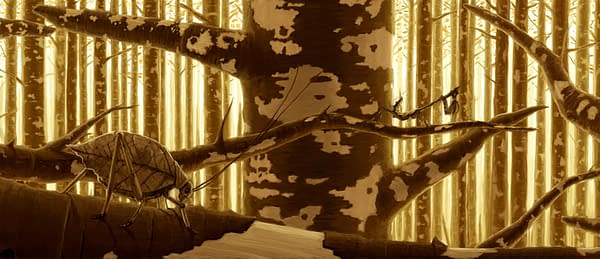 From Katie and the Flowers – a story about a katydid born the wrong color
I doubt the types of stories I create will ever actually have the appeal of books about superheroes, adventure, romance and villainy, but I think there's a place for them. I really do love stories about people in grave danger who need to punch precisely the correct face in order to survive, but sometimes I also enjoy reading a story where the excitement comes from merely learning something new. From A Bright Day on the Dark Side of the Moon – a story about an otter in a hat
I'm honored to be writing something that appears on Bleeding Cool and I'd like to show my appreciation by offering something special in the Moving Bodies Kickstarter campaign, but I don't really like the idea of stretch goals or special deals for certain people. So what I'm going to do instead is add another print for free. Now anybody who orders Moving Bodies at a reward level that was getting a signed and numbered print will be getting a second, different signed and numbered print as well. So now even if you don't order Moving Bodies, you've helped out all those lovely folks who did JUST BY READING BLEEDING COOL. You're a real hero.
Chance Wyatt doing his "handsome face"
You can reach Chance via his website, ChanceWyatt.com or follow him on Facebook at facebook.com/ChanceWyattPictureBooks
And you can find his latest book on Kickstarter by searching for Moving Bodies or by clicking right here.
Enjoyed this article? Share it!