Jason Borelli attended Heroes & Villains Fanfest: New York 2016
Woke up late again. Missed another Arrow panel. Wound up parking in a lot directed by arrows, and I had to take pictures with my cell phone so that I wouldn't get lost. One time, it took me about an hour to find my car after a day's worth of conning. And I had to go to the bathroom. If I didn't hold it in, it might have come out as steam.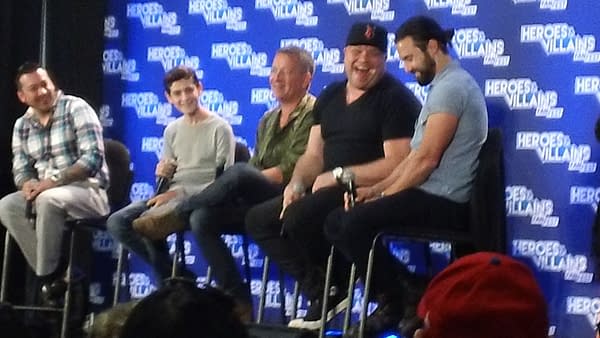 I didn't go too crazy with purchases. I only got one autograph, from David Ramsey, better known as John Diggle from Arrow. I figured that I missed him at the panel, so I had to make up for it. I didn't get my picture taken with him, which saved me $20. Had a bit of a surprise as Willa Holland whizzed past me to try and get the drop on David. I made small talk with him; he told me that he doesn't come to the New York area often, but he tries to do a lot when he comes. Also, he's going to get a new helmet in the upcoming season. I didn't ask if the producers had to pay Marvel royalties for its resemblance to Magneto's.
Dummy that I am, I didn't notice that there was another level to the convention until I looked at the map. This was clearly a parking garage, with games of all sorts spread out. Also, this was where the photo ops were being held. Personally, I'm okay without the fancy pictures, because I don't spend that much. Speaking of celebrities, I met Sean Pertwee. Again. I waited on line for a little bit, and then I told my story about yesterday to the volunteers manning the area. I got my photo taken with Sean, and I knew to check my camera this time. Even better, I showed him the sketch I just got from Josh C. Lyman of Alfred from Gotham. Before the end of the day, I also got a Diggle from Michael Calero.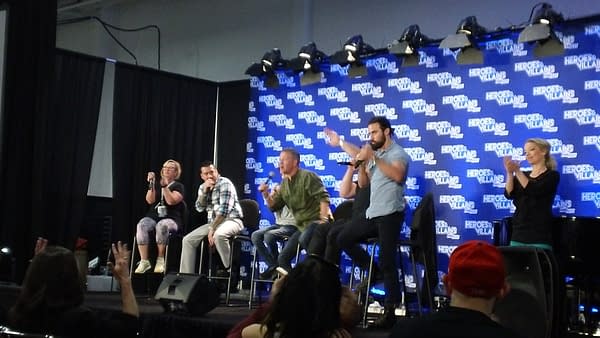 Today, I wound up attending the panels for Legends of Tomorrow (featuring Ciara Renée and Caity Lotz) and Gotham (David Mazouz, Sean Pertwee, Drew Powell and Milo Ventimiglia). The big problem: I could barely hear them. I wound up recording about ten minutes of the first panel before I gave up and shut off my recorder. It was irritating . . . yesterday, I thoroughly enjoyed myself watching John Barrowman in action. Part of the problem might be that the panels were held in an area on the convention floor, as opposed to a room or hall. It might have been a technical thing with the speakers. Or maybe John is so talented a speaker, he can be understood by everybody, including folks who don't understand English. It also didn't help that I was told by a volunteer to move to the far right. I had a media badge . . . wouldn't it make sense to make sure those people would be up close? There were a lot of empty seats in the rows in front of me.
Panel hiccups aside, I had a fun weekend in Secaucus. There's room for improvement, but I feel that enough people came to warrant more stars down the road. And the timing was great, because I have tomorrow off for Independence Day. My next show will be Liberty City Anime Con in New York next month. While I bought admission to all three days, I'll consider it a warm-up for covering New York Comic Con, as well as an excuse to get more anime-themed sketches.
PS: If you feel that you missed out on Heroes & Villains, and you have a passport, you should know that Fan Expo Canada will be showcasing Danielle Panabaker, Katie Cassidy, Hayley Atwell . . . and John Barrowman. I haven't been to Toronto since 2014, but I'm 99 percent sure the panel acoustics will be so much better than at H&V. And if you're a fan of the Scott Pilgrim books, you can try and see as many of the locales as possible. I recommend a trip to Honest Ed's, which was pretty trippy.
Enjoyed this article? Share it!