Looks like Marvel Comics is getting a number of solicitation changes ahead of Final Order Cut-Offs. Here are a couple of Star Wars-related ones.
Marvel Comics is getting Luke Skywalker #1 will have art by Stefano Landini and Scott Koblish in addition to the previously solicited Chris Sprouse.
Jabba The Hutt will have art by Emilio Laiso, Marco Turini, and Roland Boschi instead of the previously solicited Marc Laming.
It looks like Marc has been shifted by Marvel onto Star Wars: Target #1, featuring Beilert Valance, announced at Star Wars Celebration. But here's what Marc's Jabba might have looked like from his commissions…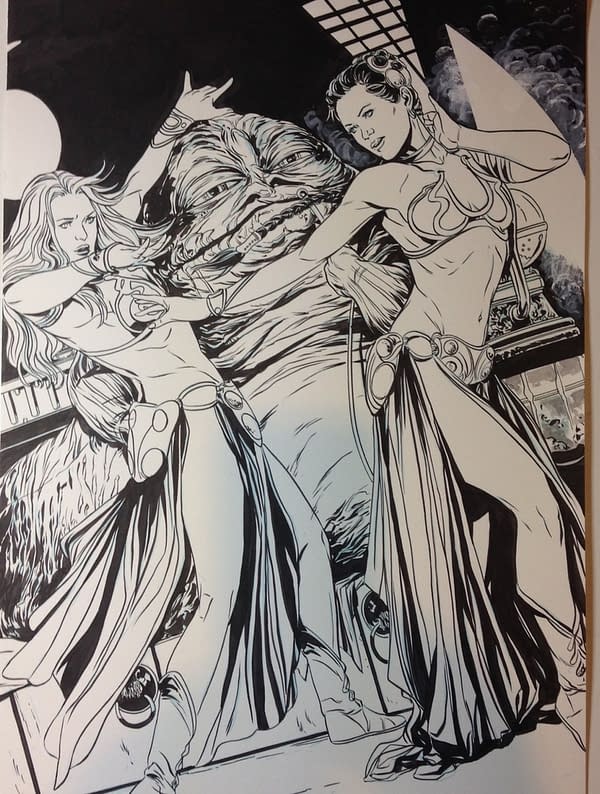 STAR WARS AOR LUKE SKYWALKER #1
(W) Greg Pak (A) Chris Sprouse, Stefano Landini, Scott Koblish (CA) Terry Dodson, Rachel Dodson
THE FIRST TEMPTATION OF LUKE SKYWALKER!
• After learning the true identity of his father, LUKE continues his training and prepares for the inevitable showdown, determined never to follow the path of VADER.
• But when a rebel general's mistakes lead to disaster and Luke must seize command, the DARK SIDE tempts him as never before.
• Featuring the eerie influence of THE EMPEROR!
Rated T In Shops: Jun 05, 2019 SRP: $3.99

STAR WARS AOR JABBA THE HUTT #1
(W) Greg Pak (A) Emilio Laiso, Marco Turini, Roland Boschi (CA) Rachel Dodson, Terry Dodson
IT'S GREAT TO BE JABBA!
• Across the galaxy, Imperials, rebels and scoundrels alike speak in hushed tones of JABBA THE HUTT, the greatest gangster in the OUTER RIM.
• Discover what makes the name of Jabba so feared, in a crime story that stretches from the casinos of CANTO BIGHT to the deserts of TATOOINE!
Rated TIn Shops: May 22, 2019
Final Orders Due: Apr 29, 2019
SRP: $3.99
Enjoyed this article? Share it!