Mark Russell's upcoming series Son Of God is getting FOC'd this weekend. Just the time for a new round of boycotts from people who wouldn't have bought it anyway, I'm sure.
Sadly as DC Comics has had its Hanna Barbera-Beyond license pulled, we won't be getting any more of his Flintstones or his Snagglepuss. But the spirit of those is alive in his Red Sonja, out yesterday. And just like the Flintstones which gave us a very modern world in a prehistoric society, with Mark Russell transferring the details of modern politics, media, religion and social strata just right, so in Red Sonja he recreates modern corporate-to-consumer language perfectly, that belies the true, and hideous reality of the real meaning of the words – just as it does in ours.
So we have an invasion…
…and a king of the land showing optimism for his fate…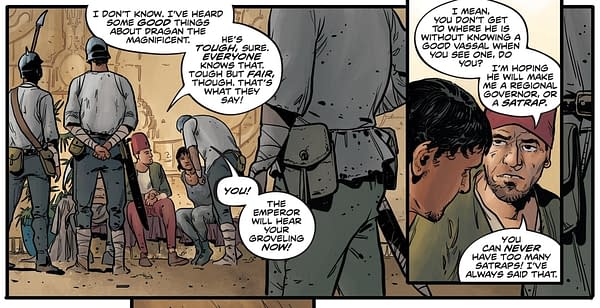 It won't end well.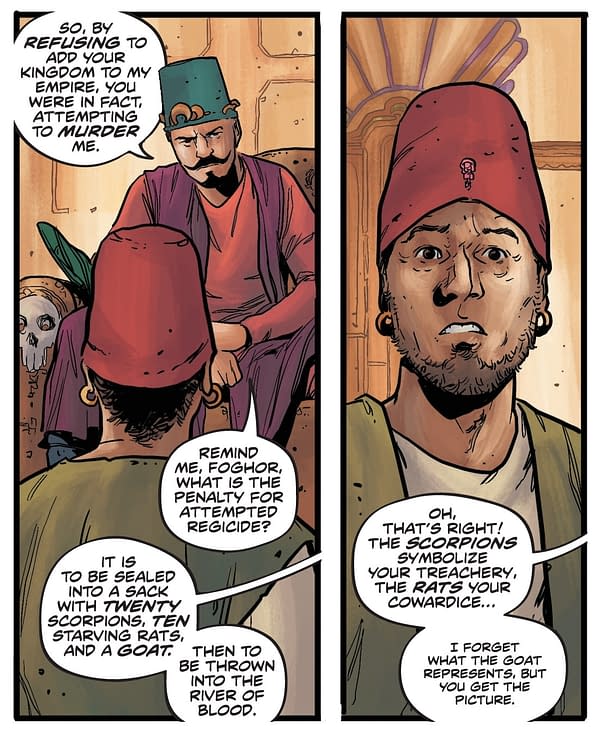 In fact, it will end up in that bag. But this emperor has his heart set on another land, a land that once had Red Sonja as a member, and it is because of this that the She-Devil herself is persuaded to return as the governorship of the land becomes quite the hot potato.
And we get more of the corporate doublespeak from one emperor to a queen…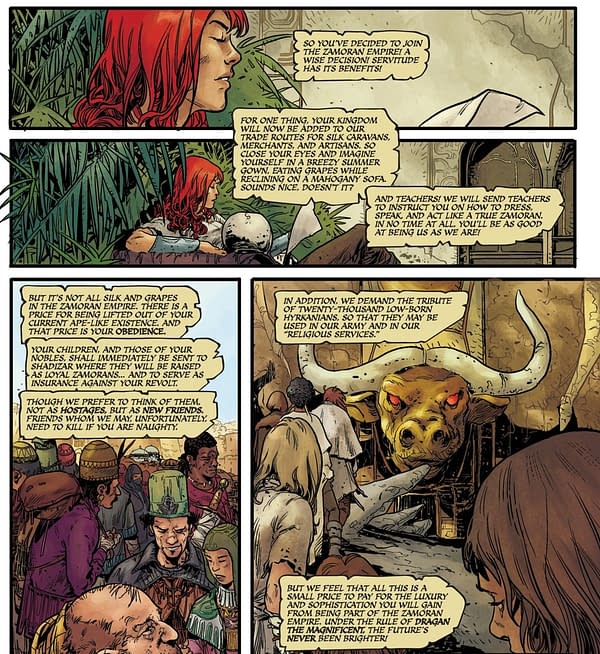 You know what this is, folk? This is Dave Sim at the peak of Cerebus: High Society. This is much funnier than Marvel's Conan, Mirko Colak and Dearbhla Kelly are a match for Mahmud Asrar – and a perfect change of tone for the character. And for those of you who are wondering why Red Sonja isn't killing lots of people…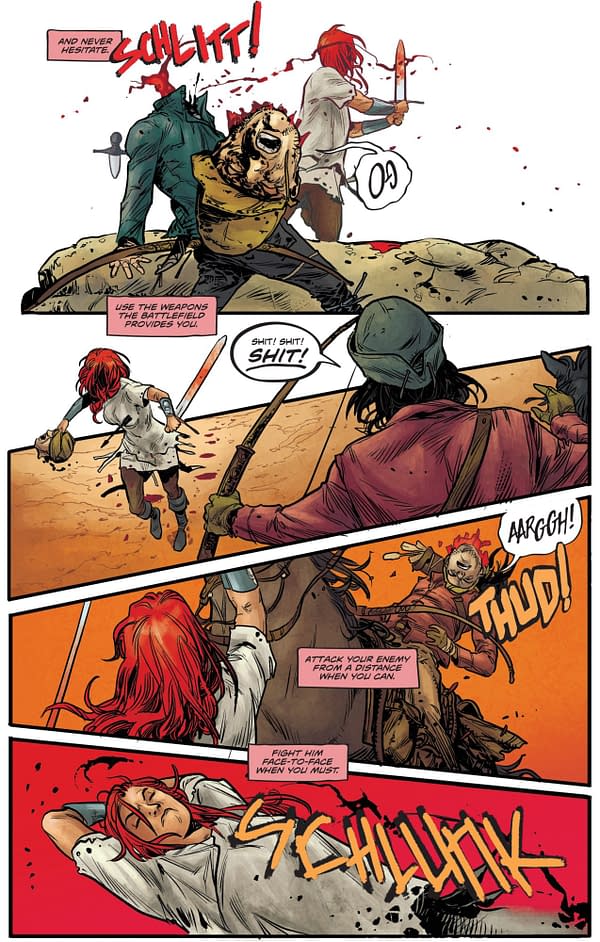 …she is. But it's the doublespeak I like the most. Mark Russell should write everything.
RED SONJA #1
(W) Mark Russell (A) Mirko Colak (CA) Frank Cho
No man knows the place of her birth, nor where she learned to wield a sword to shame many a male. They know only that she is called The She-Devil of The Hyrkanian Steppes. That, and RED SONJA. MARK RUSSELL (The Flintstones) and MIRKO COLAK (Conan) bring a savage tale of metal and blood. A world conqueror possesses a massive army and a fatal prophecy. A bastard sorceress craves revenge. And a fearsome red-haired warrior is made wartime ruler of a homeland set for decimation.In Shops: Feb 06, 2019
SRP: $3.99
Enjoyed this article? Share it!