Posted in: Comics | Tagged:
---
Marvel Comics Launches a New Rating – 10 & Up
These are the current cover ratings for Marvel Comics titles.
ALL AGES – Appropriate for all ages.
T – Appropriate for most readers, but parents are advised that they might want to read before or with younger children.
T+ TEENS AND UP – Appropriate for teens 13 and above.
PARENTAL ADVISORY – Appropriate for 15. Similar to T+, but featuring more mature themes and/or more graphic imagery. Recommended for teen and adult readers.
EXPLICIT CONTENT – 18+ years old
Currently, titles such as Moon Girl And Devil Dinosaur, Ms Marvel, Unstoppable Wasp, Unbeatable Squirrel Girl, Marvel Rising and the like get the T or T+ rating for Marvel, while books like Marvel Super Hero Adventures get the All Ages tag.
Now things are changing. Upcoming collections for Moon Girl And Devil Dinosaur Vol 1: The Beginning, Ms Marvel: Kamala Khan, Unstoppable Wasp: Girl Power and Spidey: Freshman Year will now all have the Ages 10 & Up recommendation instead. This may be as a result of Marvel finding new and more explanatory labels for comic books being sold into bookstores and book fairs. Whether it will move to the regular comics is yet to be seen.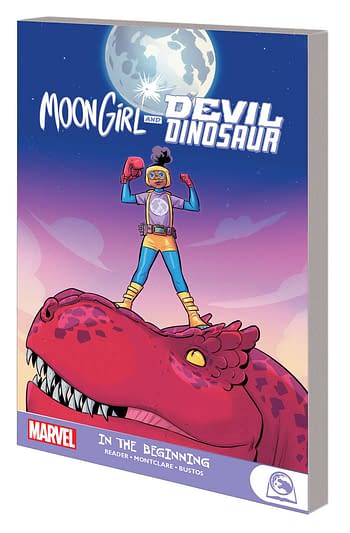 MOON GIRL AND DEVIL DINOSAUR VOL. 1: THE BEGINNING GN-TPB
Written by AMY REEDER & BRANDON MONTCLARE
Penciled by NATACHA BUSTOS & MARCO FAILLA
Cover by NATACHA BUSTOS
Lunella Lafayette is a preteen genius out to change the world! Which would be a lot easier if she weren't living in mortal fear of her latent Inhuman gene. Just when she thinks she's found a solution, Lunella's life is turned upside down by the arrival of a red-scaled beast torn from the prehistoric past! Together they become the most Marvelous Team-up of all: Moon Girl and Devil Dinosaur! But will they be best friends forever, or just until DD's dinnertime? And what happens when the two undergo a body swap? It's a big change-up that will see Lunella spending a freaky Friday (or whatever day it happens to be) as Devil Dinosaur, and vice versa! Lunella's got a huge future in the Marvel Universe — she just has to survive the present! Collecting MOON GIRL AND DEVIL DINOSAUR #1-12.
272 PGS./Ages 10 & Up $12.99
ISBN: 978-1-302-91654-1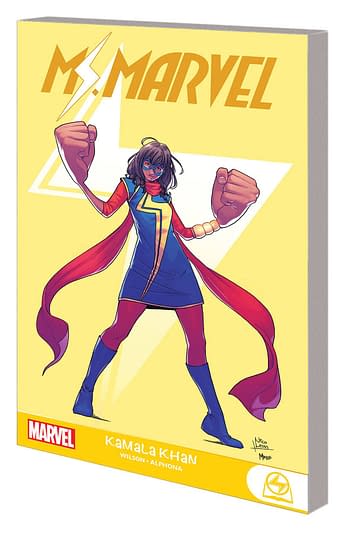 MS. MARVEL: KAMALA KHAN GN-TPB
Written by G. WILLOW WILSON
Penciled by ADRIAN ALPHONA & JAKE WYATT
Cover by NICO LEON
Marvel Comics presents the all-new Ms. Marvel, the groundbreaking heroine who has become an international sensation! Kamala Khan is an ordinary girl from Jersey City — until she suddenly gains extraordinary gifts. But who is she now? Teenager? Muslim? Inhuman? Kamala explores her newfound powers, but will the weight of the legacy before her be too much? Encounters with the maniacal Inventor and the Inhumans' Royal Family; team-ups with her favorite hero, Wolverine, and the Inhumans' dog, Lockjaw — Kamala is living the dream. But as she discovers more about her past, her future is threatened! How long can Ms. Marvel's life override Kamala's? Experience the beginning of the fan-favorite, critically acclaimed series! Collecting MS. MARVEL (2014) #1-11 and material from ALL-NEW MARVEL NOW! POINT ONE.
256 PGS./Ages 10 & Up $12.99
ISBN: 978-1-302-91640-4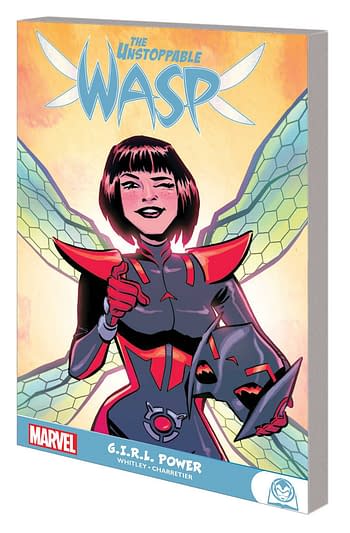 THE UNSTOPPABLE WASP: G.I.R.L. POWER GN-TPB
Written by JEREMY WHITLEY
Penciled by ELSA CHARRETIER, VERONICA FISH, TED BRANDT & RO STEIN
Cover by ELSA CHARRETIER
Nadia spent most of her life as a captive of the Red Room, but now this teenage super-scientist is spreading her wings! Hank Pym's daughter has a lot of lost time to make up for, and she's determined to change the world. With Jarvis at her side, she's on a mission to bring together the brightest girl geniuses of the Marvel Universe! But Nadia didn't count on evil scientists, man-eating giant rats or the lethal lady wrestlers known as the Grapplers! As Nadia's recruiting drive continues, the Red Room is on her trail — and they'll pull out all the stops to get her back! Can the geniuses of G.I.R.L. find a way to save her from being dragged back to the bunker? And can the original Wasp, Janet Van Dyne, help Nadia forge a fresh future? Collecting THE UNSTOPPABLE WASP (2017) #1-8.
184 PGS./Ages 10 & Up $12.99
ISBN: 978-1-302-91656-5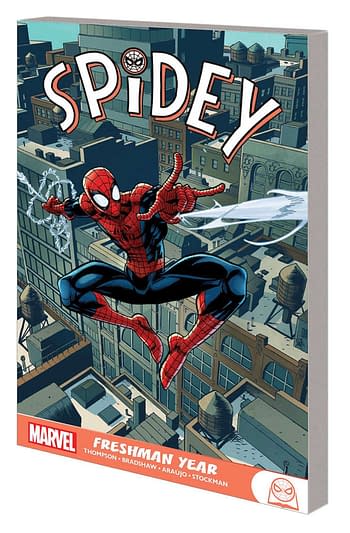 SPIDEY: FRESHMAN YEAR GN-TPB
Written by ROBBIE THOMPSON
Penciled by NICK BRADSHAW, ANDRE LIMA ARAUJO & NATHAN STOCKMAN
Cover by NATHAN STOCKMAN
It's action, adventure and hilarity in equal measure as we head back to high school to explore Peter Parker's early days as Spider-Man! Navigating your teen years is tough enough, but Peter also has to contend with a never-ending merry-go-round of Spider-Man madness courtesy of the best rogues' gallery in comics! We're talking Doctor Octopus, Sandman, the Vulture, Electro, Kraven, the Scorpion…and believe it or not, Doctor Doom! But could our young hero ever be ready for an archnemesis like the Green Goblin? Black Panther and Captain America guest-star as Spidey learns the ropes of heroism — but fun time is over when the Sinister Six strikes! Can a lone Spidey defeat his most powerful foes all at the same time? Return to a classic era, and discover what made Spider-Man the world's greatest super hero! Collecting SPIDEY #1-12.
272 PGS./Ages 10 & Up $12.99
ISBN: 978-1-302-91655-8
---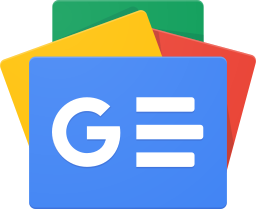 Stay up-to-date and support the site by following Bleeding Cool on Google News today!