Marvel Comics has set court dates for a number of upcoming trademark battles.
Wakanda Tea and Wacoinda have abanoned their trademark registrations, but Wakanda Wine Fest is going to court, with dates running through 2019 and into 2020.
While the trademark application for Punisher: Attack The Finish martial arts uniforms and martial arts uniforms, from Punisher Inc of California will also be going to the courts in a similar timeframe, aftr being delayed a month.
While Marvel is also lining up court dates against 41 Entertainment LLC of Connecticut for their Superhero Summer Camp trademark registration. Marvel and DC jointly own the super-hero trademark, but it's a state of affairs that has often caused some to speculate it could be challenged by the courts if it ever went that far.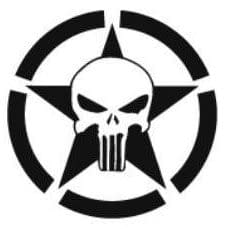 Marvel are also opposing the trademarking by Chinese company Shenzhen Zhengtu Automobile Supplies Co of the following image for automative accessories, and are also going to court over it through 2019 and 2020.
And finally Goode Enterprise Solutions of Colorado are trying to register Return Of The Guardians for 'paper goods, namely, comic books; Comic strips; Posters; Magazines featuring printed stories in illustrated form and comic book stories and artwork; Printed periodicals in the field of comic book stories and artwork; Printed visuals in the nature of comic book stories and artwork; Series of fiction books; trading cards, namely, collectible trading cards'. We covered this application before, a comic book and a movie based on Corey Goode's revelations about alien conspiracies.
Anyway, the court dates are set through 2019 and 2020. Clearly Marvel must be run by thise self-same alien overlords…
Enjoyed this article? Share it!