A few Marvel changes between solicitation and publication.
Tony Stark: Iron Man #18 was solicited as written by Jim Zub and Dan Slott, Jim has been swapped out for Christos Gage as he was for #17. It was also solicited as pencilled by Valerio Schiti, that has been changed to Paco Medina.
Friendly Neighborhood Spider-Man #14 will have now be drawn by Ken Lashley, who was meant to have drawn #12, and not the previously solicited Juann Cabal.
Sword Master #5, solicited as written by Shuizhu and Greg Pak will also be written by Fonda Lee.
Captain America #5 will see Robert Quinn replace the previously solicited Jason Masters on art.
And Loki #5 will have drawn by Andy MacDonald and not the previously solicited Oscar Bazaldua.
Here are the new solicitations in case you don't believe us. We know what you are like, Reddit.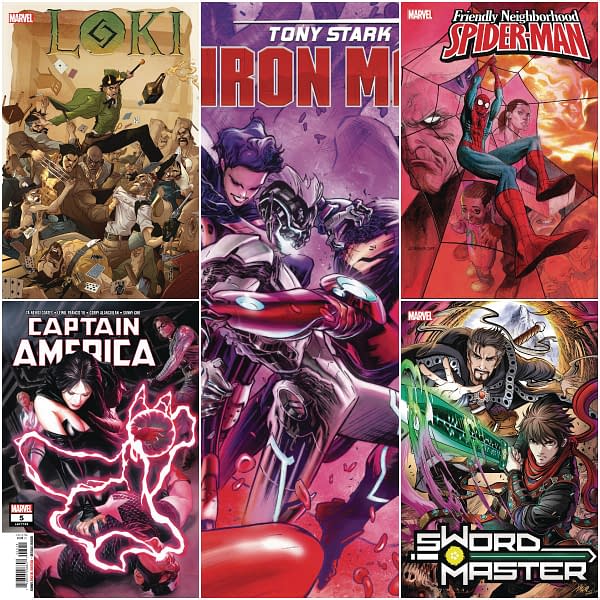 TONY STARK IRON MAN #18
(W) Dan Slott, Christos Gage (A) Paco Medina (CA) Alexander Lozano
"THE ULTRON AGENDA" continues! Chapter 3: Inner Conflict
While Rhodey and friends fight the robot war topside…
…a literal war rages on INSIDE Tony Stark! It's the Wasp and a remote piloted Nano Iron Man versus a shrunken Ultron/Pym inside Tony's physical body!
Rated T+In Shops: Nov 20, 2019
Final Orders Due: Oct 28, 2019
SRP: $3.99
FRIENDLY NEIGHBORHOOD SPIDER-MAN #14
(W) Tom Taylor (A) Ken Lashley (CA) Andrew Robinson
• Spidey and the FF follow the trail to whoever tried to kill your Friendly Neighborhood Web-Slinger!
• They are not ready to face the culprits.
• And that's just the tip of the iceberg for this momentous issue!
Rated TIn Shops: Nov 20, 2019
Final Orders Due: Oct 28, 2019
SRP: $3.99
SWORD MASTER #5
(W) Shuizhu, Greg Pak, Fonda Lee (A) Ario Anindito (A/CA) Gunji
MAGICIANS AND GODS!
• LIN LIE'S magic sword draws the attention of his greatest opponent yet — BARON MORDO!
• And when Mordo hits the scene, can the SORCERER SUPREME himself be far behind?
• Meanwhile, in our second story, can SHANG-CHI and Sword Master overcome their suspicion and pride in time to thwart the threat of the GODS OF MADRIPOOR?
Rated T+In Shops: Nov 06, 2019
Final Orders Due: Oct 14, 2019
SRP: $3.99
CAPTAIN AMERICA #5
(W) Ta-Nehisi Coates (A) Leinil Francis Yu, Gerry Alanguilan (CA) Alex Ross
"WINTER IN AMERICA" CONTINUES!
As the noose of betrayal tightens around the necks of Captain America and his closest allies, the Power Elite makes its move – in the person of the immortal Selene!
Rated T+In Shops: Nov 14, 2018
SRP: $3.99
LOKI #5
(W) Daniel Kibblesmith (A) Andy MacDonald (CA) Ozgur Yildirim
IT'S WOLVERINE VS. LOKI BACK IN THE OLD WEST!
Loki doesn't exactly belong in these parts – or in this time period! But that's never stopped the god of mischief before. And with Wolverine on his side, there's no man or god with the power to stop him. Now…he's just gotta get Wolverine on his side. See their first ever team-up in this two-fisted tale of gods and gunslingers, when Loki meets: THE MAN FROM UP NORTH!
Rated T+In Shops: Nov 20, 2019
Final Orders Due: Oct 28, 2019
SRP: $3.99
Enjoyed this article? Share it!