Marvel Dominates Marketshare In February 2015, Despite The Orphan Black Loot Crate Variant
We broke the story this morning on how Orphan Black #1 took the top place for the sales charts in February, thanks to its expected inclusion in March's Loot Crate. (Order here, get added discount with the BLEEDINGCOOL code). Well now that position is offiical with the Diamond charts for February 2015, below.
But Marvel shouldn't be too sad about being denied the top spot though, they got seven of the top ten, including Darth Vader #1, Spider-Gwen #1, Silk #1, two issues of Amazing Spider-Man and the second issue of Star Wars. And Marvel dominated marketshare in February. It was down on January, because they didn't have a Star Wars #1, but still beat out DC Comics who, up until January, had begun to reclaim marketshare from Marvel, month by month. It's also worth noting, again, that DC had significantly more titles on sale than Marvel, a total of 121 compare to Marvel's 107.
So Marvel dollar marketshare fell from 41.05% to 38.44% and sales marketshare from 45.64% to 39.33%. DC's dollar marketshare increased from 24.18% to 25.91% and sales marketshare from 27.06% to 28.15%.
Image's dollar marketshare increased again from 9.21% to 10.51% and sales marketshare from 8.91% to 10.61%., as they continue to add improvement upon improvement.
But IDW, although buoyed by that Orphan Black #1, only saw their dollar marketshare fall from 5.78% to 5.57% while their sales marketshare from 4.52% to 8.06%. Might this indicate that while Loot Crate gets the sales, they do so at a massive discount which doesn't affect the revenue that the publisher receives?
But the good news is, that compared to this point last year, overall sales of graphic novels and comics are up 14.43% on 2014…
TOP COMIC BOOK PUBLISHERS
RETAIL MARKET SHARE
PUBLISHER
SHARE
MARVEL COMICS
38.44%
DC ENTERTAINMENT
25.91%
IMAGE COMICS
10.51%
IDW PUBLISHING
5.57%
DARK HORSE COMICS
3.48%
DYNAMITE ENTERTAINMENT
2.63%
BOOM! STUDIOS
2.12%
EAGLEMOSS PUBLICATIONS LTD
0.95%
VIZ MEDIA
0.89%
AVATAR PRESS INC
0.85%
OTHER NON-TOP 10
8.64%

UNIT MARKET SHARE
PUBLISHER
SHARE
MARVEL COMICS
39.33%
DC ENTERTAINMENT
28.15%
IMAGE COMICS
10.61%
IDW PUBLISHING
8.06%
DARK HORSE COMICS
2.66%
DYNAMITE ENTERTAINMENT
2.38%
BOOM! STUDIOS
2.12%
VALIANT ENTERTAINMENT LLC
0.86%
ARCHIE COMIC PUBLICATIONS
0.72%
AVATAR PRESS INC
0.64%
OTHER NON-TOP 10
4.47%
NEW TITLES SHIPPED
| | | | | |
| --- | --- | --- | --- | --- |
| PUBLISHER | COMICS SHIPPED | GRAPHIC NOVELS SHIPPED | MAGAZINES SHIPPED | TOTAL SHIPPED |
| DC COMICS | 94 | 26 | 1 | 121 |
| MARVEL COMICS | 79 | 28 | 0 | 107 |
| IMAGE COMICS | 61 | 15 | 0 | 76 |
| DYNAMITE ENTERTAINMENT | 34 | 6 | 0 | 40 |
| BOOM ENTERTAINMENT | 33 | 6 | 0 | 39 |
| DARK HORSE COMICS | 27 | 9 | 0 | 36 |
| IDW PUBLISHING | 23 | 8 | 0 | 31 |
| VIZ LLC | 0 | 25 | 0 | 25 |
| AVATAR PRESS INC | 8 | 2 | 1 | 11 |
| EAGLEMOSS | 0 | 0 | 10 | 10 |
| OTHER NON-TOP 10 | 99 | 96 | 26 | 221 |
COMPARATIVE SALES STATISTICS
DOLLARS
UNITS
FEBRUARY 2015 VS. JANUARY 2014
COMICS
3.22%
6.42%
GRAPHIC NOVELS
-18.17%
-17.23%
TOTAL COMICS/GN
-3.56%
4.53%
FEBRUARY 2015 VS. FEBRUARY 2014
COMICS
20.42%
22.14%
GRAPHIC NOVELS
0.08%
-12.28%
TOTAL COMICS/GN
14.17%
19.18%
YEAR-TO-DATE 2015 VS. YEAR-TO-DATE 2014
COMICS
15.20%
15.76%
GRAPHIC NOVELS
8.64%
-0.34%
TOTAL COMICS/GN
13.20%
14.43%
TOP 10 COMIC BOOKS
| | | | | |
| --- | --- | --- | --- | --- |
| RANK | DESCRIPTION | PRICE | | VENDOR |
| 1 | ORPHAN BLACK #1 | $3.99 | | IDW |
| 2 | DARTH VADER #1 | $4.99 | | MAR |
| 3 | SPIDER-GWEN #1 | $3.99 | | MAR |
| 4 | STAR WARS #2 | $3.99 | | MAR |
| 5 | BATMAN #39 | $3.99 | | DC |
| 6 | AMAZING SPIDER-MAN #14 | $3.99 | | MAR |
| 7 | DARTH VADER #2 | $3.99 | | MAR |
| 8 | AMAZING SPIDER-MAN #15 | $3.99 | | MAR |
| 9 | SILK #1 | $3.99 | | MAR |
| 10 | JUSTICE LEAGUE #39 | $3.99 | | DC |
TOP 10 GRAPHIC NOVELS
| | | | | |
| --- | --- | --- | --- | --- |
| RANK | DESCRIPTION | PRICE | | VENDOR |
| 1 | SUPERMAN: EARTH ONE VOLUME 3 HC | $22.99 | | DC |
| 2 | SEX CRIMINALS VOLUME 2: TWO WORLDS ONE COP TP (MR) | $14.99 | | IMA |
| 3 | THE FADE-OUT VOLUME 1 TP (MR) | $9.99 | | IMA |
| 4 | SAGA VOLUME 4 TP (MR) | $14.99 | | IMA |
| 5 | CHEW VOLUME 9: CHICKEN TENDERS TP (MR) | $14.99 | | IMA |
| 6 | TREES VOLUME 1 TP (MR) | $14.99 | | IMA |
| 7 | THE WALKING DEAD VOLUME 11 HC (MR) | $34.99 | | IMA |
| 8 | MS. MARVEL VOLUME 1: NO NORMAL TP | $15.99 | | MAR |
| 9 | SAGA VOLUME 1 TP (MR) | $9.99 | | IMA |
| 10 | KICK-ASS 3 TP (MR) | $24.99 | | MAR |
TOP 10 BOOKS
| | | | | |
| --- | --- | --- | --- | --- |
| RANK | DESCRIPTION | PRICE | | VENDOR |
| 1 | THE SHADOW DOUBLE NOVEL VOLUME 92 SC | $14.95 | | SAN |
| 2 | NEIL GAIMAN & DAVE MCKEAN: CRAZY HAIR SC | $6.99 | | HAR |
| 3 | LEGEND OF ZELDA: HYRULE HISTORIA HC | $34.99 | | DAR |
| 4 | STREET FIGHTER: WORLD WARRIOR ENCYCLOPEDIA HC | $34.99 | | UDO |
| 5 | DOC SAVAGE DOUBLE NOVEL VOLUME 79 SC | $14.95 | | SAN |
| 6 | MODERN MASTERS VOLUME 30: PAOLO RIVERA SC | $15.95 | | TWO |
| 7 | NEIL GAIMAN: TRIGGER WARNING HC | $26.99 | | HAR |
| 8 | DC COMICS VISUAL HISTORY HC | $50.00 | | DK |
| 9 | EARLY PHOTOGRAPHS OF BETTIE PAGE SC (MR) | $19.99 | | BIN |
| 10 | MARVEL COMICS IN THE 1980S SC | $27.95 | | TWO |
TOP 10 TOYS
| | | | |
| --- | --- | --- | --- |
| RANK | DESCRIPTION | | VENDOR |
| 1 | MARVEL SELECT: ULTRON ACTION FIGURE | | DST |
| 2 | DC COMICS BOMBSHELLS: HAWKGIRL STATUE | | DC |
| 3 | MARVELL JUBILEE BISHOUJO STATUE | | KOT |
| 4 | DC COMICS VARIANT PLAY ARTS KAI: HARLEY QUINN FIGURE | | SQU |
| 5 | DC COMICS: THE NEW 52: NIGHTWING ACTION FIGURE | | DC |
| 6 | DC COMICS SUPER VILLAINS: HARLEY QUINN 2ND EDITION BUST | | DC |
| 7 | AMAZING SPIDER-MAN 2l SPIDER-MAN MAF EX DELUXE FIGURE | | MED |
| 8 | BATMAN ARKHAM ORIGINS SERIES 1: BATMAN FIGURE | | DC |
| 9 | GUARDIANS OF THE GALAXY: ELECTRONIC DANCING BABY GROOT | | KID |
| 10 | SOFT SPOTS: PORTABLE PUPPY PLAYSET | | ACT |
TOP 10 GAMES
| | | | |
| --- | --- | --- | --- |
| RANK | DESCRIPTION | | VENDOR |
| 1 | DC HEROCLIX JUSTICE LEAGUEL TRINITY WAR BOOSTER BRICK | | NEC |
| 2 | JAY & SILENT BOB STRIKE BACK MONOPOLY | | DST |
| 3 | MAGIC THE GATHERING TCG: FATE REFORGED BOOSTER PACKS | | WIZ |
| 4 | DC HEROCLIX WAR OF LIGHT GRAVITY PACKS | | NEC |
| 5 | DC HEROCLIX JUSTICE LEAGUE: TRINITY WAR GRAVITY PACKS | | NEC |
| 6 | RISK: THE WALKING DEAD SURVIVAL EDITION | | USA |
| 7 | DC HEROCLIX JUSTICE LEAGUE: TRINITY WAR BOOSTER PROMO | | NEC |
| 8 | DC HEROCLIX JUSTICE LEAGUE: TRINITY WAR FAST FORCES 6-PACK | | NEC |
| 9 | MAGIC THE GATHERING TCG: FATE REFORGED FAT PACK | | WIZ |
| 10 | MONOPOLY: THE WALKING DEAD SURVIVAL EDITION | | USA |
Dollar Market Share – February 2015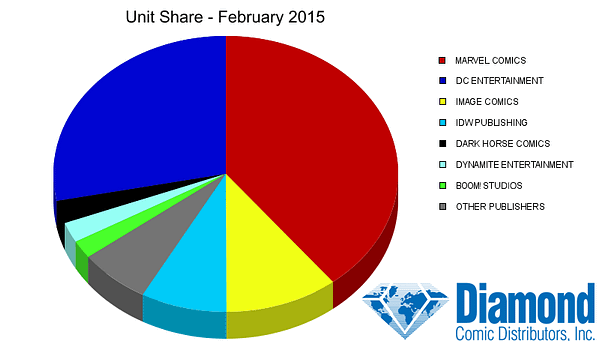 Unit Market Share– February 2015