Marvel is commemorating their 80th-Anniversary by releasing a series of frame variants homaging the special cover frames they used when they celebrated their 25th-Anniversary 33 years ago.
Wait, what? Look, it's Marvel math, and it all depends when you consider the starting point, just like with legacy numbers. Okay, fine. How about this. It's magic. They don't have to explain it.
Anyway, remember these?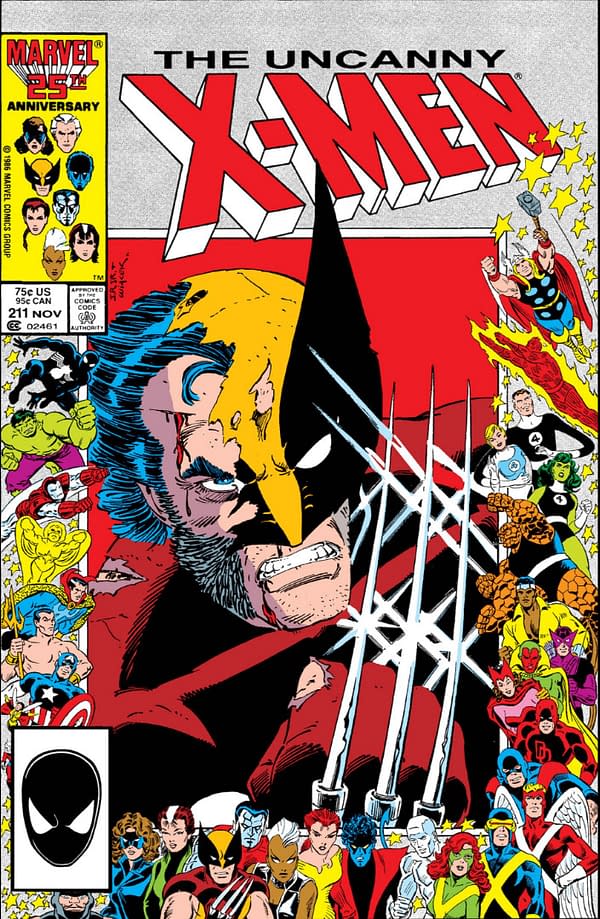 Well, now you're getting these:
New York, NY—July 18, 2019—This August, ring in Marvel Comics' 80th Birthday with a celebratory selection of variants! Each 80th Anniversary 'Frame Variant' features a character head shot from their titular series, framed by a host of characters that represent the present and future of the Marvel Universe! Depicted by an all-star roster of artists, these unique covers pay tribute to the modern face of Marvel!

Peek at a select few now, and stay tuned for more updates!

80th ANNIVERSARY FRAME VARIANTS:

AMAZING SPIDER-MAN 28 HUMBERTO RAMOS MARVEL 80TH FRAME VARIANT (MAY198873)
AVENGERS 23 RUSSELL DAUTERMAN MARVEL 80TH FRAME VARIANT (MAY198874)
CAPTAIN AMERICA 13 EMA LUPACCHINO MARVEL 80TH FRAME VARIANT (MAY198875)
CAPTAIN MARVEL 9 JOHN TYLER CHRISTOPHER MARVEL 80TH FRAME VARIANT (MAY198876)
FANTASTIC FOUR 13 NICK BRADSHAW MARVEL 80TH FRAME VARIANT (MAY198877)
GUARDIANS OF THE GALAXY 8 CHRIS STEVENS MARVEL 80TH FRAME VARIANT (MAY198878)
MILES MORALES: SPIDER-MAN 9 PASQUAL FERRY MARVEL 80TH FRAME VARIANT (MAY198879)
THOR 16 MIKE MCKONE MARVEL 80TH FRAME VARIANT (MAY198880)
TONY STARK: IRON MAN 15 JIM CHEUNG MARVEL 80TH FRAME VARIANT (MAY198881)
VENOM 17 LEE GARBETT MARVEL 80TH FRAME VARIANT (MAY198882)

For 80 years, Marvel has reflected the world outside your window – inspiring millions of fans with iconic characters and timeless stories that brought the Marvel Universe to the forefront of pop culture today. Celebrate Marvel's historic 80th anniversary all year long with your favorite Marvel comics, games, shows, collectibles, fashion, and more. Visit marvel.com/marvel80 or follow #Marvel80.
Enjoyed this article? Share it!