Is this the fastest Marvel Omnibus ever? Absolute Carnage Omnibus, collecting the series and all the spin-offs, will be out in August.
Absolute Carnage Omnibus Hardcover – August 11, 2020 by Ryan Stegman, Marcelo Ferreira, Andrea Broccardo, Filipe Andrade, Donny Cates, Frank Tieri, Emily Lerner, Al Ewing. 800 pages.

The lethal killer Cletus Kasady casts his symbiotic tendrils across the Marvel Universe as the blockbuster epic ABSOLUTE CARNAGE is collected in one gigantic hardcover! Carnage is targeting everyone who has ever worn a symbiote – and that's a lot of potential victims, even for him! Naturally, Kasady's new reign of terror spells misery for Spider-Man and Venom – but the devastation is felt by Miles Morales, the Avengers, Deadpool, Ghost Rider, the Immortal Hulk and more! But what is Kasady's horrific endgame? Experience a new level of crazy as Carnage runs wild!

COLLECTING: ABSOLUTE CARNAGE (2019) 1-5, ABSOLUTE CARNAGE VS. DEADPOOL (2019) 1-3, ABSOLUTE CARNAGE: CAPTAIN MARVEL (2019) 1, ABSOLUTE CARNAGE: IMMORTAL HULK (2019) 1, ABSOLUTE CARNAGE: SYMBIOTE SPIDER-MAN (2019) 1, ABSOLUTE CARNAGE: SYMBIOTE OF VENGEANCE (2019) 1, ABSOLUTE CARNAGE: LETHAL PROTECTORS (2019) 1-3, ABSOLUTE CARNAGE: AVENGERS (2019) 1, ABSOLUTE CARNAGE: MILES MORALES (2019) 1-3, ABSOLUTE CARNAGE: WEAPON PLUS (2019) 1, ABSOLUTE CARNAGE: SCREAM (2019) 1-3, ABSOLUTE CARNAGE: SEPARATION ANXIETY (2019) 1, AMAZING SPIDER-MAN (2018) 29-31, VENOM (2018) 16-20, AND ABSOLUTE CARNAGE STINGER PAGES
The 'Stinger' pages are the pages that ran across the Marvel Universe teasing what was to come… with lots of vermin hosts…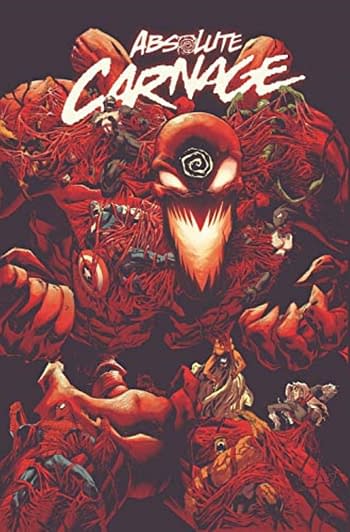 There's also the Marvel Classics Comics Omnibus Hardcover, collecting Marvel adaptations of classic literature into one massive Omnibus volume.
Marvel Classics Comics Omnibus Hardcover – August 25, 2020 by Sonny Trinidad, Yong Montano, Dino Castrillo, Jess Jodloman, Doug Moench, Chris Claremont, Bill Mantlo, John Warner. 1264 pages.

Masterworks of literature – retold in the Mighty Marvel Manner! In the late 1970s, respected comic book writers and talented artists joined forces to adapt many of the world's most famous stories onto the comic book page. From adventure tales like The Last of the Mohicans, Treasure Island, Robinson Crusoe and Ivanhoe, to horror staples Frankenstein and The Invisible Man! Whether it's the classical poetry of The Iliad and The Odyssey, the dystopian sci-fi of The War of the Worlds, or the terrifying tales of Edgar Allan Poe, this collection of cultured classics is sure to thrill you from cover to cover! Featuring world-famous and beloved characters like Robin Hood and Alice in Wonderland, and illustrated versions of novels by such authors as Charles Dickens, Mark Twain, Jules Verne and many more!

COLLECTING: MARVEL CLASSICS COMICS (1976) 13-36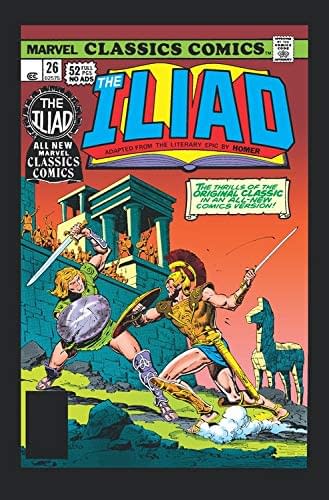 Bleeding Cool has also learned that Marvel will be releasing the following omnibus collections in the latter part of 2020 as well – though yet to be announced.
Venom Vol 3

Venomnibus

Thanos: The Infinity Saga
War of Realms

Omnibus

Excalibur Vol 1 by Claremont / Davis

Omnibus

Moon Knight Vol 1

Omnibus

Marvel Horror Lives Again Omnibus
Incredible Hulk by Peter David Omnibus Vol 2
Savage Sword Of Conan, The Original Marvel Years Omnibus Vol 4
Infinity Crusade

Omnibus

Conan The Barbarian, The Original Marvel Years Omnibus Vol 5
The Marvel Cosmic Universe by Donny Cates Omnibus Vol 1
Kull

Omnibus

Thunderbolts

Omnibus

New Mutants

Omnibus

Uncanny X-Men Vol 4

Omnibus
They're also re-releasing the following books, all out of print and going for well over cover price on the aftermarket.
Enjoyed this article? Share it!