As it starts next month, the PR machine must really ramp up for Marvel's ten issue series of one-shots, Generations, that promises to prove that there is space in the Marvel Universe for original Legacy characters and their modern counterparts.
All beginning inside yet another Marvel event, the currently running Secret Empire, the stories begin with a mysterious element called the Vanishing Point (we have our theories).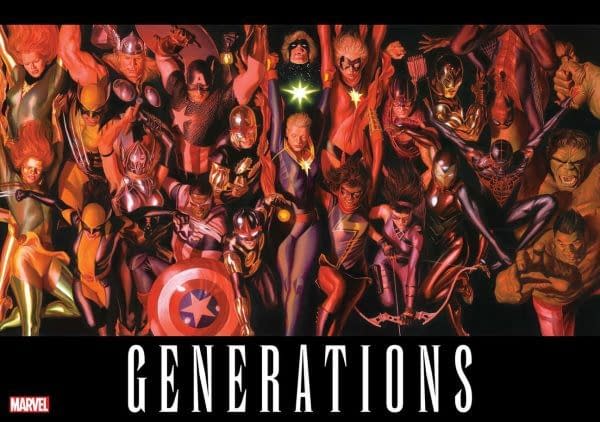 Well, in this teaser trailer starring Marvel Editor in Chief Axel Alonso and Senior Editor Tom Brevoort, they certainly do like using some lofty speech to go alongside the inspirational music they've chosen to put on this.
As near as can be told, the Generations one shots will each feature modern versions of characters alongside their classic versions, so we have Logan and Laura (which wasn't unheard of before he died anyway) and more unusual ones like the young Jean Grey and her adult self, Phoenix. The press release describes Generations like so,
The stories of GENERATIONS begin at the Vanishing Point where time has no meaning, and these epic tales offer fans a direct bridge and prelude into the senses-shattering Marvel Legacy, as the challenges and revelations of GENERATIONS will alter the destinies of our heroes moving forward in a dramatic fashion!

Be there for the can't-miss 10-issue weekly series beginning this August!
With little in the way of new information, other than the Vanishing Point is somewhere where time has no meaning, it is a little surprising to be getting such a trailer this close to the actual start of the project. But then, again, SDCC is around the corner, so perhaps some actual info will be given to really explore this particular event.
Enjoyed this article? Share it!