Posted in: Comics | Tagged: alex jones, HRL, InfoWars, matt furie, pepe the frog
---
Matt Furie Targets InfoWars in Legal Fight Against Alt-Right Over Pepe the Frog
Matt Furie, creator of the totally-not-racist stoner known as Pepe the Frog, has set his sights on a new target in his battle against the alt-right over the image of his amphibian creation: InfoWars. Furie is apparently suing Alex Jones's conspiracy and supplement peddling show and website for copyright infringement, as first reported Tuesday by THR. The 18-page court filing names the goal of the lawsuit as "to end the misappropriation of Pepe the Frog by Defendants Infowars, LLC, and Free Speech Systems, LLC, including their sale of a poster copying Pepe through their website, infowars.com." The suit goes on to describe Pepe as "a peaceful frog dude — a kind and blissful cartoon character, who lived alongside three animal roommates, and became famous in part because of his catchphrase, 'feels good man." The suit notes that, starting in 2015, "various fringe groups connected with the alt-right attempted to coopt Pepe by mixing images of Pepe with images of hate, including white supremacist language and symbols, Nazi symbols, and other offensive imagery." The suit alleges that Defendants and others have "misused Pepe's character and copied Pepe images for use in products sold online to promote messages of hate. In doing so, Defendants not only copied Furie's original creation, but also freeloaded off Pepe's popularity and Furie's labor.
Specifically, the suit describes an "infringing poster" that "contains a copy of Pepe the Frog, featured alongside an image of InfoWars founder Alex Jones, President Donald Trump, Milo Yiannopoulos, and Ann Coulter, among other figures, with the text MAGA printed on the bottom." This is the poster in question: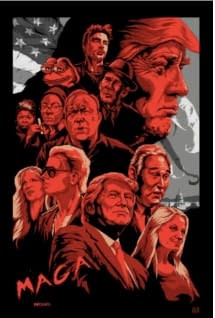 The 18-page document goes on to detail the history of Pepe, from his creation as part of Furie's Boy's Club comic book, to the frog's appropriation as an alt-right hate symbol. It also accuses InfoWars of publishing "fake news," and seeks both finanical damages, including both "actual damages and/or Defendants' unlawful profits, as well as "statutory damages," an injunction preventing InfoWars.com and "anyone acting in concert" with them from using Pepe's image, and legal fees. The entire document can be read here.
Last September, Furie announced plans to reclaim Pepe the Frog through legal actions, a threat he appears to be following through on, though his quest to regain control of the frog had already been ongoing. Furie previously spoke out against the character's misappropriation and even killed Pepe off in a Free Comic Book Day comic. But he later had a change of heart, using Kickstarter to bring the frog back from the dead, asking the Anti-Defamation League to remove Pepe from its list of hate symbols, and even selling some nice enamel pins featuring the character.
---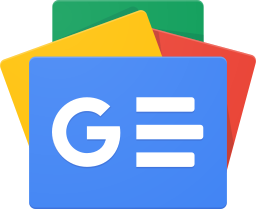 Stay up-to-date and support the site by following Bleeding Cool on Google News today!