Meltdown Comics is a stalwart of the Los Angeles comic book scene. It opened in 1993 on Sunset Boulevard, in Los Angeles, right in the heart of Hollywood.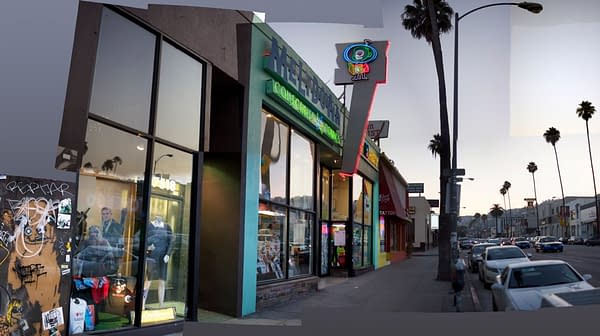 It's now one of the largest in the country. It is frequented by Hollywood glitterati. It's where the stars of stage and screen go to buy their comic books to see what they are going to be performing in next.
However, Meltdown appears to be the latest victim of a downturn in sales over all.
A few years ago, they diversified from selling comics and merchandise, into turning into a comedy venue, creating a studio for podcasts and building their own pop culture.
And now the other shoe has dropped.
In a letter sent to customers last night, they say that they will stop selling new comic books every week. And are recommending customers go elsewhere.
Unfortunately, due to several extenuating circumstances, the time has come to close down the retail side of Meltdown, and take the next change head on. As of tomorrow(3/21), we will no longer carry new weekly titles – but we still want to make sure you and your comic fix is taken care of.

Mega City One is a wonderful shop located just 1.3 miles from us. Their owner Jago, (who happened to give Gaston his first job in comics at the age of 14), will honor our discounts, give free bag and board and adopt those pull customers that wish to transfer their subscriptions to them (contact via email).

If not, there are several other highly trusted shops we recommend you take your business to:

Shop Called Quest (Located Downtown)
Comic Bug (Located in Culver City)
Alternate Universe (Located in Echo Park)
The Perky Nerd (Burbank)
Yet again we want to thank you for your years of dedication and patronage.
Everything single thing we achieved, we achieved because of you.
And the other big store of Los Angeles, Golden Apple – which it seems Meltdown did their best not to mention – have told their customers.
Today is new comic day and I woke up to some interesting news. Apparently, Meltdown Comics, our neighboring shop and comedy/podcast haven, is no longer carrying new comics and may be closing it's doors soon. This is sad news for their staff and customers so we are trying to help soften the blow in any way we can.

SO, starting TODAY, get $20 INSTANT STORE CREDIT on your first purchase for anyone that signs up for our FREE weekly subscription service. Our free service gets you 10% OFF all your new comics and free bags & boards starting on your next purchase….for ever and ever!
While their preferred store, Mega City One, tweeted out,
Hey warm welcome to all @MeltdownComics customers. Exited to have on board. Lets us serve you. Poinsettia + Melrose pic.twitter.com/sDokvl0XAQ

— MegaCity One (@megacityonela) March 21, 2018
UPDATE: And now a new letter has gone out. Meltdown are closing for good.
To The City of Angels,
As is the case with all good things, at some point they must come to an end. Meltdown Comics is no exception to this rule and so, after 25 years coveting every comic treasure we could lay our hands on, I'm sharing that on March 30th I'll be closing our doors for the final time.
No business is easy, least of all one rooted in paper surrounded by brick and mortar, yet against all odds we survived just long enough to host, share, and celebrate some of the most creative and imaginative artists in the world. It has been my personal privilege to welcome so many incredibly talented minds through our doors giving them and their work a home in this great city of ours.
And what a wonderfully surreal run it's been… we've watched every fad, trend, and next big thing come and go while customers became celebrities, children blossomed to adults, geeks morphed into moguls, and fanboys scored Oscars. Throughout it all, I've been most fortunate to be surrounded by my family and the best staff anyone could have ever wished for – through thick and thin you supported Meltdown and invested in me, I will never be able to repay you but know that I am eternally grateful and forever in your debt.
As I prepare to extinguish Sunset's neon know that there is a new path for me (more later) and I close Meltdown without any regret. For 25 years I have been enriched by every inquisitive mind I have encountered on this journey and for that I humbly thank you, all of you.
In signing off, I urge you all to continue creating comics, buying comics, and supporting the comic book world that has given us all so much over the years.
For one last time, #LetsgoMELTDOWN!
Thank you, LA
Sincerely,
Gaston DL
Meltdown Comics
October 26, 1993 – April 1, 2018
Enjoyed this article? Share it!