Mindless Speculation Over "Who Will Fall" In Civil War II #3
"One of the biggest heroes in the Marvel Universe will fall."
Marvel has been teasing about a big Marvel death coming in Civil War II #3 for a little while now.
Well, in for a penny… here is some mindless speculation from Bleeding Cool about just who it may be.
All the pieces seem to fit in our premise. It remains thematically strong. And it will have a major impact on the Marvel Universe – without anyone actually having to cancel a book. Although some people will never want to buy a Marvel comic book again. Or, at least, they will say they won't.
It's a theory, no more. But if you want to avoid any potential spoilers, here is where you should stop reading. Go play sprocketball or some other equally made-up outdoor sports.
Right. We have already had one big Civil War II death with the Free Comic Book Day issue and the death of Jim Rhodes, War Machine. And recent issues of Invincible Iron Man have given us a potential replacement character for that role in the Marvel Universe.
It indicates also that writer Brian Bendis may be setting up other storylines for his Civil War II in that book.
And, yes, Invincible Iron Man has just seen the introduction of Mary Jane Watson to that book. As the on-again off-again new assistant to Tony Stark.
And that's what suddenly slides into place. Mary Jane Watson has played with fire as a superhero girlfriend-then-wife-then-demonic-divorcee. She left that world – before Tony Stark pulled her back in.
She has resisted the idea of being his personal assistant, but somewhere along the way, she agrees.
And she is a non-powered person mixed up in constant world-threatening danger. We've speculated that she might don an Iron Man suit. Wouldn't it be ironic if she wore the Iron Spider-Man costume from the first Civil War – and then got killed herself in the line of fire? And it's Tony's fault? But possible also Peter Parker's?
She is one of the biggest heroes of the Marvel Universe – even if that's not how most readers would interpret that line.
And it's a chance for Brian Bendis, who has been writing his Spider-Man book for two decades, to do his own version of The Death of Gwen Stacy, with The Death of Mary Jane Watson.
Could Tony Stark have seen this coming with Ulysses? Did he not see her coming because her death was "unimportant"? How will Peter Parker react now that Ulysses has been co-opted into Parker Industries' research and development? I
Also, who is on trial for her death? Tony? Peter?
And yes, some will see this as yet another assault by NuMarfel on Mary Jane. First, they took her baby, then they took her marriage to Peter Parker, now they take their life. There will be hashtag campaigns, outrage articles on Graphic Policy, Mary Sue and Comics Alliance, outrage covers by Frank Cho, death threats, Marvel – and Brian Bendis – will be accused of misogyny and Stan Lee will be asked and he'll say "what an amazing plot twist, I could never have thought of that one." And the comic will sell out, go to four printings and all the spin-off books will have their sales lifted considerably. And San Diego Comic Con will see more Mary Jane cosplayers than ever before staging a sit-in protest at the Marvel booth.
If I'm right.
If you like my theory, stock up on Amazing Spider-Man #529 (first Iron Spider suit from the original Civil War crossovers), Invincible Iron Man #4, Renew Your Vows #5 and Marvel Knights Spider-Man #20 and watch out for July's Amazing Spider-Man #15.
If I was a betting man, I'd put money on it. Face it tiger, I just hit the jackpot. Remember this cover that never was for Invincible Iron Man #9? Did it give the game away too much so they had to change it? And then there's this upcoming cover to Amazing Spider-Man #15 in July… up your orders now! There was the joining the Iron team in Invincible Iron Man #4 and #5…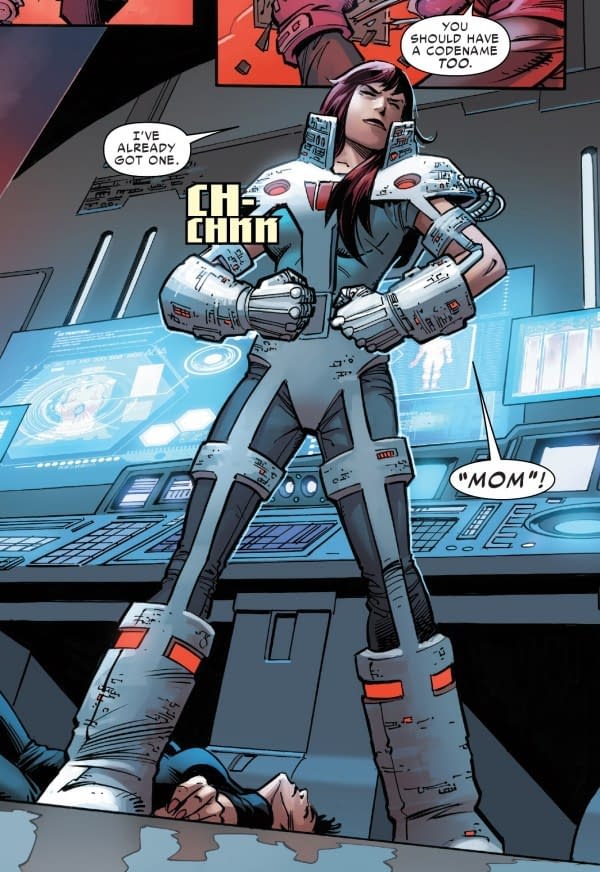 And some earlier suiting up here in Renew Your Vows #5… …and here in Marvel Knights Spider-Man #20.