It looks like Marvel Overshipping is back in a big way. It wasn't just a one-off. But there does seem to be a significant difference between how it used to be done.
Last week we reported on Daredevil #3, Invaders #3 and Marvel Comics Presents #3 getting 50% overships, they all came out this Wednesday.
Well, it seems the next lot will be out on the 17th of April.
Retailers who ordered Magnificent Ms Marvel #2 will receive an additional 50% of their order, for free. And the same goes for Spider-Man: City At War #2, the first of the Marvel Gamerverse titles.
So what's going on here? Well, it is an attempt to bridge the gap between the usual dropoff of orders from #1 to #2 to #3. This is a natural state for a comic book retailer, recognising that some people just buy the first issue and only a percentage liked it enough to buy the second issue. Some will buy the first issue, like it – and then wait for the inevitable collection. Some may have bought additional copies or covers of the first issue, and won't for subsequent issues. A 50% drop from #1 to #2 – and then again for #3 is not uncommon.
But retailers can often find themselves underestimating demand for popular titles. You can see the unmet demand for Immortal Hulk, leading to multiple printings.
Marvel would rather have those copies on the shelf where people can buy them when the comic first came out. If they then sell anyway, it will encourage the retailer to order more of #3 and #4 – and also not frustrate the reader and lose a potential customer.
Marvel needs to be careful, in that case, what they use overships for – to tackle unmet demand rather than some blanket wide market-distorting policy that only serves to devalue the comics in the retailer and public's eye. Retailers should also try and use these added copies for sampling purposes, there are customers out there who could be made by this practice.
And maybe it might help fund a little added Free Comic Book Day action as well…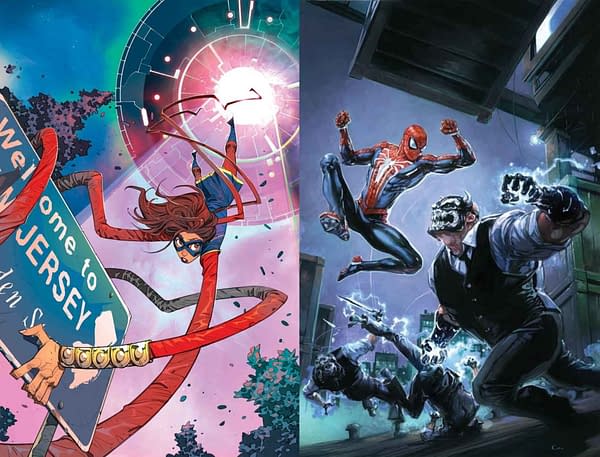 SPIDER-MAN CITY AT WAR #2 (OF 6)
(W) Dennis Hopeless (A) Michele Bandini (CA) Clayton Crain
CONTINUING THE SAGA OF SPIDER-MAN FROM THE BRAND-NEW UNIVERSE!
• The worlds of PETER PARKER and SPIDER-MAN continue to collide – with his beloved AUNT MAY and current crusading Daily Bugle reporter (and former girlfriend) MARY JANE – caught in the middle!
• Teenager MILES MORALES has two heroes – Spider-Man and his police office father, JEFFERSON DAVIS – but how will their chance meeting lead to both triumph and tragedy?
• Plus: Who are the INNER DEMONS, and how is their crime spree connected to the fall of the KINGPIN…and the rise of an even darker foe?
Rated T In Shops: Apr 17, 2019 SRP: $3.99

MAGNIFICENT MS MARVEL #2
(W) Saladin Ahmed (A) Minkyu Jung (CA) Eduard Petrovich
• Ms. Marvel is reeling from a devastating loss, but with an alien invasion ravaging Jersey City, she's not going to have much time to grieve!
• Even if Kamala saves her hometown, will her family ever be the same? And what's all this business about a "Chosen One"?
Rated T+ In Shops: Apr 17, 2019 SRP: $3.99
Enjoyed this article? Share it!