It's a handy stat for the solicitation of the tenth Ms. Marvel collection: in print collections alone, Ms. Marvel has sold half a million copies. With nine volumes published, that's around 60,000 copies of each on average. Though that will weight towards the first collections, of course, so it would be fair to see Vol. 1 top 100,000. And that's all without a movie or a live-action TV show…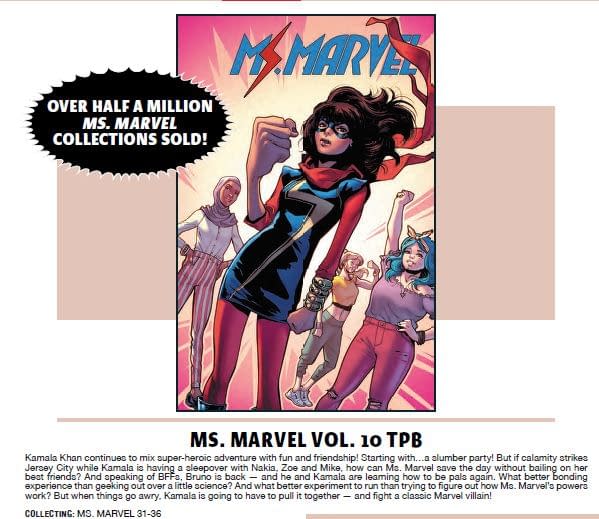 Ms. Marvel was created as a legacy character by Sana Amanat, Stephen Wacker, G. Willow Wilson, and Adrian Alphona. Real identity Kamala Khan, she is a Pakistani-American living in New Jersey, with her shapeshifting powers due to her Inhuman lineage. A member of The Champions super team, she assumed the Ms. Marvel identity from her idol Carol Danvers, who graduated to Captain Marvel. G. Willow Wilson has told her stories ever since.
It's been stated that Ms. Marvel has outperformed the market digital sales, notably selling as much in digital as she does is print, and has a stronger book market appeal than other Marvel titles. This, at least, puts a number on that… and stats are always handy to have.
Enjoyed this article? Share it!