This is the solicitation for September's Action Comics #1015, featuring Naomi, the character created by Brian Bendis, David Walker and Jamal Campbell, meeting Superman and Batman.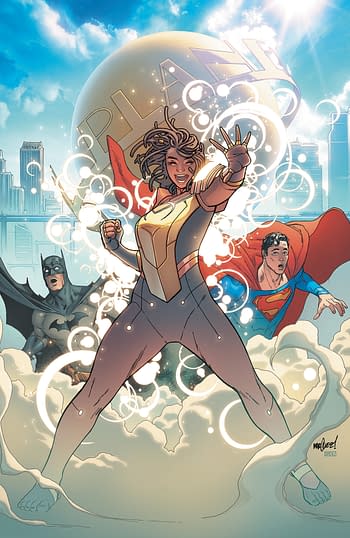 ACTION COMICS #1015 YOTV
(W) Brian Michael Bendis (A) Szymon Kudranski (CA) David Marquez
Breakout Wonder Comics hero Naomi makes her Metropolis debut as the teen hero looks to Superman to help her navigate her unexpected new role as a hero in the DC Universe. Hoping to answer the remain questions about her origin, lineage and greater purpose on Earth, Naomi not only gets the attention of the Man of Steel but also Gotham City's Dark Knight Detective, as Batman takes an interest in her quick rise to prominence.In Shops: Sep 25, 2019
Final Orders Due: Sep 02, 2019
SRP: $3.99
And this is the solicitation for November's Young Justice #10 with Naomi joining that team. Maybe.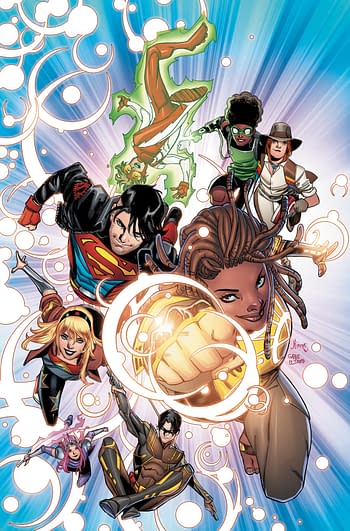 YOUNG JUSTICE #10
(W) Brian Michael Bendis (A) Nick Derington (A/CA) John Timms
Welcome, Naomi! Wonder Comics' brightest shining star comes to Young Justice! She's ready to join this team of young heroes who have seen it all-and you'll want to be here to watch the sparks fly for the very first time. All this, plus the true story of Jinny Hex.In Shops: Nov 06, 2019
SRP: $3.99
But, surprise surprise, that won't be her first appearance outside of her own title. Because that happens at the rather spoilery end of Action Comics #1014…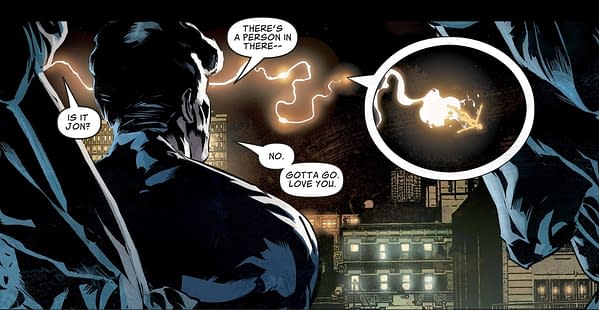 ACTION COMICS #1014 YOTV DARK GIFTS
(W) Brian Michael Bendis (A) Szymon Kudranski (CA) Brandon Peterson
Lex Luthor comes home to Metropolis in this "Year of the Villain" tie-in issue! What does he have up his sleeve? Some very interesting offers for the woman behind the city's invisible mafia…offers that no one could refuse! Plus, what is the secret of the Red Cloud? Ask Lex-he knows! Don't miss this huge chapter in both "Year of the Villain" and EVENT LEVIATHAN!In Shops: Aug 28, 2019
SRP: $3.99
… rather unannounced…
Enjoyed this article? Share it!