New Dates For Final Witness and Shadowman Launches From Valiant
The comic book industry is beginning to edge towards and attempt at returning to some vestige of normality. These are the planned titles that Valiant Entertainment has for May, June, July, August and September July 2020, unearthed by Bleeding Cool so far. We'll be trying to run as many other publishers' plans today, and during the week. There will be more to come from Valiant Entertainment, and new updates to peruse, but these are the current announce plans for Valiant through Diamond Comic Distributors. We're not entirely sure if Doctor Tomorrow #4 will get an update, or if it will come out on the same day as #3, like Boom Studios seems to be doing with Lumberjanes or if that will be updated. But notably Valiant have delayed the launches of Final Witness until August and the Shadowman until September. Other solicitations will likely fill the gaps.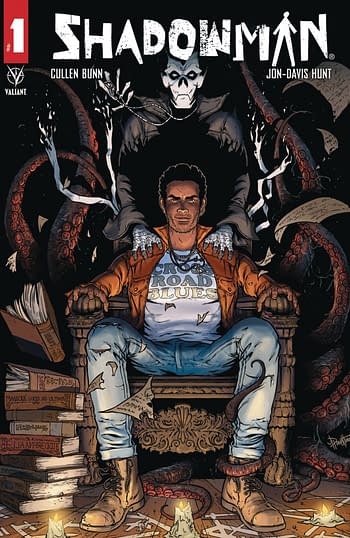 FINAL WITNESS #1 (OF 5)
(W) Ray Fawkes (A) Jeremy Haun (CA) Rahzzah
Ray Fawkes (Gotham By Midnight) and Jeremy Haun (The Red Mother) ignite a chilling new crime noir mystery.
A superpowered serial killer is terrorizing San Francisco, but they're no Zodiac — they're worse.
The detective, the reporter, the new superhero in town… who will be the final witness? In Shops: Aug 19, 2020 SRP: $3.99
SHADOWMAN #1
(W) Cullen Bunn (A/CA) Jon Davis-Hunt
A BRAND-NEW HORROR SERIES! From the bestselling master of horror Cullen Bunn (Venom) and bone-chilling artist Jon Davis-Hunt (Clean Room) comes a shocking supernatural odyssey. The forces of darkness are awakening and they are hungry for life. Will Jack Boniface, feared by the forces of evil as the protector Shadowman be able to save us all? In Shops: Sep 30, 2020 SRP: $3.99
Here's all we have for Valiant so far.
Wednesday, May 20th
Livewire Vol 3
Wednesday, June 10th
DOCTOR TOMORROW #3 (OF 5)
DOCTOR TOMORROW #4 (OF 5)
HARBINGER WARS 2 DLX HC
PSI-LORDS TP VOL 01
Wednesday, June 17th
RAI #6
BLOODSHOT #7 FULLY LOADED VAR
Wednesday, June 24th
BLOODSHOT #8
Wednesday, July 1st
QUANTUM & WOODY (2020) #4
Wednesday, July 15th
RAI #7
Wednesday, July 22nd
VISITOR #5 (OF 6)
Wednesday, July 29th
BLOODSHOT #9
Wednesday, August 5th
RAI TP VOL 01
Wednesday, August 19th
FINAL WITNESS #1 (OF 5)
Wednesday, September 30th
SHADOWMAN #1