Could Superman Be Getting Another New Identity – King Superman? (Spoilers for Superman #20, Supergirl #39 and Heroes)
It's all about Superman's secret identity (again) today, with the assembled Justice League heroes in the Hall Of Justice in Superman: Heroes reacting to the news that Superman has gone public with being Clark Kent. However, yes, even though Harley Quinn is there, there is no explanation for why this mass murderer is suddenly a member of a Justice League team. Maybe she's got a film out. However, we do get the reaction of John Constantine and Dr Fate.
"Out of your bloody mind" or "Off your bloody head", Bendis, not this weird mixture. Also, why the hell would John Constantine care, he doesn't go around with a pair of glasses saying that he's The Hellblazer. he didn't even go to Cambridge University in London. While Dr Fate seems to go Jamaican patois on us, telling Superman to meet him 'at minight'. Irie?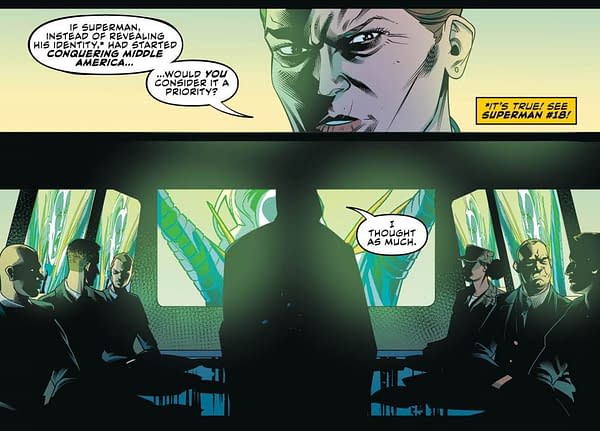 Okay Supergirl #39, still continuing the interminable Infected storyline, does recognise the new Superman reality. Wondering what would happen if Superman became a conqueror and ruler, as Supergirl may be about to. Well, that's also a concern over in today's Superman too. We had previously had this scene in Superman #16.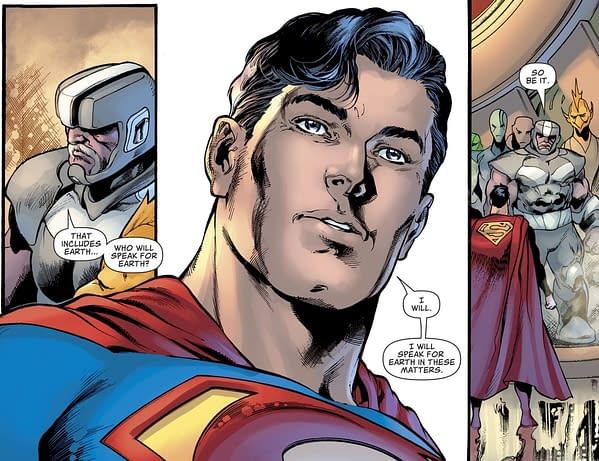 At the time, I thought that was a bit presumptuous. Today, footage of that leaks to the Daily Planet rival, the Daily Star, courtesy of some kind of intergalactic Wikileaks. Already on the backfoot by realising they don't have an embedded superpowered journalist in the heart of every major story in Metropolis, the Daily Star hacks react accordingly.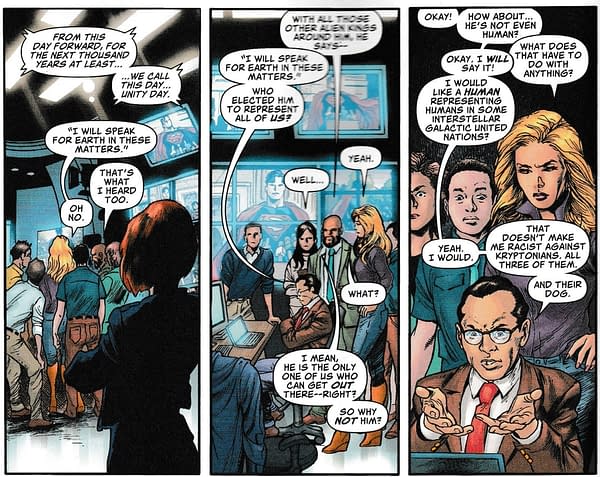 Which leads to Lois Lane being doorstepped with, frankly, a very understandable accusation.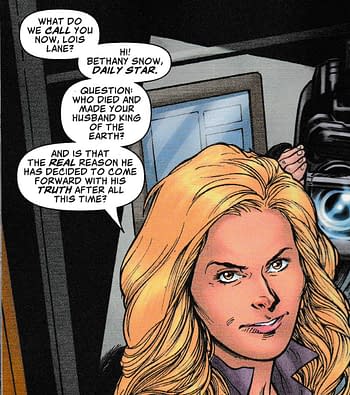 While over in Superman: Heroes, we get a look at another of Luthor's power games.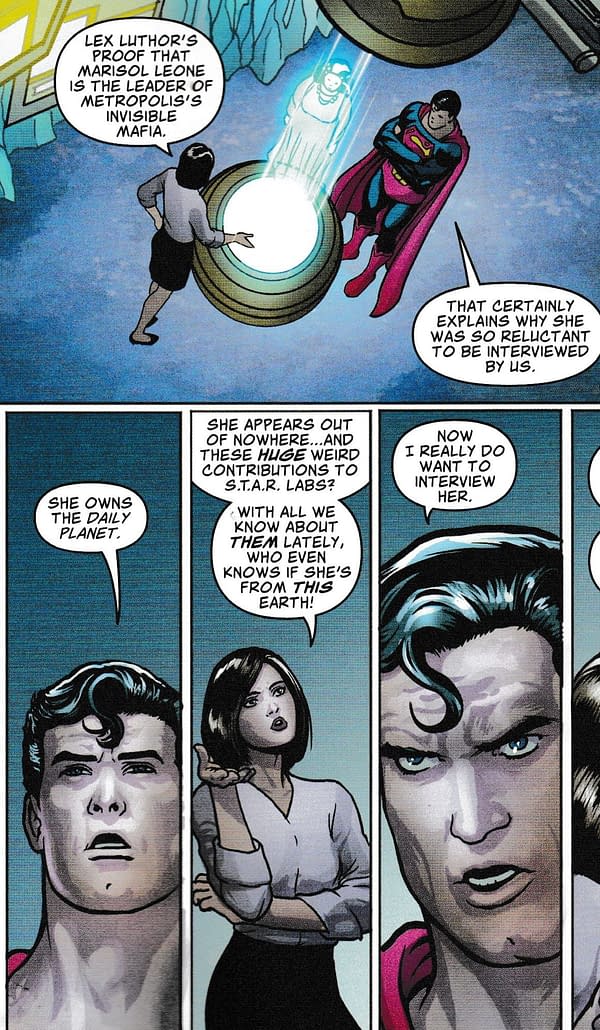 You know, maybe the Daily Star could take it on instead? Why does the interview have to be from you?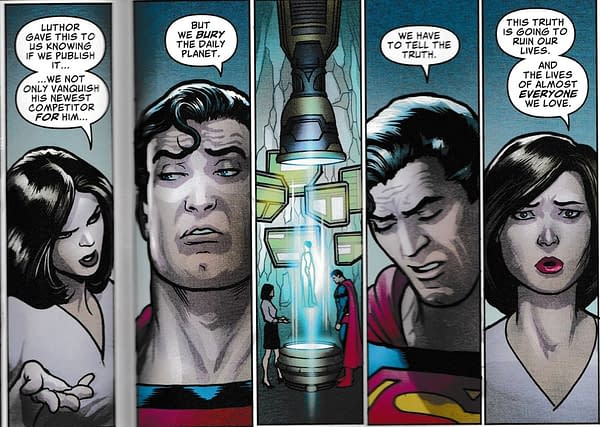 So why not tell Bethany Snow? Maybe in exchange for dropping the King Superman story? That's how these things actually work in real life…
SUPERGIRL #39
(W) Jody Houser (A) Rachael Stott (CA) Kevin Maguire
After the Lasso of Truth reveals something unexpected about Supergirl's infection, Wonder Woman is quickly running out of ways to try to bring Kara back peacefully. Making matters worse, the government has sent robotic military backup to Smallville to deal with the possible atomic threat of Infected Supergirl-and neither Wonder Woman nor Supergirl is prepared for the innocent casualties this could mean for the town. In Shops: Feb 12, 2020 SRP: $3.99

SUPERMAN #20
(W) Brian Michael Bendis (A/CA) Joe Prado, Ivan Reis
The United Planets is a perfect, beautiful idea…that completely flies in the face of everything the barbaric Mongul has been fighting for his entire life. Mongol will destroy the United Planets and Superman with it. And he said something about using Earth as his toilet. Which doesn't sound very nice. The return of one of Superman's biggest and baddest villains…bigger and badder than ever! In Shops: Feb 12, 2020 SRP: $3.99

SUPERMAN HEROES #1
(W) Brian Michael Bendis, Matt Fraction, Jody Houser, Greg Rucka (A) Kevin Maguire, Steve Lieber, Mike Perkins, Others (CA) Bryan Hitch
Lois Lane, Jimmy Olsen, the staff of the Daily Planet, even the Justice League-their lives all changed when Superman revealed his secret identity to the world! This unique Superman experience explores what the identity of Clark Kent meant to those close to him-and what their relationship to Superman will be in the future. All the rules are about to change-and it all starts here.
The dream team of writers Brian Michael Bendis, Matt Fraction, Greg Rucka, and Jody Houser team up for this amazing special, with art anchored by DC legend Kevin Maguire, plus sequences focusing on each corner of the Superman universe by artists Steve Lieber (Superman's Pal, Jimmy Olsen) and Mike Perkins (Lois Lane). ONE-SHOT In Shops: Feb 12, 2020 SRP: $5.99
Supergirl #39, Superman #20 and Superman: Heroes are published today from DC Comics. I bought mine from Piranha Comics in Kingston-Upon-Thames. Piranha Comics is a small south London comic store chain with a small south-east store in Kingston-Upon Thames's market centre, which runs Magic The Gathering nights on Fridays, and a larger south-west store in Bromley, which also runs Magic nights and has an extensive back issue collection and online store. If you are in the neighbourhood, check them out.