New MCU Origins For the Black Widow – and How She First Met the Winter Soldier (Spoilers)
Today sees the publication of Marvel Comics' Black Widow Prelude #1, set before the upcoming Black Widow movie – and in canon continuity with the rest of the Marvel Cinematic Universe. And it gives us new details as to how the Black Widow met the rest of the MCU and ended up working as a spy for SHIELD, placed to watch over Tony Stark in Iron Man 2. And we get three possible versions for that first contact with her. Involving Hawkeye, Nick Fury or no one at all.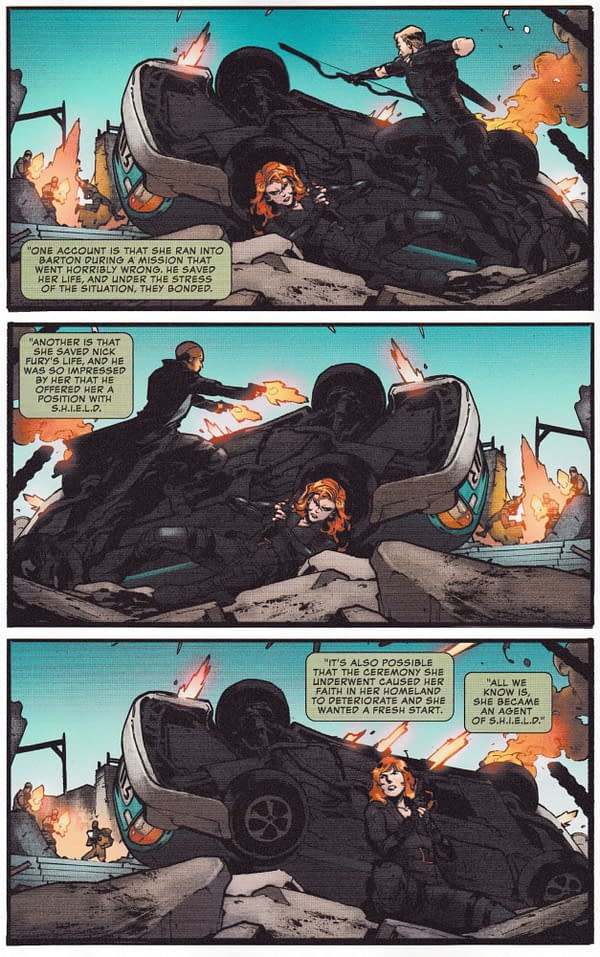 But as to how she met Bucky, the Winter Soldier, another product of the USSR's superagent programme, turns our they had quite the encounter.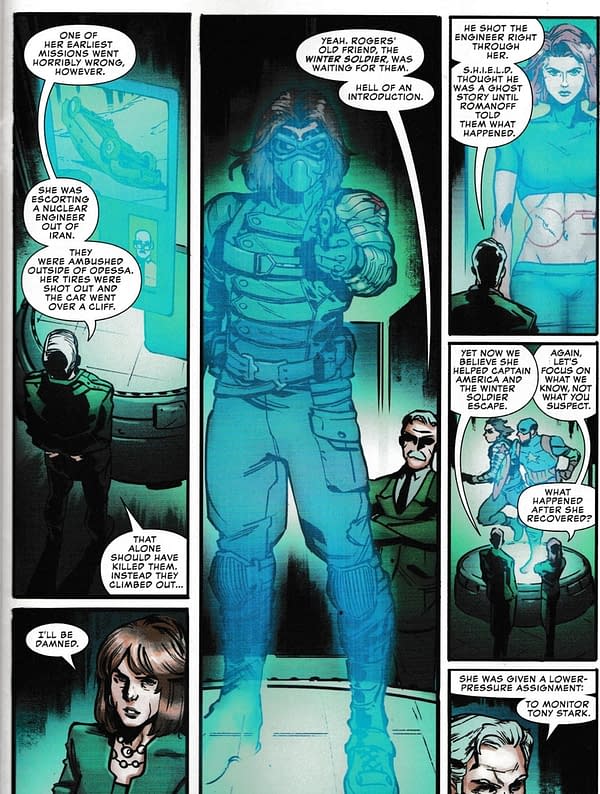 The Black Widow was shot by The Winter Soldier, but only because she was in the way of his target. She survived and was able to confirm his existence to SHIELD. And it was that event that took her out of the action and reassigned to monitor Tony Stark. No surprise that the comic book is written by Peter David, in association with Marvel Studios. He is rather good at taking other peoples threads and tying them together to look like it was always this way and completely on purpose…
MARVELS BLACK WIDOW PRELUDE #1 (OF 2)
(W) Peter David (A) Carlos Villa
TRACE THE BLACK WIDOW'S HISTORY IN THE MARVEL CINEMATIC UNIVERSE!
From spy to Avenger, the enigmatic BLACK WIDOW has lived many secret lives. But how do these disparate episodes add up to the life of the heroic Avenger, and what is the thread that connects her past to her future?
Get ready for MARVEL STUDIOS' BLACK WIDOW solo film with this glimpse into the storied history of NATASHA ROMANOFF in this tale set in the Marvel Cinematic Universe! Rated T+In Shops: Jan 15, 2020 SRP: $3.99
Black Widow Prelude #1 is out today from Marvel Comics… I bought mine from Piranha Comics in Kingston-Upon-Thames. Piranha Comics is a small south London comic store chain with a small south-east store in Kingston-Upon Thames's market centre, which runs Magic The Gathering nights on Fridays, and a larger south-west store in Bromley, which also runs Magic nights and has an extensive back issue collection and online store. If you are in the neighbourhood, check them out.