Last month, Bleeding Cool ran a number of reports after DC Comics sent Devil's Due and the New York Collector Cave a cease and desist notice, after a cover for their Alexandria Ocasio-Cortez and the Freshman Force: New Party Who Dis? comic depicted AOC as if she was Wonder Woman. As a result copies of the original 250 print run now sell for four figures on eBay.
Second this motion.
This month, Devil's Due is putting out a second printing of the comic, now with a new variant cover depicting the congresswoman as Supergirl, while reframing the logo in the kettering of parody comic MAD Magazine – which DC Comics also publishes, with cover legends "A parody of a parody! Yet still somehow less of a parody than Washington! Don't be MAD. This isn't about any actual DC superheroes." AOC stands alongside senator Bernie Sanders as the Green Lantern, and congresswoman Ilhan Omar as Batman.
Don't get MAD, get even… madder.
Dubbed the Cease And DCist cover, it not only claims the cover – and the previous one – as parody, a constututionally protected right, but points out DC Comics' hypocrisy as the publisher of MAD Magazine, which regularly engages in such parody treatments.
Follow the money.
500 copies of the latest variant cover are being published, with a portion of proceeds going to immigrant legal services provider RaicesTexas.org.
Will Warner Bros lawyers risk causing another Streisand Effect on this one?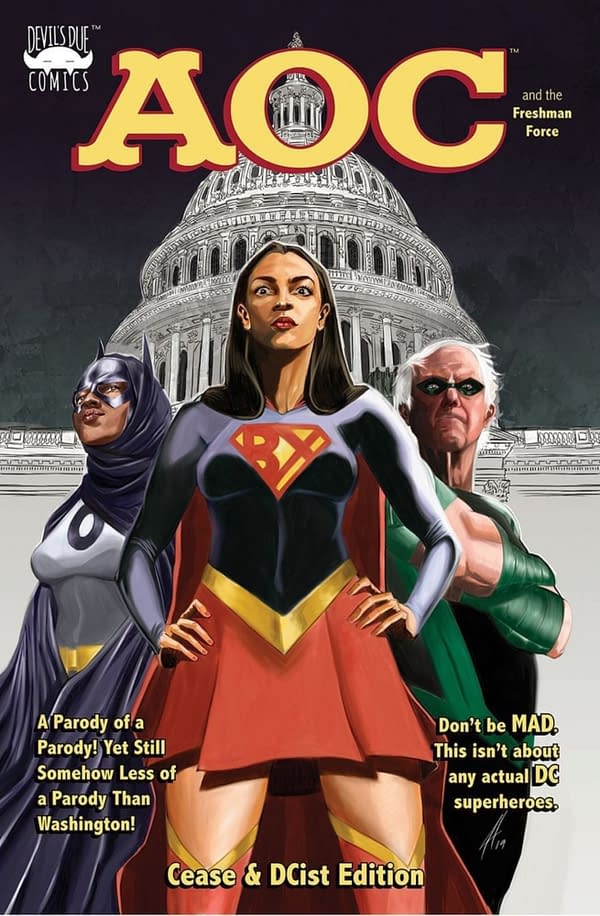 Enjoyed this article? Share it!