Co-creator of Deadly Class, Rick Remender, let the news slip late last week. A new Deadly Class story from Image Comics, Deadly Class: 1989
DEADLY CLASS: 1989 coming soon pic.twitter.com/rwbpepTNiZ

— Rick Remender (@Remender) February 21, 2019
And we also get an update on his Black Science as well…
Yeah. I'm way behind, but it's coming soon. Wrapping an issue now.

— Rick Remender (@Remender) February 22, 2019
Deadly Class is an action comic created by Rick Remender and Wesley Craig, following students enrolled at King's Dominion Atelier of the Deadly Arts, a secret high school in San Francisco, as they train to become the next generation of top assassins for crime families across the globe. It is now also a TV series developed by Rick Remender and Miles Orion Feldsott for Syfy starring Benedict Wong, Benjamin Wadsworth, Lana Condor, María Gabriela de Faría, Luke Tennie, Liam James and Michel Duval.
The first issue begins in 1987. Recent issues have been set in 1988. Looks like it's time for a new year…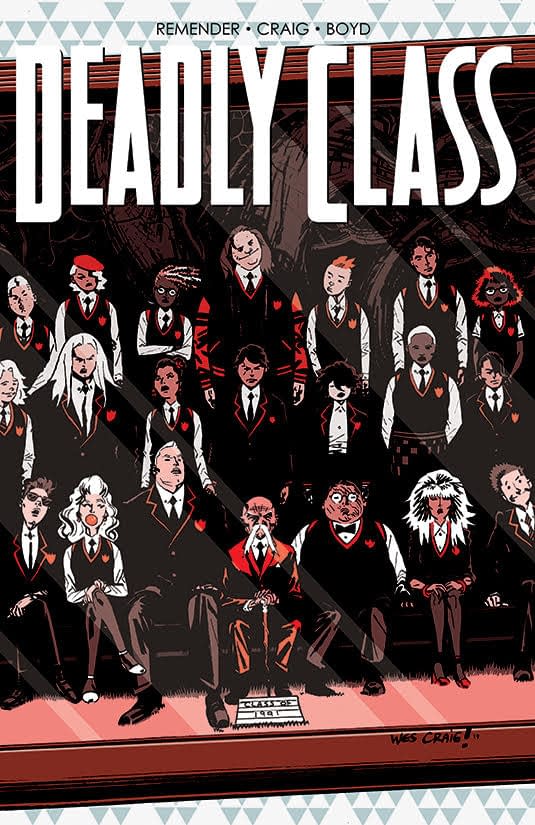 Might the new story get to the 1989 Loma Prieta earthquake that occurred in Northern California on October 17th? Or could it skip forward to the 1991 in the class photo?
Enjoyed this article? Share it!