What's Next For Grant Morrison and Liam Sharp's The Green Lantern?
We mentioned in an early review that the new The Green Lantern #1 had a vibe reminiscent of those Alan Moore Green Lantern tales. Especially with Liam Sharp giving us some Kevin O'Neill stylings before delving into the Toth Report.
But it's in the look at the various alien Green Lanterns that are part of the Corps that we got a direct callback. to a certain… well, not a Green Lantern by name. But the F-Sharp Bell…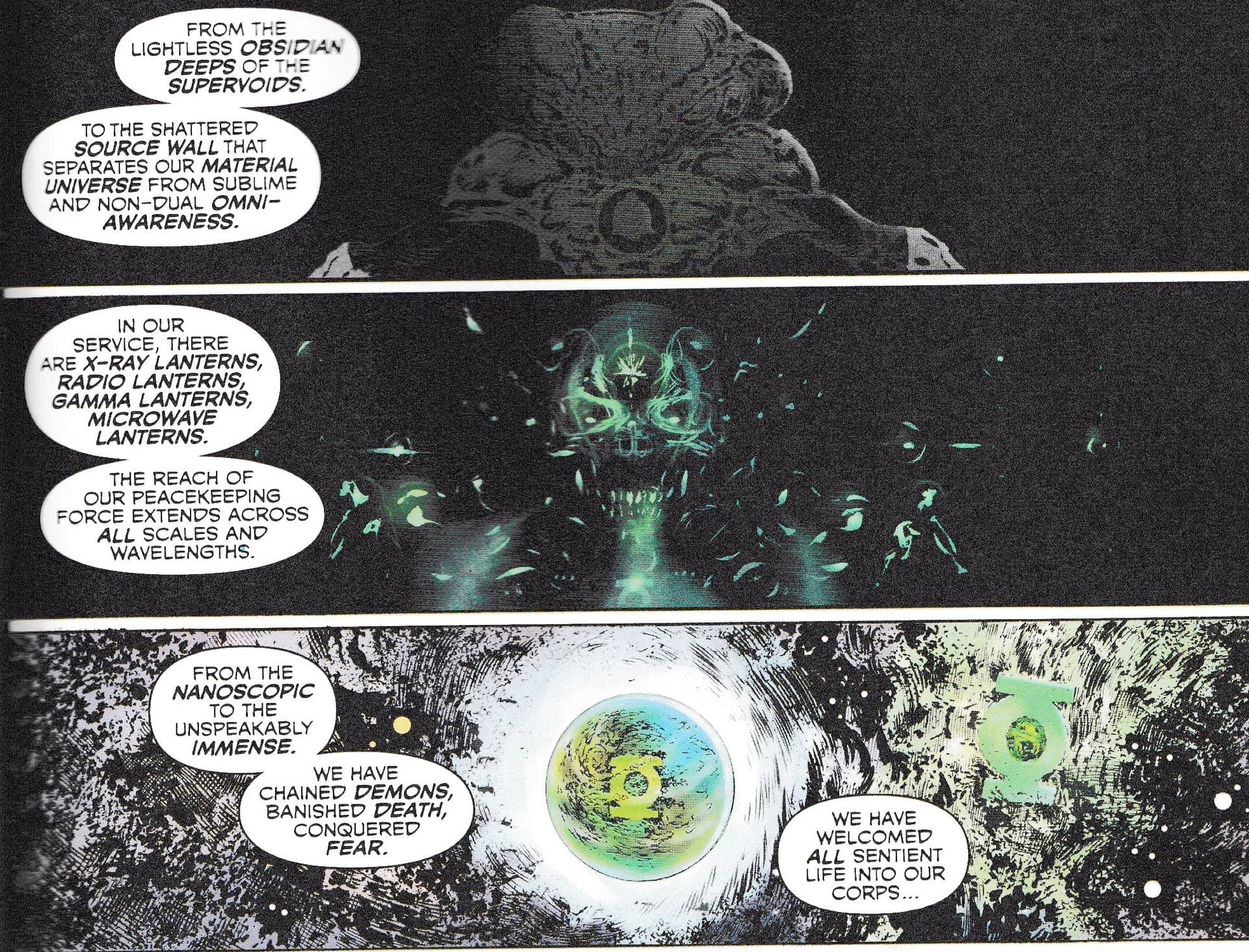 Reminiscent of intelligent shades of the colour blue. But far beyond visible colours of the spectrum… Green Lanterns that are sentient electromagnetic waves. Not just planets but suns, galaxies even. And then there's microbes too. And we get introduced to one of them as well.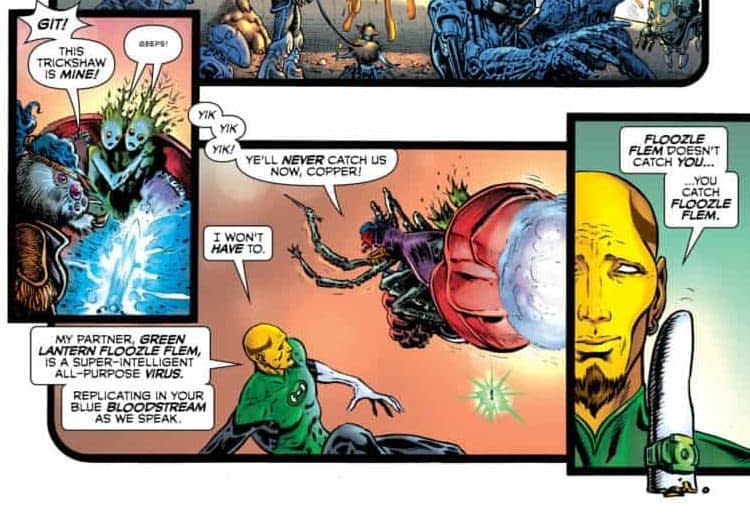 But what is to come for The Green Lantern? Well, we get a peek ahead at that as well. Green Arrow, broken Lanterns, enemies and friends – or frenemies. More to come…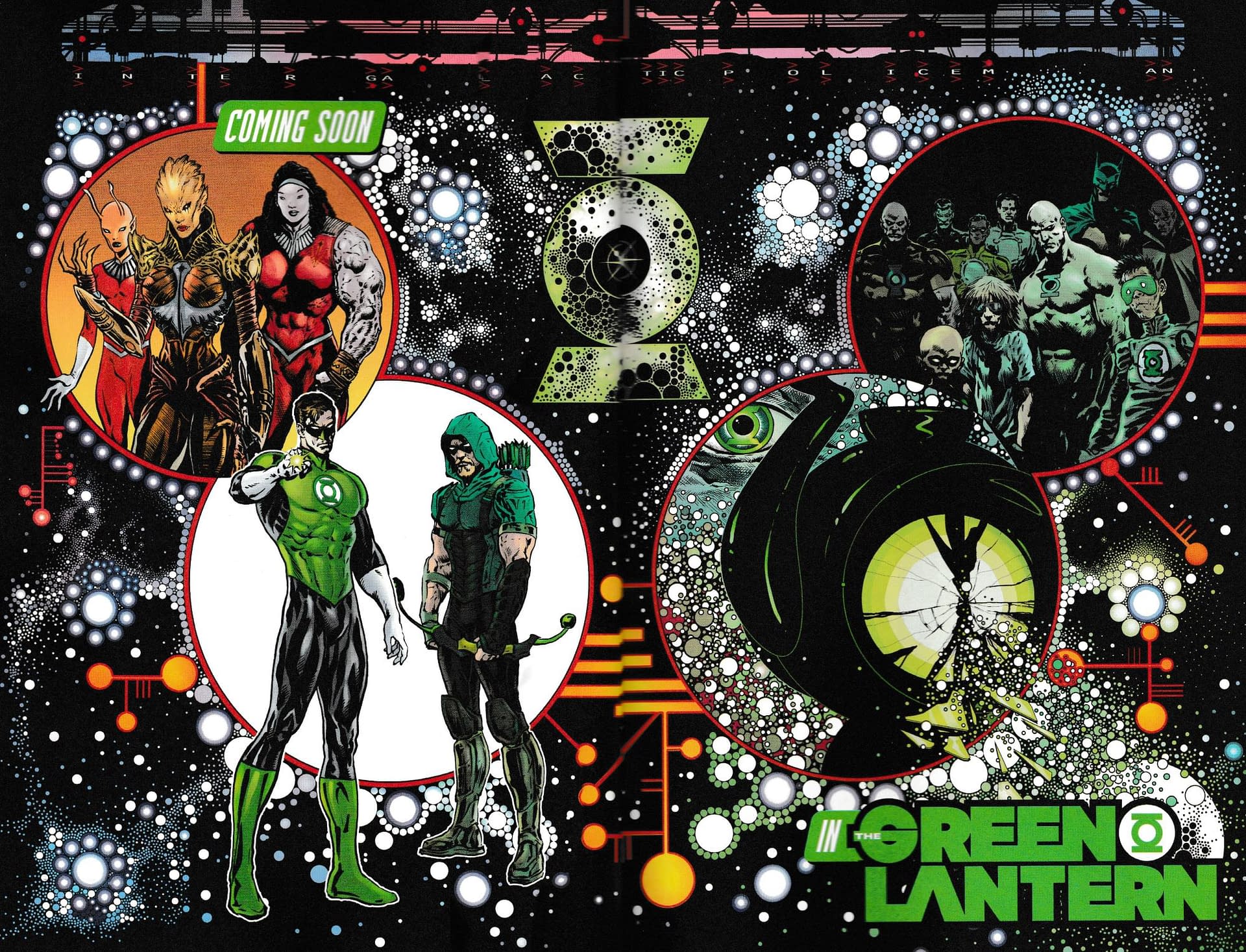 GREEN LANTERN #1
(W) Grant Morrison (A/CA) Liam Sharp
Superstar writer Grant Morrison (Batman, All-Star Superman) returns to DC alongside red-hot artist Liam Sharp (The Brave AND the Bold, Wonder Woman) to launch a new, ongoing series: THE GREEN LANTERN!
In this debut issue, when Earth's space cop, Hal Jordan, encounters an alien hiding in plain sight, it sets off a chain of events that rocks the Green Lantern Corps-and quite possibly the Multiverse at large-to its very core. There's an inter-galactic conspiracy afoot, as well as a traitor in the GL Corps' ranks, so strap in for more mind-bending adventures in this masterpiece in the making. In Shops: Nov 07, 2018 SRP: $4.99

GREEN LANTERN #2
(W) Grant Morrison (A/CA) Liam Sharp
Someone is transporting a mysterious cargo out of the Great Void, and it spells trouble for the universe at large! Hal Jordan interrogates a member of the Spider Guild for answers and uses his pheremones as an interrogation tool, but can he extract the info in time?! Meanwhile, Volgar Ro makes a play for Earth while its emerald protector is off-world!In Shops: Dec 05, 2018
Final Orders Due: Nov 12, 2018 SRP: $3.99

GREEN LANTERN #3
(W) Grant Morrison (A/CA) Liam Sharp
When the Earth goes up for sale on the alien black market, it's up to the Green Lantern Corps to bust up "The Slave Lords of the Stars" in the latest space saga from Grant Morrison (MULTIVERSITY) and Liam Sharp (WONDER WOMAN)! With the Justice League frozen by Gamma Gong tech, Earth ends up on the auction block, and Volgar Zo hosts a menagerie of the universe's deadliest despots and criminals: Steppenwolf, Queen Bee, the Dominators and much, much worse. Hal Jordan leads a squad of Lanterns into the fray-and someone's going to pay the ultimate price before this case gets closed.In Shops: Jan 09, 2019 SRP: $3.99