Ngozi Ukazu To Tell Big Barda's Origin In New Graphic Novel, Barda
Ngozi Ukazu is writuing and drawing a new YA graphic novel origin of Big Barda called BARDA, to be published by DC Comics in 2024.
---
Ngozi Ukazu tweeted out the news about new DC Comics graphic novel, Barda. "I am beyond thrilled to announce my very first graphic novel with DC COMICS! Written AND illustrated by yours truly—Buckle up and get ready for BARDA. Over the last two years I've become enamored with Jack Kirby's vision and genius. I CANNOT wait to show you my take on the New Gods!!!! This graphic novel on Big Barda's origins will be a blast for readers old and new—with plenty of that KIRBY KRACKLE!! Special thanks to my editors Jim Chadwick and Courtney Jordan. They are the absolute BEST. And thank you to @1010lilfoot for layout/thumb assistance! Also, @samhumphries —Harley gig was a blast. Thank you." That's Catherine Palmer getting the thumbnail thanks.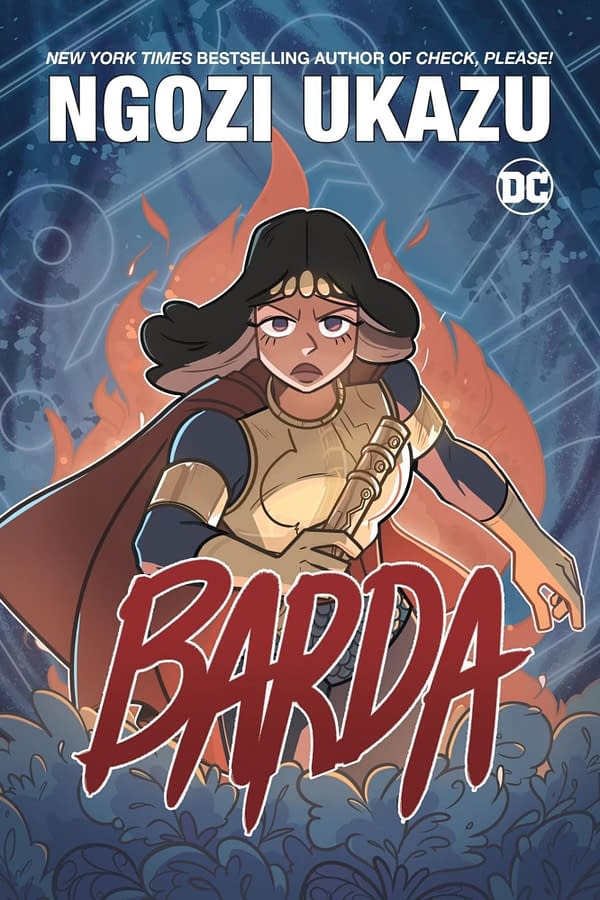 Ngozi Ukazu is best known for creating the hockey webcomic Check, Please, a bestseller when published in print by First Second, and one of the most funded webcomics Kickstarter ever. She graduated from Yale University with a degree in Computing and The Arts, and later received a Masters in Sequential Arts. Since 2020, her cartoons have appeared in The New Yorker. Barda will be released in June of 2024, and will tell her earliest days on Apokalips with Darkseid and Granny Goodness.
Uzaku told ScreenRant "Barda is a story of a very tough soldier who slowly realizes that her loyalties are more complicated than it seems. Barda is a great character because she is so complicated. She's big, she's mean, she's tough. But on the inside, she's very scared. But she's a defender. The story calls her to be a bit more cruel than she actually is. And we start to see the tension. Does she like defending people or does she like causing pain? And she figures out who she is through the course of the story."
Created by Jack Kirby, Big Barda first appeared in 1971 in Mister Miracle #4, part of Kirby's New Gods cycle and was physically based on Lainie Kazan. Kirby's assistant Mark Evanier, stated "Jack based some of his characters (not all) on people in his life or in the news… the characterization between Scott 'Mister Miracle' Free and Barda was based largely—though with tongue in cheek—on the interplay between Kirby and his wife Roz"
Daughter of Big Breeda, Barda was seized at an early age to be trained as a warrior at Granny Goodness' Home for Orphaned Youth, with Barda groomed lead the Female Fury Battalion. However, she meets and falls in love with Mister Miracle, Scott Free, Darkseid's adopted son, and switched sides., rebelling against Apokalips. She would later join the Justice League. Of course, now the whole history could be about to be rewritten…