Ninja-K #3 Review: Ninja-K vs. Ninja-C and the Secrets of MI-6
Ninja-K is locked in a brutal battle with Ninja-C, a previous MI-6 agent who killed Ninja-D and many other operatives. He wants to bring down MI-6. However, as the battle rages on K learns of C's motivations, and Ninja-K begins to realize he may be fighting for the wrong side.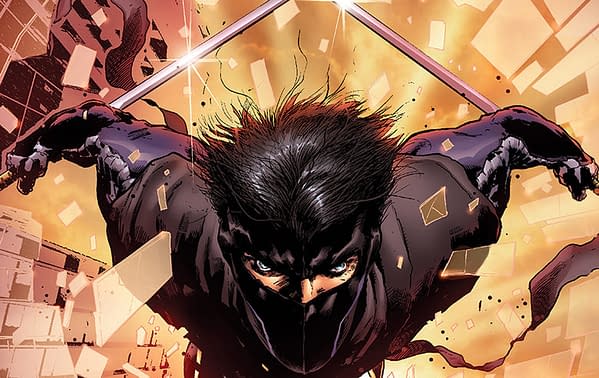 The battle between Ninjas K and C is everything one could hope for. It's tense, full of cool gadgets and maneuvers, and vicious.
While one could expect plenty of shady and morally ambiguous activities from a spy organization like MI-6, Ninja-C's revelations are startling enough so that you kind of want to cheer for him. The depths of depravity he claims they went to are beyond inhumane.
The story does bog down as Ninja-C's origins are revealed. Ninja-K could have gotten its point across without spending as long a time in C's backstory as it did. While the finale to the exposition does make for a compelling twist in the tale, it didn't need quite this much build-up. Plus, you do wonder why K is standing there and listening to so much from C.
That aside, the story is tense and compelling, and it adds another dark layer to the lore of Ninja-K and MI-6.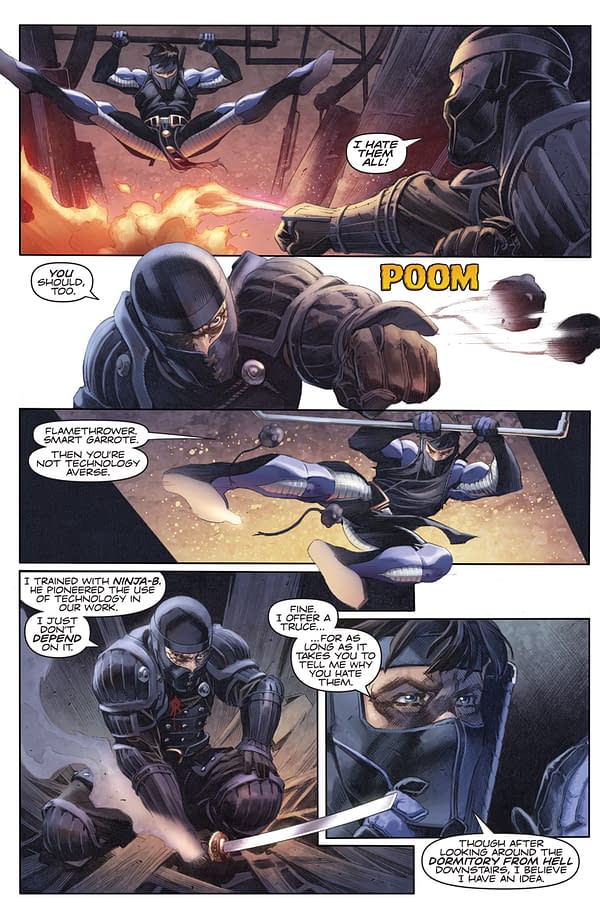 Tomas Giorello and Roberto de la Torre cover the art in this issue once more, and it is quite a gorgeous book for it. Both artists bring a lot of detail, expression, and grit to their segments. Giorello portrays motion and impact very well, and Torre's style adds an extra layer of grit to accommodate the peering back through time. Diego Rodriguez's color art is the right amount of faded to give this world its own unique atmosphere of darkness and intrigue. Plus, Ninja-K's costume is an awesome mixture of blue, purple, and black.
The backup story with Ninja-A takes a cool turn as well, and Ariel Olivetti's art looks damn good too.
Ninja-K #3 presents a gripping confrontation between Ninja-K and Ninja-C filled with great action and startling revelations. The team of Giorello, de la Torre, and Rodriguez bring it to life in a stunning fashion, and Christos Gage's story continues to excite and intrigue despite some pacing issues. This one comes recommended. Pick it up.