Tom Taylor and Juann Cabal are the creative team behind a relaunch of Friendly Neighborhood Spider-Man, Marvel revealed at their Spider-Man panel at New York Comic-Con Friday.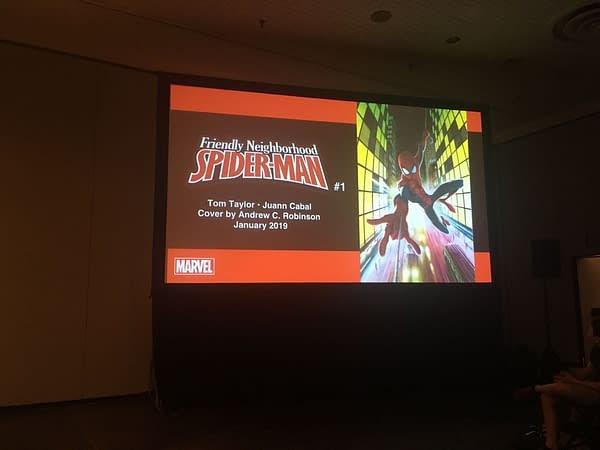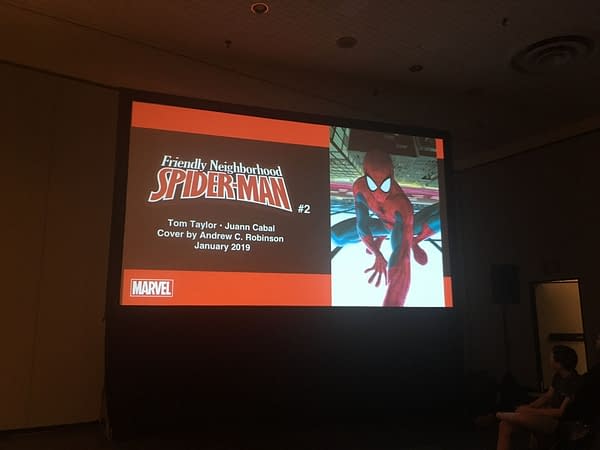 Following the end of All-New Wolverine, Taylor has been gunning for the Spider-Man job, as Bleeding Cool reported back in August, which means that, technically, you heard about this here first, so: pip pip. While Nick Spencer maintains a tight grip on Amazing Spider-Man, Taylor appears to have gotten his wish with a new launch of the ancillary Spider-Man title. Unfortunately, no plot details were revealed, but as a consolation prize, here's a Marvel Insider code from the panel: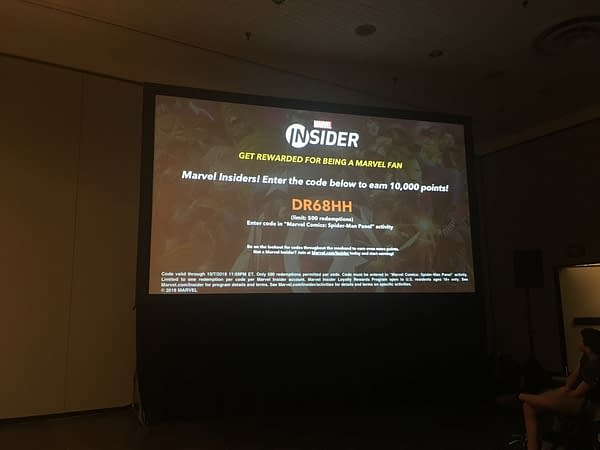 We're also forced to ask the question: what does this mean for X-Men Red? Maybe we'll find out at the X-Men panel on Sunday. Friendly Neighborhood Spider-Man launches in January, and it looks bi-weekly.
UPDATE: Marvel has published a press release on their website with more details on the series and a better look at the cover:
Written by Tom Taylor with art by Juann Cabal, the new series tells the tale of the power and responsibility that the wallcrawler bears as both a Super Hero and as the guy who lives next door!

And guess what? Spider-Man is the worst neighbor ever!

There's always crazy villains and property damage and drama and he catches the villains and he tries to fix the damage and he helps carry your groceries and actually that property damage helps keep the rent down? You know what? Spider-Man is the best neighbor ever and this book will give you a closer look at Spider-Man's neighborhood than any book ever before.

Also, it wouldn't be a Spider-Man adventure without a threat that could destroy not only Spider-Man, but all his neighbors as well…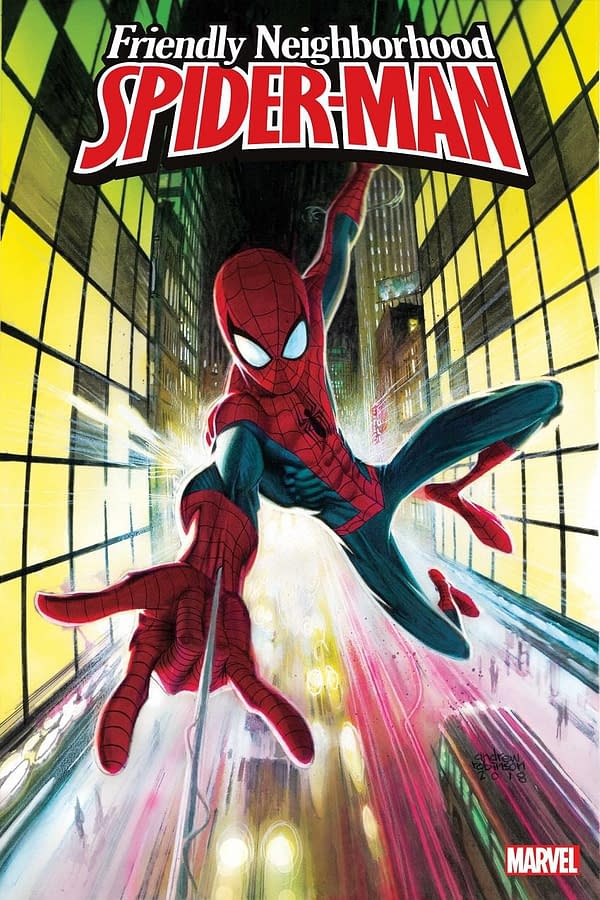 And a quote from Taylor:
With a lot of heroes, they're most heroic when they're in their suit and hide away their nature the rest of the time. But Peter's humanity and kindness isn't ever hidden. He wants to do the right thing by everyone no matter whether he's on the ground or swinging through the sky. I've always loved when Peter Parker is at his most relatable. Sure, he's a guy who saves the world, but he's still struggling to pay his bills with his housemates. That's the heart of this series. We're going to tell some big stories here, and introduce an all-new hero, but it's all about the micro. This is Peter finding adventure in his apartment building, a few doors down.
Enjoyed this article? Share it!