Ollie's Bargain Outlet in the USA is blowing out trade paperbacks and graphic novels from Marvel and DC picked up in those publisher's recent liquidation sales to comic book stores. And not for the first time. And now they have 115,000 of them to shift, at a total retail price of $2.5 million.
The difference this time is that they now seem to have realised that they underpriced the first time around. And this time rather than charging $3 a graphic novel, they have raised that to $8 each. Or $4 if you go for The Dark Tower…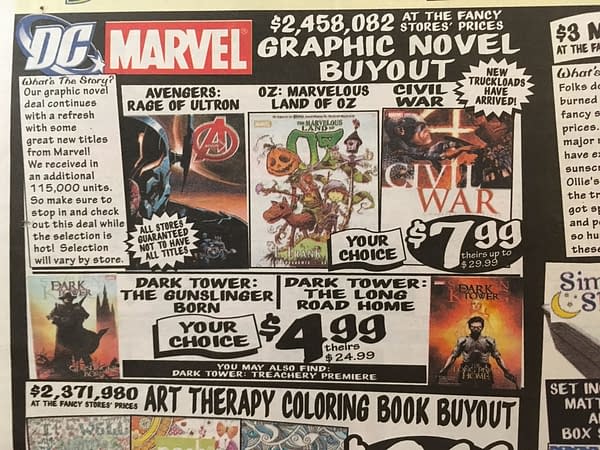 Will that be low enough? Quite a few comic book stores might be able to match that, especially if they stocked up in the Marvel/DC liquidation deals for retailers.
Ollie's Bargain Outlet is a discount store with 268 locations in the USA across 20 states. They deal in surplus merchandise obtained from various retailers, suppliers, or manufacturers throughout the country, whether in the form of closeouts, bankruptcy sales, or other similar means of buying the stock at below wholesale costs — such as Diamond Comic Distributor liquidations.
Enjoyed this article? Share it!