In a week in which director James Cameron was attacked for his statements regarding the worthiness of Wonder Woman as a female action figure, down to the way she looked, this week's Wonder Woman #29 comic book by Shea Fontana and Inaki Miranda (replacing the solicited David Messina) seems like a partial reply to that. Pure coincidence of course, but I guess there was always going to be something. As Wonder Woman finds herself assailed by bounty hunters, she has a little internal monologue to share with the readers…
Pure coincidence of course, but I guess there was always going to be something. As Wonder Woman finds herself assailed by bounty hunters, she has a little internal monologue to share with the readers…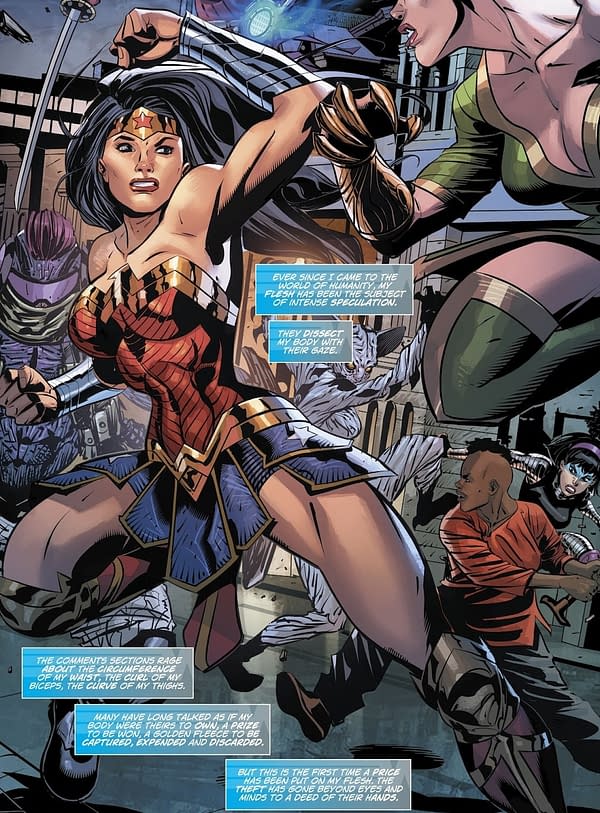 Is that really true? Let's find out by seeing the reaction to the latest actor to play the role, Gal Gadot, as seen in Batman V Superman, Wonder Woman and the upcoming Justice League movies.
Ever since I came to the world of humanity, my flesh has been the subject of intense speculation. They dissect my body with their gaze.
Gal Gadot has this to say to people complaining about how her body compares to their idea of Wonder Woman https://t.co/mXNN3YyYZC pic.twitter.com/lfuzuOX4aw

— BuzzFeed (@BuzzFeed) August 25, 2017
The comments sections rage about the circumference of my waist,
Mmmmmm you don't have the linda carter's waist @GalGadot

— KARENKABALAH (@KARENKABALAH) June 2, 2017
the curl of my biceps,
Can I marry gal gadot's biceps pls. Like not the rest of her just her biceps

— bat boy's mom (@bvckers) June 10, 2017
the curve of my thighs.
https://twitter.com/c_daniel_m/status/873565920500699136
Many have long talked as if my body were theirs to own, a prize to be won, a golden fleece to be captured, expended and discarded.
Gal Gadot is so gorgeous. That body is to die for

— Bissaka (@aaronizaac) July 4, 2017
It's all getting terribly meta this morning. And in this case, for Wonder Woman, the charges are literally true, as she has a price on her head by assassins who literally want her body, albeit it for medical research and treatments. Her answer to such an attitude?
WONDER WOMAN #29
"HEART OF THE AMAZON" part four! No single bounty hunter would be enough to draw blood from Wonder Woman-which is why the cabal that's so desperate to get their hands on Amazon DNA has sent five! $2.99
Enjoyed this article? Share it!