Parties And Prejudice On Krakoa, Today (Excalibur #8, Marauders #9 and Strange Academy #1 Spoilers)
In last week's X-Men #7, we got an idea as to how the Scarlet Witch was being treated by the mutants of Krakoa.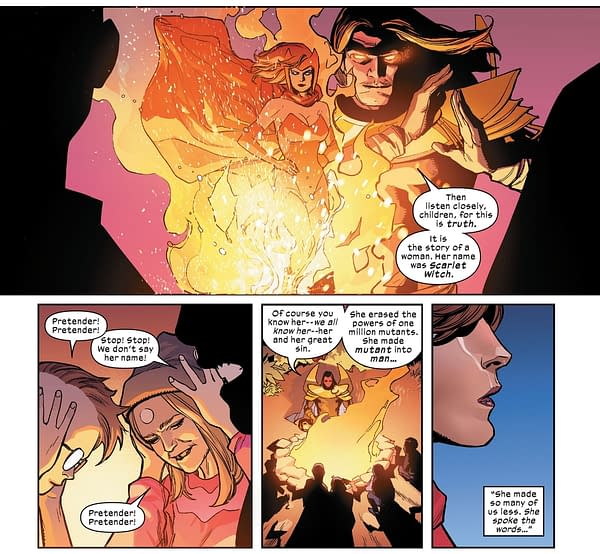 No longer a mutant, the one who depowered a million mutants still, she is known as The Great Pretender.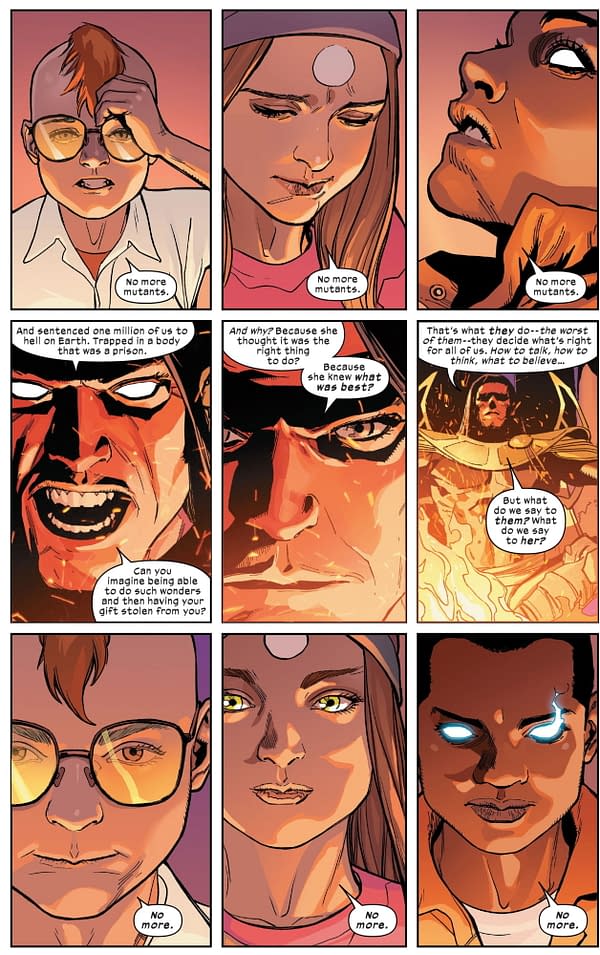 Which must make it a little awkward amongst the faculty of Strange Academy.
With the Wanda Maximoff, the Scarlet Witch cheek by jowl with Illyana Rasputin, Magik. I wonder if Illyana calls her The Pretender in staff meetings? Especially when there's so much prejudice in display at the school already..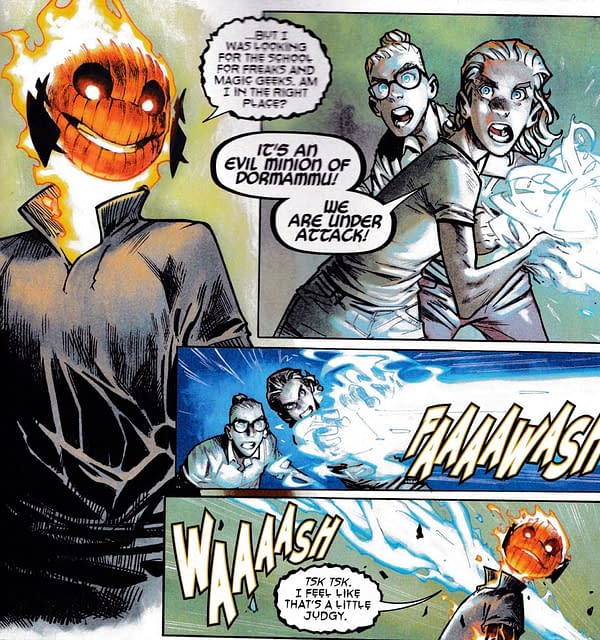 Though at least the teachers are all over that kind of behaviour.
I hate to think they'd be guilty of it themselves. Okay, so, two central Krakoan comics today. And last week's charge from New Mutants that there's always a party somewhere on Krakoa seems to be backed up in today's Marauders…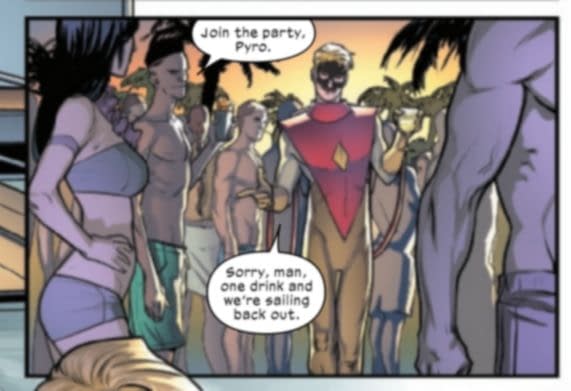 While Excalibur gets down with the party vibe too.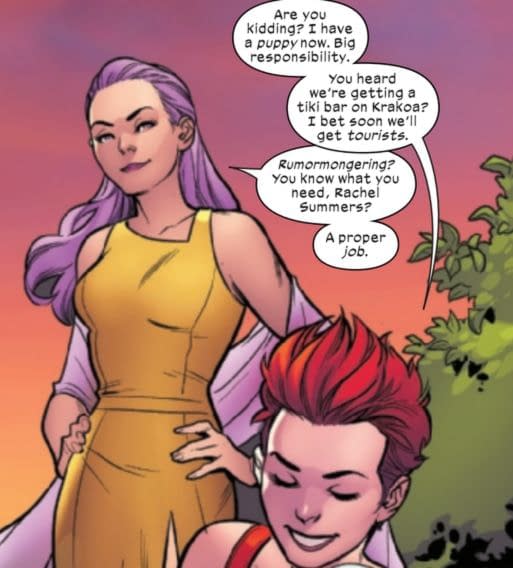 Does anyone feel that Psylocke is talking to me? Back in Marauders though, the usual rules of the island must be obeyed…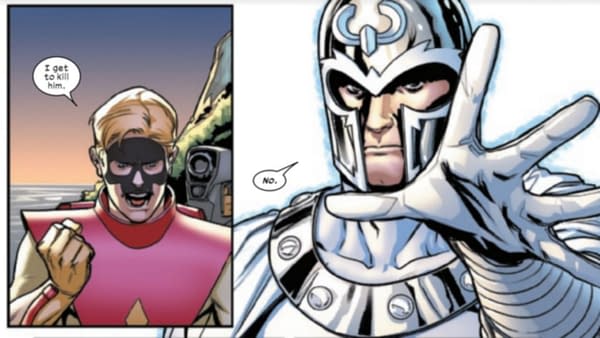 …and not everyone is in a party mood. Just as Kitty Pryde cannot pass through the Krakoan portals, she cannot be revived by the Five…
And in Excalibur, Rictor is learning all sorts of things about Cullen Bloodstone.

There are lists online as well. Looks like someone else is just about to be added to it.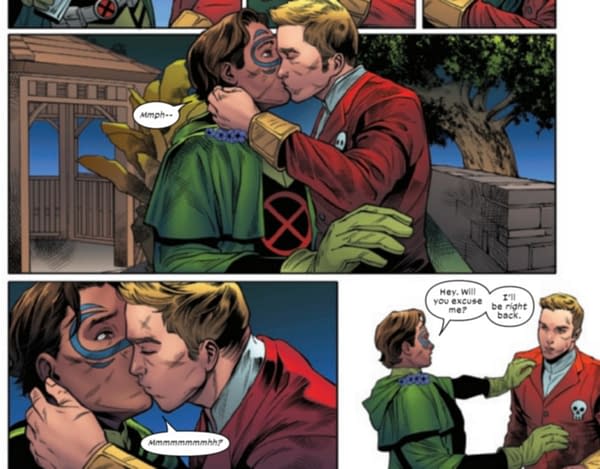 Though a not entirely welcome advance it seems. And with ulterior motives…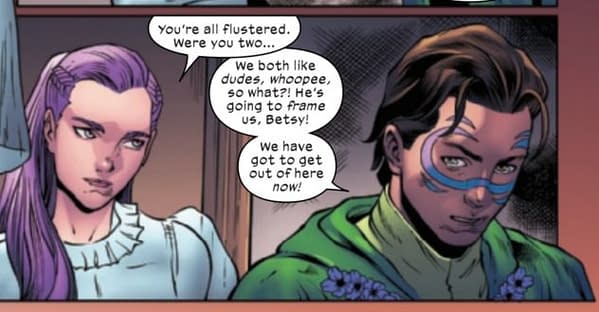 It may be a party in Krakoa, but not in Rictor's pants. Nothing is rumbling down there right now…
STRANGE ACADEMY #1
(W) Skottie Young (A) Humberto Ramos
A SORCERER SCHOOL FOR THE MARVEL UNIVERSE!
The Marvel Universe has mysteriously changed in such an alarming way that Doctor Strange has done what he's avoided for decades; he's opened a school for young sorcerers. Young people from around the world with aptitude in magic have been brought together in New Orleans to study the Mystic Arts under Strange, Brother Voodoo, the Ancient One, the Scarlet Witch, Magik, Hellstrom and ALL your favorite Marvel magicians. But with all the new magical threats, is it too late?! Rated T In Shops: Mar 04, 2020 SRP: $4.99

MARAUDERS #9 DX
(W) Gerry Duggan (A) Matteo Lolli (CA) Russell Dauterman
PEST CONTROL!
A very small attack on Krakoa grows into something much bigger, thanks to Yellowjacket! Can Captain Kate's crew swat him before his sting pays off? Rated T+ In Shops: Mar 04, 2020 SRP: $3.99

EXCALIBUR #8 DX
(W) Tini Howard (A) Wilton Santos (CA) Mahmud Asrar
HARK! THE HUNT FOR TRUTH
Excalibur emerges from the woods with a journey before them. Their destination: Starlight Citadel. Rated T+ In Shops: Mar 04, 2020 SRP: $3.99
Strange Academy #1, Marauders #9 and Excalibur #8 are out today from DC Comics… I bought mine from Piranha Comics in Kingston-Upon-Thames. Piranha Comics is a small south London comic store chain with a small south-east store in Kingston-Upon Thames's market centre, which runs Magic The Gathering nights on Fridays, and a larger south-west store in Bromley, which also runs Magic nights and has an extensive back issue collection and online store. If you are in the neighbourhood, check them out.