Should We Brush Up On Our Phalanx Before Reading Tomorrow's Powers Of X #2? (Potential Spoilers)
Created by Scott Lobdell and Joe Madureira for Uncanny X-Men, the Phalanx are a cybernetic transforming alien species who form a hive-mind, linking each member by a telepathy-like system. They are created when organic life is infected with the Technarchy's (such as New Mutants member Warlock) techno-organic transmode virus. The Technarchy consider Phalanx to be abominations and try to destroy the Phalanx nests, usually by converting the entire planet into techno-organic matter and draining its energy.
The Phalanx on Earth were initially formed by a group of human mutant-haters who voluntarily infected themselves with the Transmode virus, taken from the ashes of Warlock, in an attempt to turn themselves into "living Sentinels". We ended up getting a big foil-covered crossover in the mutant books, dubbed Phalanx Covenant.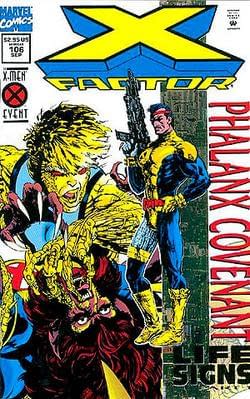 More recently, the Phalanx were seen in Annihilation: Conquest event as the primary villain with the Super-Adaptoid as an enforcer, looking to begin where Annihilus left off in the original Annihilation. Phalanx have been created, revived, experimented on, weaponised, invariably turning against those who try to use them and infecting them in the process. Halfway Borg, halfway Alien xenomorph, you may ask why I'm bringing them up now.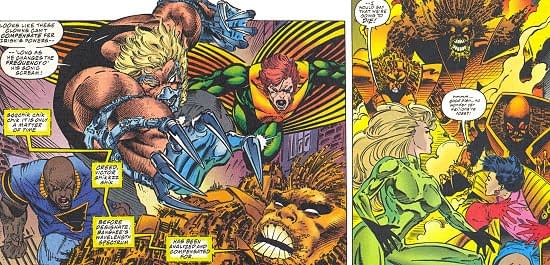 Well, it's because familiar-to-Bleeding Cool retailer Lawrence Doherty of Larry's Comics, of Chelmsford, Massachusetts has something to share. He writes;
A Spec Club super-mole just told me that The Phalanx have a key role in Powers of X #2.

It's good to see interest in X back-stock finally. at Mohegan Sun show last weekend House of X & Powers were genuinely hot books. I sold out of #2 at $15 ( it's 30+ on Amazon now )

Check the bins for 1st Cameo & 1st full.
Here you go, Uncanny X-Men #305 and #315….