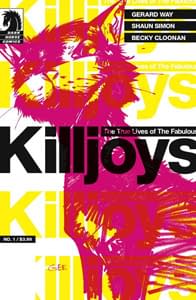 [audio:http://popculturehound.net/podpress_trac/web/2100/0/PCHPodcastEpisode45.mp3]
Chris Thompson writes;
Gerard Way joins me in conversation for a very special episode of the Pop Culture Hound podcast … But first Taylor & I give our in-depth review of his new comic, The True Lives Of The Fabulous Killjoys, from Dark Horse Comics. Co-written with Shaun Simon, and featuring art by Becky Cloonan, colors by Dan Jackson and letters by Nate Piekos, Killjoys continues the story of the post-apocalyptic world first shown in the film clips for My Chemical Romance's Na Na Na & Sing.
Then Gerard & I delve into his approach to comics and music. Why did he feel it was time for My Chemical Romance to end? How did he rediscover his love of art? What effect did 9/11 have on the ultimate direction his life would take? We discuss all that and more as we look at his writing process, what it's like collaborating with others, and what motivates him to keep creating. It's a fascinating glimpse into the world where music & comics meet, presented by one of the people most qualified to lead us there.
To get in touch, send feedback or submit projects for consideration, please email reviews@popculturehound.com. And if you missed last week's episode (or any others) you can find them right here or subscribe via iTunes. You can also support the Pop Culture Hound podcast by clicking here to make a donation. Your contributions are greatly appreciated and will help us maintain the site, get new equipment, and encourage us to keep going on those cold lonely nights
Chris Thompson Twitter: @popculturehound
Taylor Lilley Twitter: @capelessT
Orbital Comics' website: www.orbitalcomics.com
Gerard Way's Twitter: @gerardway
My Chemical Romance website: www.mychemicalromance.com
While Robin Harman writes;
AUGUST!
Summer may have finally begun, but we're already looking forward to the end of it (at least, in terms of comics!) Once again, Chris, Taylor & Robin cast their gaze into the future and make their selections of the comics they are most looking forward to, this time for books due to ship in August.
Like the sound/look of the books? Why not preorder them? As always, be sure to let us know what you think!
[youtube]http://www.youtube.com/watch?v=SwPaCK_-L5A[/youtube]
Follow us on Twitter
Email us: podcast@orbitalcomics.co.uk
On Facebook? Friend us or "like" us.
Subscribe to The Orbing Pod on Itunes, and follow us on twitter and facebook.
Enjoyed this article? Share it!