Today sees the publication of Batman #43, the final part of Tom King and Mikel Janin's Everyone Loves Ivy storyline. A sequel to her portrayal in his earlier story the Wars Of Jokes And Riddles, in which she killed a number of the Joker's henchmen, including an undercover policeman. But after intervention from Harley Quinn, the guilt-riddled reasons behind her actions come to the fore, with Batman able to put her at ease.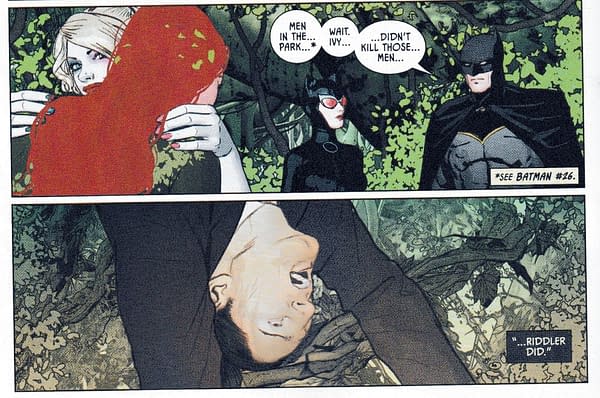 Free from the guilt, it brings the world-possessing antics of Poison Ivy to an end. For now. And a statement that you know fans of a rehabilitated Poison Ivy will be cut and pasting for years to come.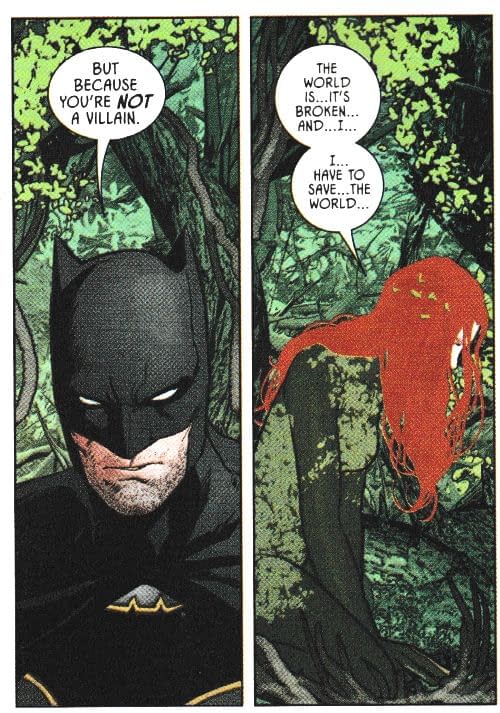 Which is all very well and good. Poison Ivy is not a murderer, not a villain and we get the chance for Tom King to namedrop his upcoming DC Comics series, Sanctuary.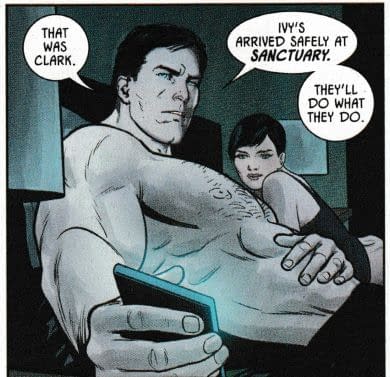 Previously, Tom King said that it would be a place where DC heroes can go to deal with the trauma resulting from the violence they're a part of on a regular basis.
"We're creating something where it's sort of like a crisis center for superheroes. It's gonna be DC-wide, all the superheroes, and it's gonna be a place where these superheroes who are living violent lives every single day — Batman gets in a fight every single night, five times a night. We're creating a place superheroes can go that mimics the good work people are doing for veterans around the world where they can have a space where they can actually admit that this violence has had consequences for them and has affected them mentally, so that your greatest heroes, who are inspiring our children, can say proudly: yes, I've had some mental difficulties, and yes, working with people has helped me through them. And we don't hide behind that."
And now a home of Poison Ivy?
But exactly how Poison Ivy will be seen by DC Comics continued to flip-flop willy-nilly… Have you seen the solicits for the upcoming Damage by Robert Venditti and a variety of artists?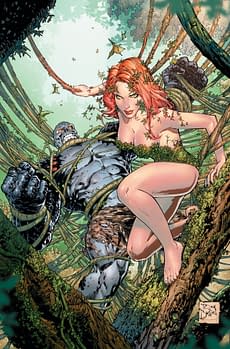 DAMAGE #4
Written by ROB VENDITTI • Art by CARY NORD • Cover by TONY S. DANIEL
Poison Ivy attacks a group of fieldworkers, forcing Ethan to choose between transforming into Damage and saving them—or protecting his own sanity! And will Colonel Jonas and her squad capture him before he discovers the truth about what he really is?
On sale APRIL 18 • 32 pg, FC, $2.99 US • RATED T
DAMAGE #5
Written by ROBERT VENDITTI • Art by CLAYTON HENRY • Cover by TONY S. DANIEL and DANNY MIKI
"UNNATURAL DISASTER" part two! Ethan Avery's journey to uncover the secrets of his power will have to wait—he's got a brawl to survive first! If his alter ego, "Damage," ever wants to make it out of Poison Ivy's clutches alive, he's going to have to fight an army of super-angry monkeys to do it. And Gorilla Grodd. That can't be that hard, right? Remember, Damage—monkey see, monkey smash!
On sale MAY 16 • 32 pg, FC, $2.99 US • RATED T
DAMAGE #6
Written by ROBERT VENDITTI • Art by DIOGENES NEVES and TREVOR SCOTT •
Cover by TONY S. DANIEL and DANNY MIKI
Poison Ivy has been transforming the countryside and turning humans into plant food, but not to create a perfect ecological system for her beloved greenery. Rather, it's a brand-new home for Gorilla Grodd and his army of apes! Damage faces his toughest opponent yet. Will his fists be any match for the meaty paws of the gorilla king? And what exactly is Swamp Thing's role in all of this?
On sale JUNE 20 • 32 pg, FC, $2.99 US • RATED T
Turning humans into plant food? Are we sure she's not a villain?
BATMAN #43
(W) Tom King (A/CA) Mikel Janin
"Everyone Loves Ivy" part three! The quest to end Ivy's domination heads toward a close, but can Batman offer Ivy redemption on the other side of this crime? It's an epic showdown between the Caped Crusader and one of his most popular foes, brought to you by the creative team behind "The War of Jokes and Riddles."In Shops: Mar 21, 2018
SRP: $2.99
Enjoyed this article? Share it!