Portsmouth Comic Con on Free Comic Book Day
Portsmouth is a port city on the south coast of England. Extensively bombed in the Blitz, it is home to the Royal Navy with moored ships including HMS Warrior and HMS Victory. It is the birthplace of Charles Dickens and Isambard Kingdom Brunel.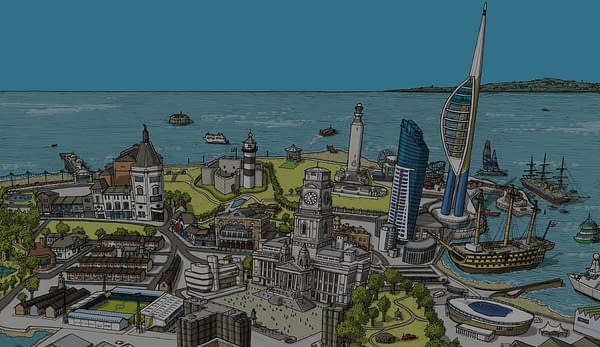 And on Free Comic Book Day, May 5th (and the 6th), it is getting its comic convention. And, for a seaside town, it is batting way above its weight principally thanks to Tripwire Magazine and ex-BC contributor Joel Meadows, who had pulled in all sorts of favours. To the extent that it has already been nicknamed JoelCon.
Which means heading to the sandy shores will be Walter Simonson, Louise Simonson, Rafael Albuquerque, Frank Quitely, Rob Williams, Cully Hamner, Gene Ha, Shelly Bond, Dirk Wood, Eric Stephenson, Shawn Martinbrough, Chris Weston, Russell Walks, Kevin Jenkins, Laurence Campbell, Declan Shalvey, Dave Dorman, Simon Fraser, Sean Phillips, Emi Lenox, Philip Bond, David Michael Beck, RM Guera, Jeff Carlisle, Andrew Wildman, Ben Templesmith, Ulrich Zeidler, Randy Stradley, Alison Sampson, Gary Erskine, and Ian Edgington.
And that's just the guests. By virtue of having Image Comics publisher Eric Stephenson, Black Crown EIC Shelly Bond and IDW's Dirk Wood, this will also make the show a magnet for comic book creators looking to pitch their work in the late night bars.
Wood will also be offering three artists the chance to be published in his Full Bleed: The Comics And Culture Quarterly publication.
So I would expect the name creator list to triple…
Tickets can be ordered right here, but I understand that they are going quickly.