Now We Know Why Powers Of X is Pronounced 'Ten' – Meet Cardinal, Rasputin, Percival and Cylobel
Today sees the first issue of Powers Of X #1 by Jonathan Hickman and RB Silva one week after the debut of House Of X #1 and just as promised, takes everything we saw in that issue and puts it through a different lens, that of the past, present, future and far future.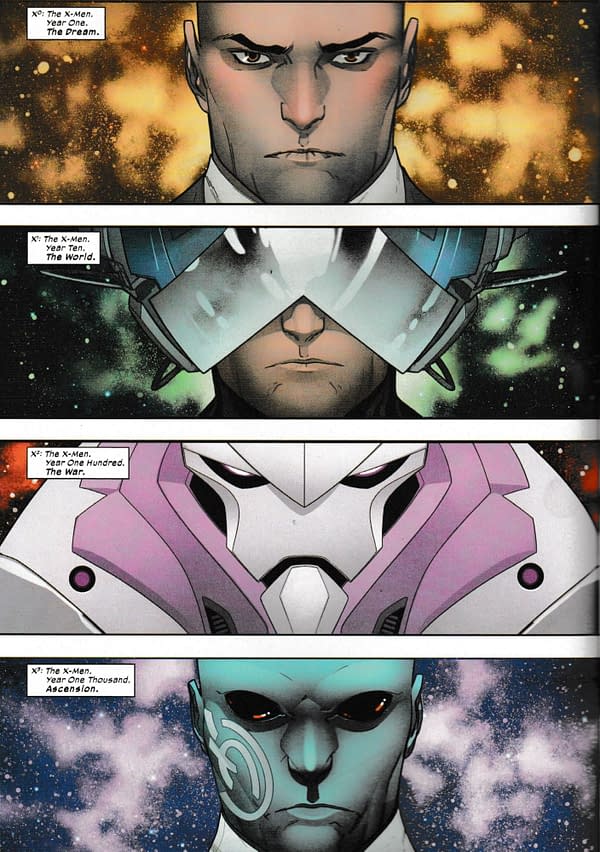 With X0 as the day Professor Charles Xavier thought up the X-Men with, presumably, Moira McTaggart, X1 as ten years later and the establishment of the Krakoa base (man, a lot happened in that time), X2 as a hundred-years-later take on Days Of Future Past with hounds and the hunted,, and X3 as a thousand years in the future, when all this is moot. So the House Of X also mean House Of Ten – Krakoa being the house set up ten years after Charles had the idea of the X-Men.
And so Powers Of X – stated as pronounced Powers Of Ten – refers to those different time frames after the conception of the X-Men, to the powers of 0, 1, 2 and 3. Although just as they screwed up the Krakoan language in the first issue, with H transposed to G…
…so in the first issue, they label the hundred-year timeline as X1 at one point when they meant X2. FiX it in the trade…
That's Percival, by the way. Maybe we'll get another chance to ask five questions?
We also get to learn a little of the character of Rasputin, who seems to combine powers of Colossus, with wielding Illyana's Soulsword. Is she a child of the Rasputin line? More than that, it seems…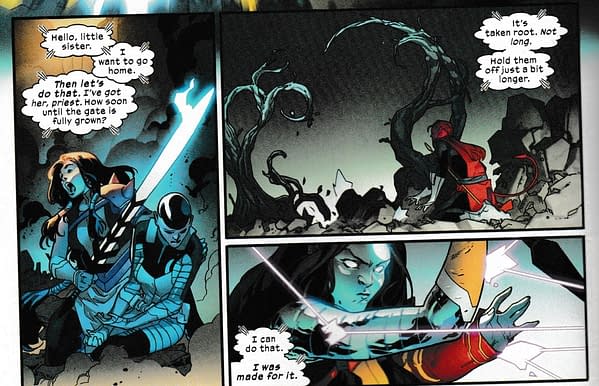 …she's a chimaera, designed by Mister Sinister to combine mutant powers, and used as hounds to hunt mutants, but their instability and power base caused them to rebel. So what is inside Rasputin's DNA makeup? Oh look, we have a diagram…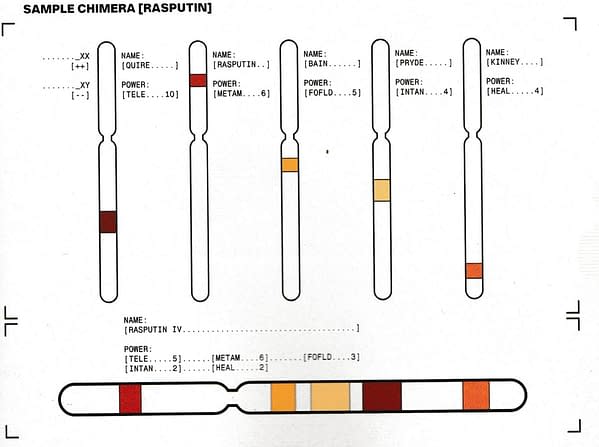 That's Quentin Quire, Colossus, Kitty Pryde, Unus The Untouchable and X-23… quite the heady mixture – and it's Kitty Pryde's DNA that lets her wield that sword. For the other chimaera, you may have to guess.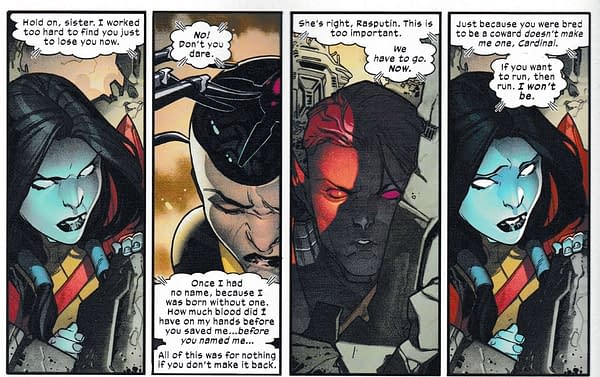 But Cardinal, the priest, includes Nightcrawler presumably, and Cylobel may have Cyclops to get that name.
And talking of the Krakoan language… it repeats the line for next week's House Of X …THE CURIOUS CASE OF MOIRA X and then follows with the upcoming Powers Of X, HELLO OLD FRIEND. Or, GELLO OLD FRIEND, depending on whether you use the wrong version. A line often associated with Magneto and Xavier.