We've spoken of admiration before of Priest and Pete Woods' work on the current Justice League comic, with the storyline The People Vs. The Justice League.
And, with all the attention drawn to Watchmen sequel Doomsday Clock by Geoff Johns and Gary Frank, merging the world of Watchmen with that of the DC Universe, I thought it was notable today that the Justice League continued to step into Watchmen territory with nary a smiley face or a "hrm" in sight. Watchmen played up the themes of responsibility, which isn't something that Doomsday Clock right now seems overly concerned with. Watchmen had Veidt bringing a god to heel, now it seems about wanting to pray to him again, and for him to fix everything like it used to be.
But Justice League…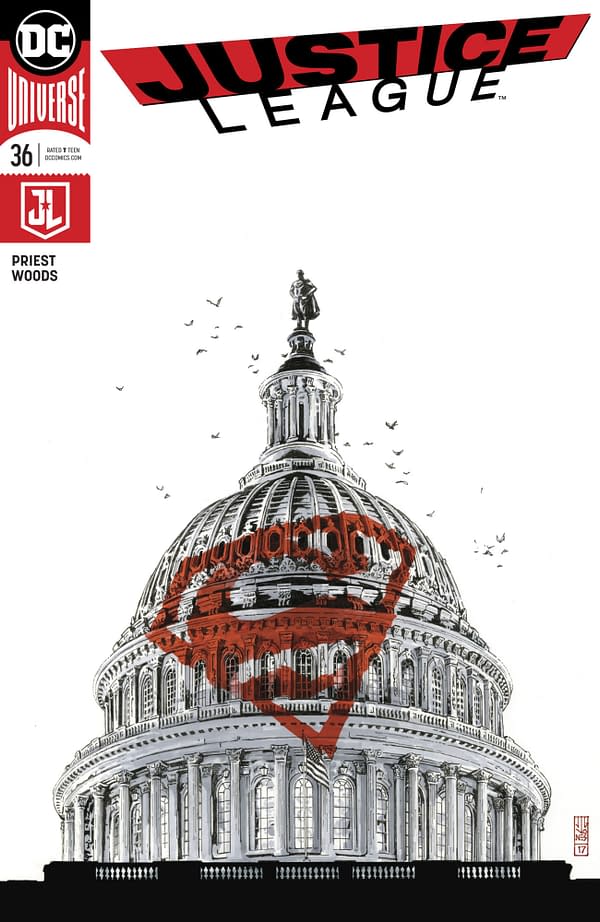 Just as in Watchmen – and for that matter, Batman Vs Superman by the director of both films, the superheroes get pulled through the governmental committee route. And ask the kind of questions that the fans always ask. Especially about those bloody teleportation tubes.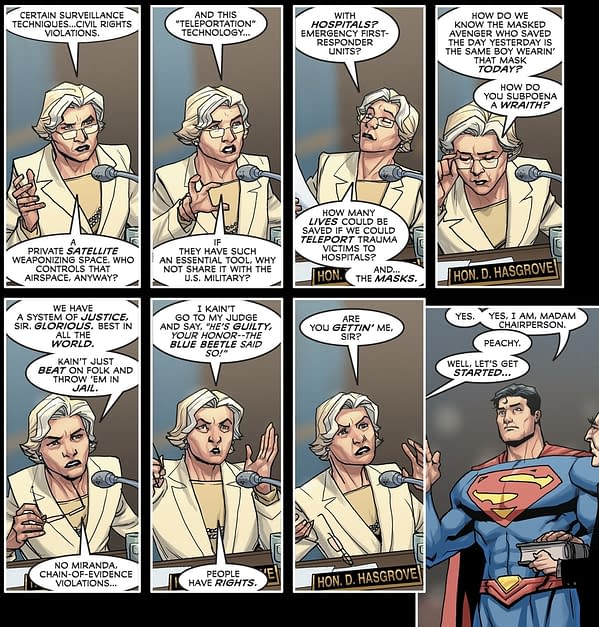 Of course, it never ends well for anyone who asks such questions, it seems. And as Batman is framed for murder, Dick Grayson describes him in terms that are more familiar to someone like Rorschach.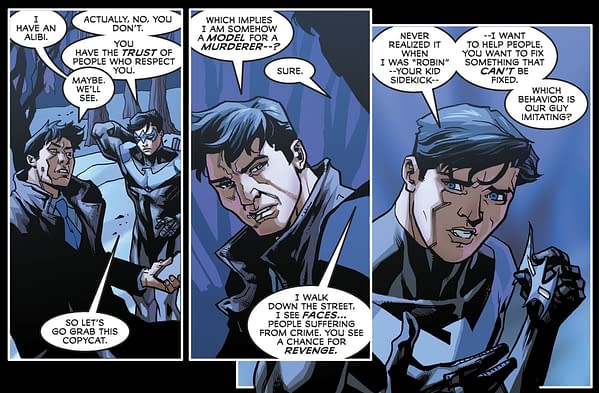 And as the American government closes in, it's back to those teleportation tubes.
And as their actions go international, the question is asked, which underlines the Watchmen-thematic-sequel, or indeed parallel, of this storyline as nuclear weapon submarines become the focus of international political relations between the USA, China, Germany… and Atlantis.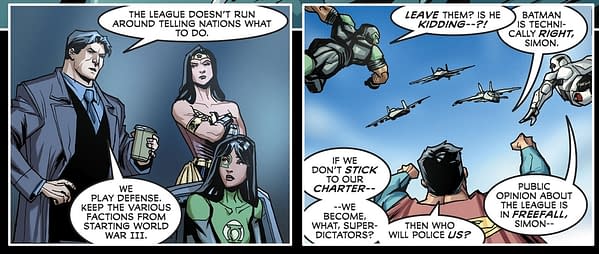 Who will police the super dictators? I'm sure there's a catchier version of that phrase, isn't there, Superman? Maybe you can ask your new buddies over in Doomsday Clock? Or maybe just ask Jessica Cruz, who has similar questions to ask in today's Green Lanterns…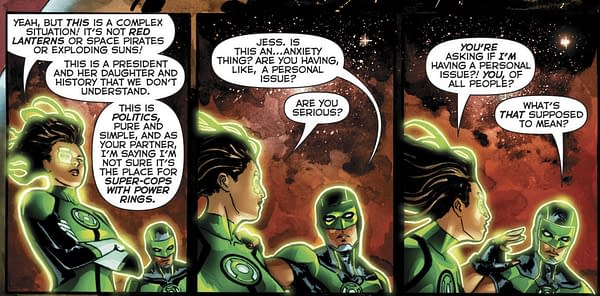 Yeah, Simon, what is that supposed to mean? Oh and one more question for the Justice League. Talking of fictional characters becoming reality in Doomsday Clock… Is that Matches Malone?
JUSTICE LEAGUE #36
(W) Christopher Priest (A/CA) Pete Woods
"JUSTICE LOST" part three! Footage of a major Justice League failure ends up on an extremist website, going viral across social media and prompting a Congressional investigation of the team. As public debate explodes over America's trust in the Justice League, the team faces a crisis of confidence in Batman and his methods, which ultimately highlights fractures within the team over civil rights and methodology.
RATED TIn Shops: Jan 03, 2018
SRP: $2.99
Oh and it's still not called "Justice Lost"…
Enjoyed this article? Share it!