The Prince And The Dressmaker by Jen Wang Tops the 149 Best-Reviewed Comics Of 2018 List
I cannot express just how much I love Jamie Colville.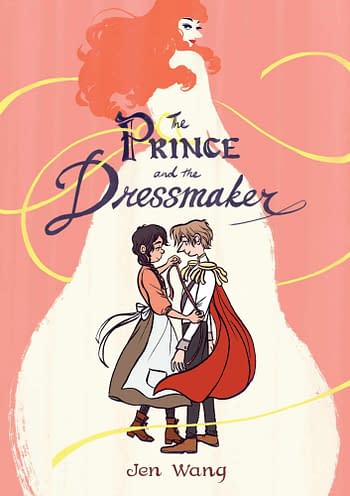 A man who number-crunches comics far beyond my humble ability–or patience. He has spent the year so for collating all the Best Comics of 2018 lists (194 of them) to create one huge master list. A Best of the Best Comics of 2018 List. And has allowed Bleeding Cool to share his discoveries.
Here is his Top 149 for 2018, including all titles that had at least 5 mentions in Best Of The Year lists. With the clear winner, The Prince And The Dressmaker by Jen Wang published by First Second–who also scored third place with On A Sunbeam by Tillie Walden, with Sabrina by Nick Drnaso in between the two, from Drawn & Quarterly.
This is followed by the best-reviewed DC Comics of the year, Mister Miracle by Tom King and Mitch Gerads. Jason Lutes' Berlin gives Drawn & Quarterly their second of three titles in the top ten in fifth place, followed by Marvel's best-reviewed title, Immortal Hulk by Al Ewing, Joe Bennett, Ruy José, Paul Mounts and followed by Image Comics' best-reviewed title, Saga by Brian K Vaughan and Fiona Staples. It's followed by Exit, Stage Left: The Snagglepuss Chronicles by Mark Russell, Mike Feehan, Sean Parsons, Paul Mounts–Mounts is the only creator credited in two books in the top ten.
Jamie also breaks down publisher stats:
Image was the most popular with 90 different titles.
DC and Marvel are tied for 2nd with 73 different titles.
Fantagraphics is 3rd with 52 different titles.
Dark Horse has 42 titles.
Boom! did well with 33 titles.
104 Self-Published books made the list too.
| | | | | | |
| --- | --- | --- | --- | --- | --- |
| | Book Title | Count | Writer | Artist | Publisher |
| 1 | The Prince and the Dressmaker | 46 | Jen Wang | Jen Wang | First Second |
| 2 | Sabrina | 41 | Nick Drnaso | Nick Drnaso | Drawn and Quarterly |
| 3 | On A Sunbeam | 39 | Tillie Walden | Tillie Walden | First Second |
| 4 | Mister Miracle | 37 | Tom King | Mitch Gerads | DC Comics |
| 5 | Berlin | 34 | Jason Lutes | Jason Lutes | Drawn and Quarterly |
| 6 | Immortal Hulk | 32 | Al Ewing | Joe Bennett, Ruy José, Paul Mounts | Marvel Comics |
| 7 | Saga | 28 | Brian K. Vaughan | Fiona Staples | Image Comics |
| 8 | Exit Stage Left: The Snagglepuss Chronicles | 26 | Mark Russell | Mike Feehan, Sean Parsons, Paul Mounts | DC Comics |
| 9 | Woman World | 24 | Aminder Dhaliwal | Aminder Dhaliwal | Drawn and Quarterly |
| 10 | Why Art? | 24 | Eleanor Davis | Eleanor Davis | Fantagraphics |
| 11 | Venom | 24 | Donny Cates | Ryan Stegman | Marvel Comics |
| 12 | Infidel | 23 | Pornsak Pichetshote | Aaron Campbell, Jose Villarrubia | Image Comics |
| 13 | Be Prepared | 23 | Vera Brosgol | Vera Brosgol | First Second |
| 14 | Young Frances | 21 | Hartley Lin | Hartley Lin | AdHouse Books |
| 15 | Gideon Falls | 21 | Jeff Lemire | Andrea Sorrentino | Image Comics |
| 16 | The Lie and How We Told It | 20 | Tommi Parrish | Tommi Parrish | Fantagraphics |
| 17 | My Boyfriend Is A Bear | 20 | Pamela Ribon | Cat Farris | Oni Press |
| 18 | Hey, Kiddo | 20 | Jarrett J. Krosoczka | Jarrett J. Krosoczka | Scholastic |
| 19 | Upgrade Soul | 19 | Ezra Claytan Daniels | Ezra Claytan Daniels | Lion Forge |
| 20 | All the Answers | 19 | Michael Kupperman | Michael Kupperman | Simon & Schuster |
| 21 | X-Men: Grand Design | 18 | Ed Piskor | Ed Piskor | Marvel Comics |
| 22 | Nancy | 18 | Olivia Jaimes | Olivia Jaimes | United Features Syndicate |
| 23 | Dirty Plotte: The Complete Julie Doucet | 17 | Julie Doucet | Julie Doucet | Drawn and Quarterly |
| 24 | Crowded | 17 | Christopher Sebela | Ro Stein, Ted Brandt, Triona Farrell | Image Comics |
| 25 | Bingo Love | 17 | Tee Franklin | Jenn St-Onge, Joy San | Image Comics |
| 26 | Black Hammer: Age of Doom | 17 | Jeff Lemire | Dean Ormston, Rich Tommaso, Dave Stewart | Dark Horse Comics |
| 27 | Monstress | 16 | Marjorie Liu | Sana Takeda | Image Comics |
| 28 | Prism Stalker | 16 | Sloane Leong | Sloane Leong | Image Comics |
| 29 | Abbott | 16 | Saladin Ahmed | Sami Kivelä | Boom! |
| 30 | My Heroes Have Always Been Junkies | 15 | Ed Brubaker | Sean Phillips | Image Comics |
| 31 | Frontier #17 | 15 | Lauren Weinstein | Lauren Weinstein | Youth In Decline |
| 32 | X-Men Red | 14 | Tom Taylor | Mahmud Asrar, Carmen Carnero, Roge Antonio | Marvel Comics |
| 33 | Coyote Doggirl | 14 | Lisa Hanawalt | Lisa Hanawalt | Drawn and Quarterly |
| 34 | Check, Please!: #Hockey | 14 | Ngozi Ukazu | Ngozi Ukazu | First Second |
| 35 | Batman | 14 | Tom King | Lee Weeks, Jorge Fornés, Mikel Janin, Mark Buckingham, Clay Mann, Joëlle Jones, Michael Lark | DC Comics |
| 36 | Batman: White Knight | 14 | Sean Murphy | Sean Murphy | DC Comics |
| 37 | Yellow Negroes and Other Imaginary Creatures | 13 | Yvan Alagbé | Yvan Alagbé | New York Review Comics |
| 38 | The Mighty Thor | 13 | Jason Aaron | Russell Dauterman, Matt Wilson | Marvel Comics |
| 39 | Passing for Human | 13 | Liana Finck | Liana Finck | Random House |
| 40 | Runaways | 13 | Rainbow Rowell | Kris Anka, Matthew Wilson | Marvel Comics |
| 41 | Parallel Lives | 13 | Olivier Schrauwen | Olivier Schrauwen | Fantagraphics |
| 42 | Eternity Girl | 13 | Magdalene Visaggio | Sonny Liew | DC Comics |
| 43 | Brazen: Rebel Ladies Who Rocked the World | 13 | Pénélope Bagieu | Pénélope Bagieu | First Second |
| 44 | Poochytown | 12 | Jim Woodring | Jim Woodring | Fantagraphics |
| 45 | Coda | 12 | Simon Spurrier | Matias Bergara | Boom! |
| 46 | Skyward | 11 | Joe Henderson | Lee Garbett | Image Comics |
| 47 | Ice Cream Man | 11 | W. Maxwell Prince | Martin Morazzo, Chris O'Halloran | Image Comics |
| 48 | Girl Town | 11 | Carolyn Nowak | Carolyn Nowak | Top Shelf |
| 49 | The Adventure Zone: Here There Be Gerblins | 10 | Clint McElroy, Griffin McElroy, Justin McElroy, Travis McElroy, Carey Pietsch | Carey Pietsch | First Second |
| 50 | The Wild Storm | 10 | Warren Ellis | Jon Davis-Hunt | DC Comics |
| 51 | Speak: The Graphic Novel | 10 | Laurie Halse Anderson | Emily Carroll | Farrar, Straus and Giroux |
| 52 | One Dirty Tree | 10 | Noah Van Sciver | Noah Van Sciver | Fantagraphics |
| 53 | Love That Bunch | 10 | Aline Kominsky-Crumb | Aline Kominsky-Crumb | Drawn and Quarterly |
| 54 | Isola | 10 | Brenden Fletcher, Karl Kerschl | Karl Kerschl, Msassyk | Image Comics |
| 55 | Fearscape | 10 | Ryan O'Sullivan | Andrea Mutti, Vladimir Popov | Vault Comics |
| 56 | Doctor Star and the Kingdom of Lost Tomorrows | 10 | Jeff Lemire | Max Fiumara, Dave Stewart | Dark Horse Comics |
| 57 | Chlorine Gardens | 10 | Keiler Roberts | Keiler Roberts | Koyama Press |
| 58 | The Cardboard Kingdom | 9 | Chad Sell | Chad Sell | Knopf Books |
| 59 | Peter Parker: The Spectacular Spider-Man #310 | 9 | Chip Zdarsky | Chip Zdarsky | Marvel Comics |
| 60 | Frankenstein: Junji Ito Story Collection | 9 | Junji Ito | Junji Ito | Viz |
| 61 | Justice League Dark | 9 | James Tynion IV | Alvaro Martinez | DC Comics |
| 62 | Grip | 9 | Lale Westvind | Lale Westvind | Perfectly Acceptable Press |
| 63 | Dark Nights Metal | 9 | Scott Snyder | Greg Capullo | DC Comics |
| 64 | All Summer Long | 9 | Hope Larson | Hope Larson | Farrar, Straus and Giroux |
| 65 | Dead Dead Demon's Dededede Destruction | 9 | Inio Asano | Inio Asano | Viz |
| 66 | Black Panther | 9 | Ta-Nehisi Coates | Daniel Acuña | Marvel Comics |
| 67 | The Winner | 8 | Karl Stevens | Karl Stevens | Retrofit Comics |
| 68 | These Savage Shores | 8 | Ram V | Sumit Kumar, Vitorio Astone | Vault Comics |
| 69 | Thor | 8 | Jason Aaron | Mike Del Mundo, Christian Ward | Marvel Comics |
| 70 | The Weatherman | 8 | Jody Leheup | Nathan Fox | Image Comics |
| 71 | Soft X-Ray/Mindhunters | 8 | A. Degen | A. Degen | Koyama Press |
| 72 | Paper Girls | 8 | Brian K. Vaughan | Cliff Chiang, Matt Wilson | Image Comics |
| 73 | Home After Dark | 8 | David Small | David Small | Liveright |
| 74 | Kill or Be Killed | 8 | Ed Brubaker | Sean Phillips | Image Comics |
| 75 | Brat | 8 | Michael DeForge | Michael DeForge | Koyama Press |
| 76 | Black Hammer: The Quantum Age | 8 | Jeff Lemire | Wilfredo Torres, Dave Stewart | Dark Horse Comics |
| 77 | West Coast Avengers | 7 | Kelly Thompson | Stefano Caselli | Marvel Comics |
| 78 | Thanos Wins | 7 | Donny Cates | Geoff Shaw | Marvel Comics |
| 79 | Supergirl: Being Super | 7 | Mariko Tamaki | Joëlle Jones | DC Comics |
| 80 | The Wicked + The Divine | 7 | Kieron Gillen | Jamie McKelvie, Matt Wilson | Image Comics |
| 81 | Your Black Friend And Other Strangers | 7 | Ben Passmore | Ben Passmore | Silver Sprocket |
| 82 | The Seeds | 7 | Ann Nocenti | David Aja | Dark Horse Comics |
| 83 | Sleepless | 7 | Sarah Vaughn | Leila del Duca | Image Comics |
| 84 | Eternal | 7 | Ryan K. Lindsay | Eric Zawadski, Dee Cunniffe | Black Mask Studios |
| 85 | East of West | 7 | Jonathan Hickman | Nick Dragotta | Image Comics |
| 86 | Fake Blood | 7 | Whitney Gardner | Whitney Gardner | Simon & Schuster |
| 87 | Love And Rockets | 7 | Jaime and Gilbert Hernandez | Jaime and Gilbert Hernandez | Fantagraphics |
| 88 | Fence | 7 | C.S. Pacat | Johanna the Mad, Joana Lafuente | Boom! |
| 89 | Friendo | 7 | Alex Paknadel | Martin Simmonds | Vault Comics |
| 90 | Illegal | 7 | Eoin Colfer, Andrew Donkin | Giovanni Rigano | Sourcebooks |
| 91 | Green Lantern: Earth One | 7 | Gabriel Hardman | Corinna Bechko | DC Comics |
| 92 | Bitter Root | 7 | David F. Walker, Chuck Brown | Sanford Greene, Rico Renzi | Image Comics |
| 93 | All the Sad Songs | 7 | Summer Pierre | Summer Pierre | Retrofit Comics |
| 94 | Doomsday Clock | 7 | Geoff Johns | Gary Frank | DC Comics |
| 95 | Aquicorn Cove | 7 | Katie O'Neill | Katie O'Neill | Oni Press |
| 96 | Action Comics | 7 | Brian Michael Bendis | Ryan Sook, Patrick Gleason, Yanick Paquette | DC Comics |
| 97 | Belonging: A German Reckons With History And Home | 7 | Nora Krug | Nora Krug | Scribner |
| 98 | Blammo #10 | 7 | Noah Van Sciver | Noah Van Sciver | Kilgore Books |
| 99 | Superman | 6 | Peter J. Tomasi, Patrick Gleason | Barry Kitson, Scott Hanna, Gabriel Eltaeb | DC Comics |
| 100 | The New World | 6 | Aleš Kot | Tradd Moore | Image Comics |
| 101 | The Dreaming | 6 | Simon Spurrier | Bilquis Evely, Mat Lopes | DC Comics |
| 102 | Shit is Real | 6 | Aisha Franz | Aisha Franz | Drawn and Quarterly |
| 103 | Shanghai Red | 6 | Christopher Sebela | Joshua Hixson | Image Comics |
| 104 | My Brother's Husband | 6 | Gengoroh Tagame | Gengoroh Tagame | Pantheon |
| 105 | My Hero Academia | 6 | Kohei Horikoshi | Kohei Horikoshi | Viz |
| 106 | Rogue & Gambit | 6 | Kelly Thompson | Pere Pérez | Marvel Comics |
| 107 | Photographic: The Life Of Graciela Iturbide | 6 | Isabel Quintero | Zeke Peña | Harry N. Abrams |
| 108 | Justice League | 6 | Scott Snyder, James Tynion IV | Jorge Jimenez, Jim Cheung, Francis Manapul, Mikel Janin, Doug Mahnke | DC Comics |
| 109 | Is This Guy for Real?: The Unbelievable Andy Kaufman | 6 | Box Brown | Box Brown | First Second |
| 110 | From Lone Mountain | 6 | John Porcellino | John Porcellino | Drawn and Quarterly |
| 111 | Farmhand | 6 | Rob Guillory | Rob Guillory, Taylor Wells | Image Comics |
| 112 | Judas | 6 | Jeff Loveness | Jakub Rebelka | Boom! |
| 113 | Hawkeye: Kate Bishop | 6 | Kelly Thompson | Leonardo Romero | Marvel Comics |
| 114 | Giant Days | 6 | John Allison | Max Sarin, Whitney Cogar | Boom! |
| 115 | I Am Young | 6 | M. Dean | M. Dean | Fantagraphics |
| 116 | Art Comic | 6 | Matthew Thurber | Matthew Thurber | Drawn and Quarterly |
| 117 | Assassinistas | 6 | Tini Howard | Gilbert Hernandez, Rob Davis | IDW |
| 118 | A Perfect Failure: Fante Bukowski 3 | 6 | Noah Van Sciver | Noah Van Sciver | Fantagraphics |
| 119 | Black Bolt | 6 | Saladin Ahmed | Christian Ward | Marvel Comics |
| 120 | Death Or Glory | 6 | Rick Remender | Bengal | Image Comics |
| 121 | Amazing Spider-Man | 6 | Nick Spencer | Ryan Ottley | Marvel Comics |
| 122 | Captain America | 6 | Ta-Nehisi Coates | Leinil Francis Yu, Sunny Gho | Marvel Comics |
| 123 | The Dead Hand | 5 | Kyle Higgins | Stephen Mooney, Jordie Bellaire | Image Comics |
| 124 | Von Spatz | 5 | Anna Haifisch | Anna Haifisch | Drawn and Quarterly |
| 125 | The Pervert | 5 | Michelle Perez | Remy Boydell | Image Comics |
| 126 | The Weaver Festival Phenomenon | 5 | Ron Regé Jr. | Ron Regé Jr. | Self-Published |
| 127 | Wasted Space | 5 | Michael Moreci | Hayden Sherman, Jason Wordie | Vault Comics |
| 128 | Wonder Woman: Earth One | 5 | Grant Morrison | Yanick Paquette | DC Comics |
| 129 | The Nameless City | 5 | Faith Erin Hicks | Faith Erin Hicks | First Second |
| 130 | The Vision | 5 | Tom King | Gabriel Hernandez Walta | Marvel Comics |
| 131 | The New World: Comics From Mauretania | 5 | Chris Reynolds | Chris Reynolds | New York Review Comics |
| 132 | The Bride Was a Boy | 5 | Chii | Chii | Seven Seas Entertainment |
| 133 | The Nib: Death | 5 | Various | Various | The Nib |
| 134 | The Unbeatable Squirrel Girl | 5 | Ryan North, Will Murray | Erica Henderson, Zac Gorman, Derek Charm | Marvel Comics |
| 135 | Multiple Man | 5 | Matthew Rosenberg | Andy Macdonald | Marvel Comics |
| 136 | Oblivion Song | 5 | Robert Kirkman | Lorenzo De Felici | Image Comics |
| 137 | Manfried The Man | 5 | Caitlin Major | Kelly Bastow | Quirk Books |
| 138 | Long Lost | 5 | Matthew Erman | Lisa Sterle | Scout Comics |
| 139 | Koshchei The Deathless | 5 | Mike Mignola | Ben Stenbeck, Dave Stewart | Dark Horse Comics |
| 140 | Flavor | 5 | Joseph Keatinge | Wook Jin Clark, Tamra Bonvillain | Image Comics |
| 141 | Euthanauts | 5 | Tini Howard | Nick Robles | IDW |
| 142 | Descender | 5 | Jeff Lemire | Dustin Nguyen | Image Comics |
| 143 | Dognurse | 5 | Margot Ferrick | Margot Ferrick | Perfectly Acceptable Press |
| 144 | Cosmic Ghost Rider | 5 | Donny Cates | Dylan Burnett | Marvel Comics |
| 145 | Angloid | 5 | Alex Graham | Alex Graham | Kilgore Books |
| 146 | Darth Vader: Lord Of The Sith | 5 | Charles Soule | Giuseppe Camuncoli, Jim Cheung | Marvel Comics |
| 147 | All-New Wolverine | 5 | Tom Taylor | Juan Cabal, Marco Failla, Djibril Morissette-Phan, Ramon Rosanas, David Lopez | Marvel Comics |
| 148 | Anne Frank's Diary: The Graphic Adaptation | 5 | Ari Folman | David Polonsky | Pantheon |
| 149 | Beneath The Dead Oak Tree | 5 | Emily Carroll | Emily Carroll | Shortbox |