"Proud Boys" Protest Mile High Comics in Denver, Colorado, Over Drag Show
In February, owner Chuck Rozanski announced a new series of events at his world-famous comic book store, Mile High Comics, in Colorado. Denver. Drag For All Ages is a regular under-21 drag show every first Sunday of the month evening, and raising money for charity.
And they have been running at the comic book store every since.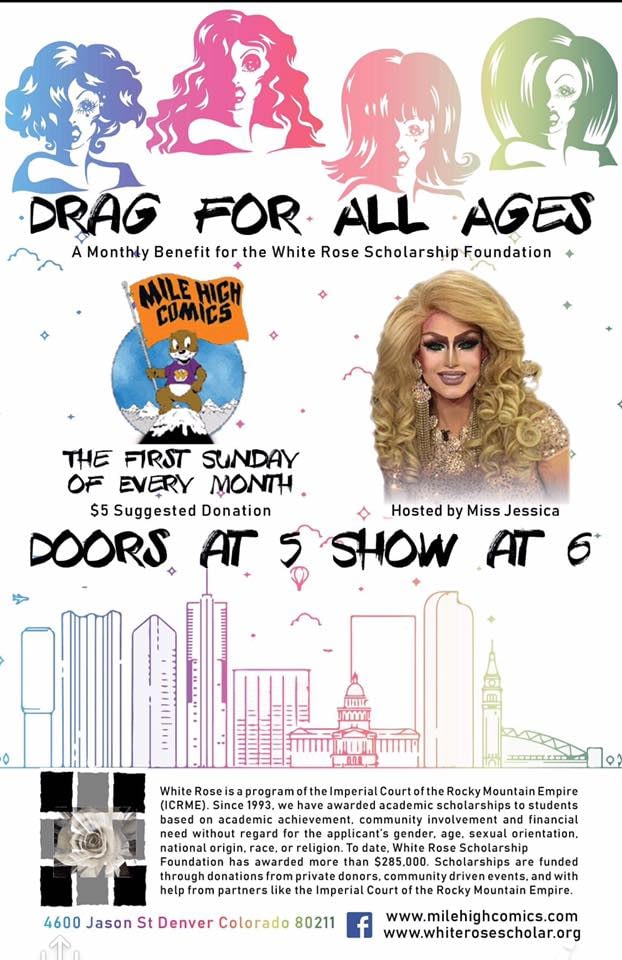 Since then, Chuck Rozanski has also debuted his drag persona, Bettie Pages, notably at this year's San Diego Comic-Con. Here, with Billy Tucci.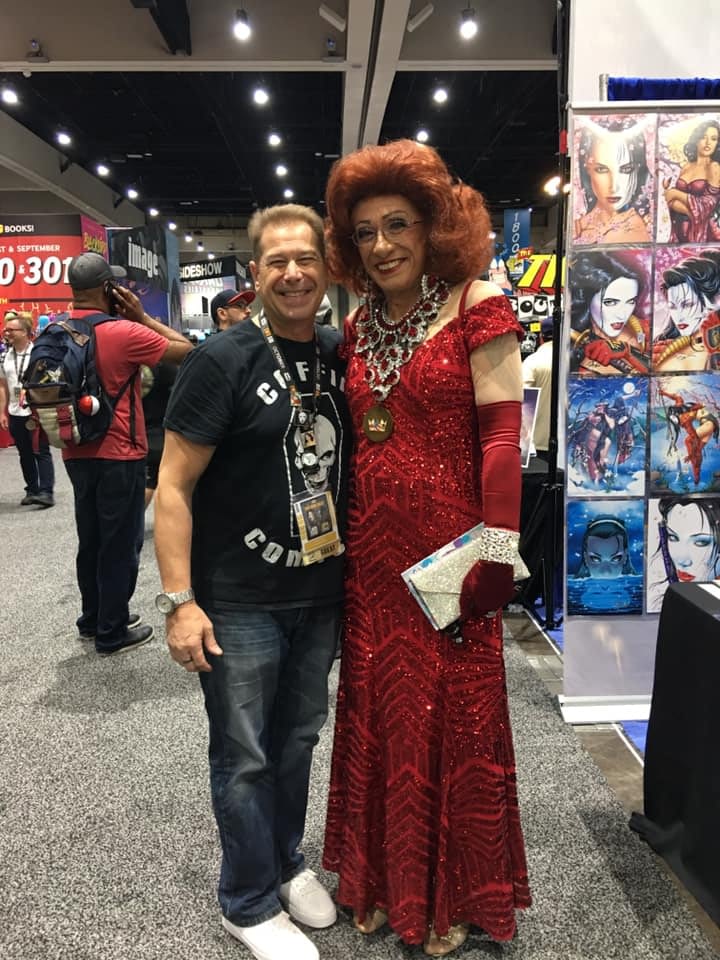 However, the events at Mile High Comics have not been without issue, and there have been regular protests at the event. Earlier in the year, Chuck/Bettie wrote,
Taking a stand in America today also requires an acceptance of some degree of personal risk. To be specific, we had a very raucous mob of 18-20 homophobic protestors at our All-Ages Drag Show last evening, with several of them seemingly quite determined to provoke a confrontation. We had 50 volunteers ffrom the "Parasol Patrol" on hand who carried rainbow umbrellas to shield the kids attending our show from the nasty vitriol that these bigots were spewing, as well as two off-duty Denver police officers that we had hired for security, but that seemed inadequate, to say the least. What happened next was nothing short of a miracle, as suddenly (just as we were seemingly about to be overrun) fifteen Denver police officers materialized out of nowhere. They set up a picket line between our families and those awful bigots, frustrating those nasty people beyond words.

While all this craziness went down, I had been upstairs getting into drag for my opening number. Just as soon as I was done dressing I went outside, and positioned myself front and center between two police officers so that the hatred that was being spewed would be directed toward me, rather than our kids. I then listened to an hour of some of the most irrational and ignorant BS that I have ever heard. Honestly, those people are dumber than rocks. They apparently watched some crazy YouTube video, and then just assumed that our show reflected the same extremes of behavior. Golly gee, wouldn't it make a little more sense to actually research about how we run our shows before making up a ridiculous sign and then screaming at total strangers? Or could it (possibly) be that they drank some of that alt/right hatred koolaide, and that facts now mean absolutely nothing to them? I think we all already know the answer to that question…
And this week, it continued. On Facebook, Chuck/Bettie told us,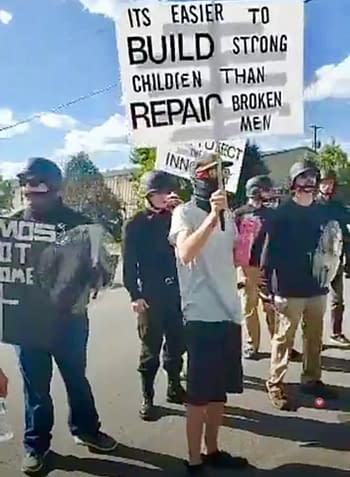 While our Family Friendly All-Ages Drag Show was a wonderful success last evening, the 400+ attendees who wished to support our Community's youth once again had to traverse a gauntlet of 30+ vitriolic protestors who screamed at the top of their lungs that our allowing our young people to perform in a Family-friendly drag show constituted child abuse. Among the protestors this month were five or six helmeted individuals carrying shields who purported to be "Proud Boys." Their militaristic attire, and the masks and hoods of several other protestors, absolutely appeared to be threatening.
The Proud Boys are a far-right neo-fascist organization that admits only men as members and promotes political violence. It was started in 2016 by Vice Media co-founder and former commentator Gavin McInnes, taking its name from the song "Proud of Your Boy" from the Disney film Aladdin. The group sees men — especially white men — and Western culture as under siege.
Chuck continued,
The good news is that Eli Bazan and Pasha Eve have organized a wonderful "Parasol Patrol" group that shields our attendees from much of the nastiness. Over 75 brave parents and other supporters showed up yesterday bearing colorful umbrellas, which they used to shield our visitors and performers from the noise and view of our protestors. As a result, everything was fine, except for a little added noise in our parking lot.
If you would like to join the "Parasol Patrol," please contact Eli or Pasha on FB. Only apply, however, if you can always maintain a sense of peaceful decorum, even under duress. We do not want anyone in our group to engage (or attack) the neo-Nazi, alt-Right, and Fundamentalist Christian protestors. As much as we may disagree with their nastiness and vile insults, their right to their opinion (and free expression thereof) is enshrined in our national Constitution. Simply put, we cannot seek to silence them without putting ourselves at risk for being silenced if we (at some point) express an equally unpopular opinion. That's how a free society works.
My only wish is that these noisy protestors would stop screaming about an event that they've never even seen, and instead take me up on my open invitation to watch one of our shows, free of charge. I do believe that when they saw for themselves the unbelievable joy on the faces of all the children at the show (both performers and in the audience) that their concerns might well be alleviated. Since that is probably not going to happen, however, all I can say is that we will continue indefinitely to stage our fabulous drag shows, and to support the youth of our Community, regardless of their opposition. Love is love ❤️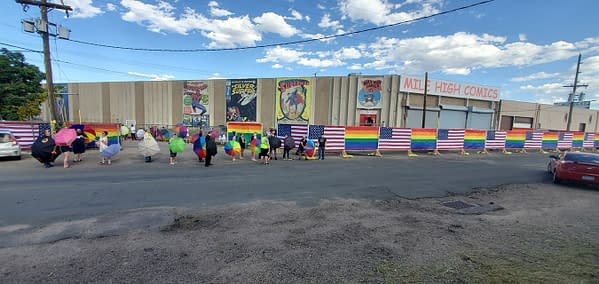 As for the show, the sixth All-Ages Family Friendly Drag Show to date, Chuck/Bettie posted,
Due in great measure to all of the inspired performances by our youth, and the truly enthusiastic support of our 400+ audience members, we raised a record-setting $2,858.00 tonight for the White Rose Scholarship Fund. Love is love ❤️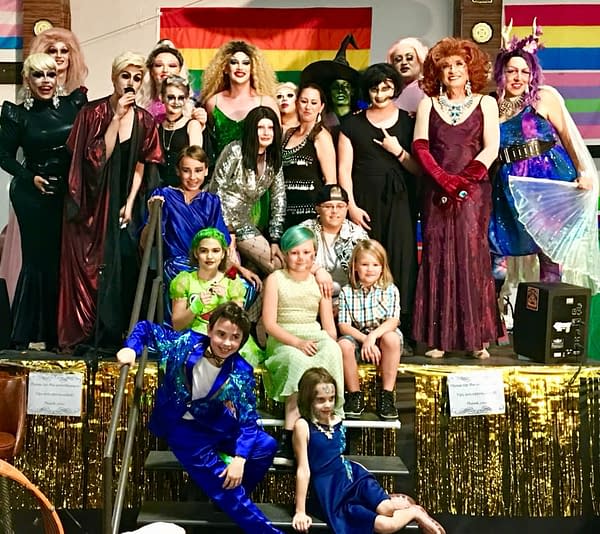 The next show at Mile High Comics will be on September 23rd.