Fred Van Lente and Renato Guedes will launch a new Psi-Lords series at Valiant in May, the company revealed in a press release Wednesday alongside a teaser image by Rod Reis. In said press release, here's what Van Lente compared the series to Lost and Game of Thrones, potentially winning comic pitch bingo for somebody.
PSI-LORDS is a Lost-style adventure in that it involves a motley band of strangers trying to survive in the unknown, exotic Gyre – not just endure the physical hazards, but also the various factions on it warring for control. So expect sci-fi action, expect Westoros-esque political jockeying, expect the relationship between the characters to grow and change as they try and navigate this bizarre environment – all at the same time trying to figure out what its true nature is, and, of course, how the hell they're going to get back home.

Many X-O Manowar readers have seen hints to what's really going on already. The secret the Gyre holds, once uncovered, will jeopardize the entire Valiant Universe – and has the potential to suck every hero and villain in it into its orbit.
And a little more info from the press release:
In PSI-LORDS, four amnesiac spacefarers awake in an unfamiliar place, setting off a galaxy-bending adventure with extreme consequences.

On June 19th, discover Valiant's newest sci-fi thriller and latest launch of 2019 with the release of PSI-LORDS #1, featuring covers by Jonboy Meyers (Superman), Rod Reis (Winter Soldier), Alan Quah (Orphan Black), and Marco Rudy (Bucky Barnes: The Winter Soldier).
Psi-Lords, an ongoing series, will debut in June.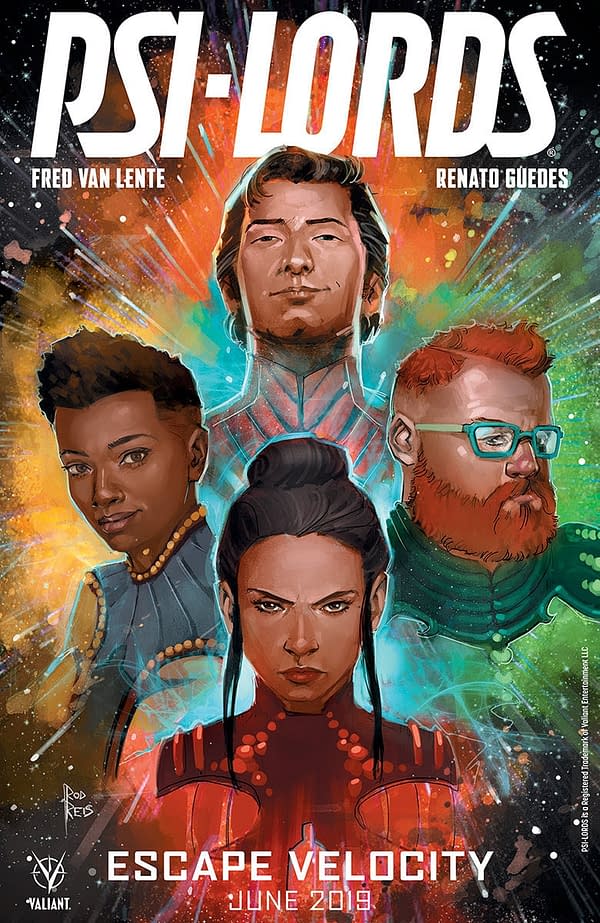 Enjoyed this article? Share it!