Pulling a Reverse DC, Valiant is Bringing Retailer-First Ashcans to San Diego Comic-Con
In the opposite of DC Comics offering EXCLUSIVE content to Walmart, Valiant Entertainment is going in the other direction and catering directly to retailers at San Diego Comic-Con this year.
The company announced the news in a press release, revealing that advance looks at Britannia: Lost Eagles of Rome #1 and Bloodshot Rising Spirit #1 would be given out to retailers after the Diamond Retailer Appreciation Lunch on Friday, July 22nd. Retailers who can't make it can drop Valiant and email. As for fans, Valiant encourages them to ask their retailer to grab some for them, because you won't find these babies in Walmart (though you will probably find them on eBay).
Check out the info below:
BRITANNIA: LOST EAGLES OF ROME #1 ASHCAN EDITION

Before history's first detective returns on July 25th, retailers will get a closer look at a fully lettered, inked, black-and-white rendition of the brand-new series from writer Peter Milligan (Detective Comics) and artist Robert Gill (BOOK OF DEATH), as they descend into the horrors of the ancient world with the latest chapter in Valiant's sold-out series!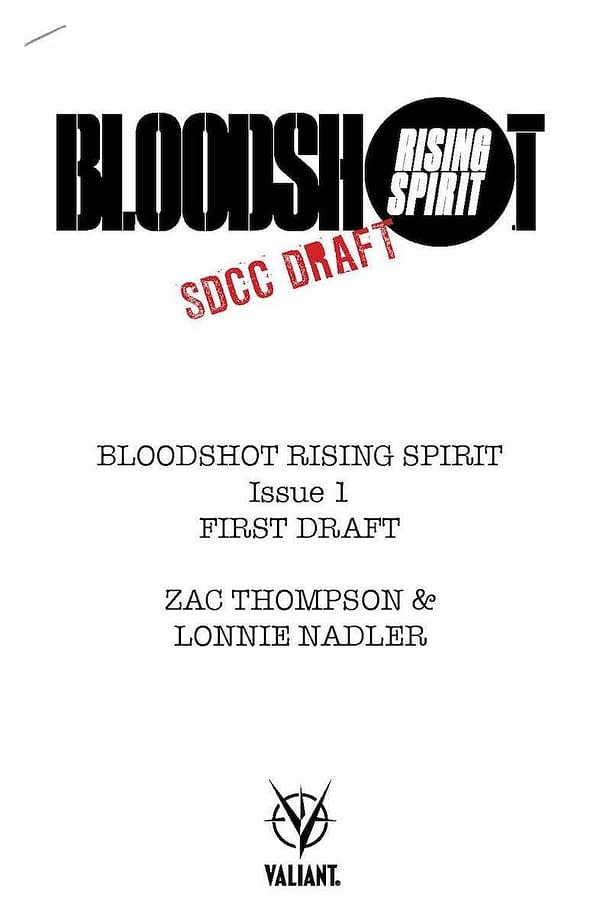 BLOODSHOT RISING SPIRIT #1 SDCC DRAFT SCRIPT BOOK

Witness a one-of-a-kind glimpse into the very first issue from writers Lonnie Nadler & Zac Thompson (Cable), where they explore the early days of military contractor Project Rising Spirit and dig into the never-before-divulged origin of the walking weapon known as Bloodshot!